Halloween has changed. After September 11, the holiday's usual gore and horror now seem inappropriate. According to USA Today, this "kinder, gentler Halloween" is predicted to feature fewer ghost and goblin costumes and more firefighters, police officers, and angels.
The real world has become so frightening, The Philadelphia Inquirer reported, that schools are taking the festive scares out of the day. Instead, many classrooms are focusing on patriotism. According to the Inquirer, some teachers are even "suggesting that Halloween be more like the Fourth of July this year."
Along with new sensitivities and deepened patriotism, events since the terrorist attacks have also added increased fear to Halloween. Recent media coverage has focused on how rumors, anthrax worries, and extra precautions will change Halloween for many communities.
These added fears and cautions might have many parents reconsidering how they treat Halloween—something Christians have extensively analyzed and debated.
To celebrate or not to celebrate
October 31 has historically been a controversial date for Christians. Originally a Celtic festival, Samhain, the last day of October became All Hallows Eve in the eighth century when Pope Gregory III moved All Saints' Day (or Hallows' Day) to November 1. The move was a means to claim the day for Christians, yet connections to pagan, Wiccan, and Druid beliefs remained.
These ties have long split Christian thought on whether to engage in the holiday, celebrate it in alternative Christian ways, or boycott it altogether.
In 1982, Christianity Today corporate editor Harold L. Myra wrote that Halloween gives Christians the opportunity to "celebrate the fact that at death we pass from the land of shadows into the land of light." It can be a unique time for thoughtful evangelism and remembrance of all saints—including those who were once a major part of our church's life but have been forgotten. A Christian response to October 31, Myra wrote, does not have to be shallow or negative but invites imagination and celebration rooted in great tradition.
On the Focus on the Family Web site, Dr. James Dobson advises that "if the Halloween experience is focused on fantasy rather than the occult, I see no harm in it. My final word to parents on the subject would be 'stay true to your own convictions.'"
Many sites—including ChristianityToday.com and Family Life Communications—provide perspective on the day and alternative ideas for celebrating. Meanwhile, Crosswalk.com provides a list of "reasons why it might not be wise to participate in Halloween."
Jack Chick publications encourage involvement in Halloween—but by making it a night of evangelism. Why give out candy when you can drop cartoon tracts on Satan worship, live sacrifices, and going to hell in trick-or-treat bags?
Scaring people out of sinning is also the theme for Hell House, an outreach event structured as a typical haunted house. The attraction depicts Satan's destruction and has drawn protests because of scenes about homosexuality and abortion.
The original Hell House began at Colorado's Abundant Life Christian Center, but has spread to churches nationwide. This month, 30,000 people are expected to visit Georgia's "Tribulation Trail" with depictions influenced by the Book of Revelation and September 11.
A microcosm for the believer's stance in the world
Some Christian writers in recent weeks have suggested that ignoring Halloween or celebrating it only with other believers is not evangelical.
Last week, Breakpoint columnist John Fischer wrote that Christians need to question the approach of removing themselves from the world.
"What we do with Halloween is a kind of microcosm for our positioning in the world as Christians," Fischer said. "It all comes down to why we are here. Are we here to enjoy life in as safe an environment as possible? … Or are we here to bring Jesus to the world, however dangerous that might be?"
He recommends that believers use the opportunity to renew relationships with longtime neighbors and meet new ones. "If anything is good about this day, it is a day that brings people out," Fischer wrote. "It would be a shame for Christians to be absent from the neighborhood when this happens."
On CBN.com, Regent University communications professor Andy Freeman says that Christians should look to Jesus as an example. "He would never have said, 'run and hide, it's Halloween!'" Freeman wrote.
"The biggest trick played on Halloween is Christian kids and adults being bottled up inside churches or homes all night. Hiding from the devil … is a victory for old Beelzebub. He's got the church right where he wants it: inside the four walls, hunkered down behind the stained glass."
Freeman suggests that Halloween is an opportunity to socialize with—and evangelize—neighbors and not to "hustle the kids over to church before nightfall [and] turn out the lights."
Fischer encourages Christians not to be scared off by Halloween, but to seize it as an opportunity. "Why allow those [darker elements] to drive me away from my home on a night I am guaranteed to have visitors?" Fischer wrote. "Which is more of a victory for Satan, I wonder—a shining Jack-o-lantern and five costumed kids at my door, or a dark house where the light should be?"
Todd Hertz is assistant online editor for Christianity Today.
Related Elsewhere
Previous Christianity Today articles on Christians and Halloween include:
Christian History Corner: Festival of Fears | What's scarier than Halloween? The anxieties that drive it. (October 26, 2001)
Howling Over Halloween | Devil's playground or child's play? (October 30, 2000)
Good News for Witches | Every Halloween, thousands of Wiccans descend on Salem, Massachusetts—and local churches reach out. (October 23, 2000)
Is Halloween a Witches' Brew? | Or have Christians been spooked out of celebrating a part of their rich tradition? (October 22, 1982)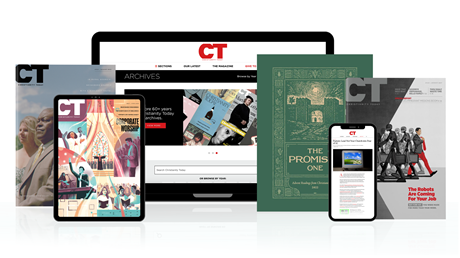 Subscribe to Christianity Today and get access to this article plus 65+ years of archives.
Home delivery of CT magazine
Complete access to articles on ChristianityToday.com
Over 120 years of magazine archives plus full access to all of CT's online archives
Subscribe Now
In Perspective: The Christian and the Jack-o'-Lantern
In Perspective: The Christian and the Jack-o'-Lantern