Taliban denies access to Shelter Now workers
Atif Ali Khan, the young Pakistani lawyer representing the eight foreign aid workers being held prisoner in Kabul, tried last weekend to send a colleague to see how the prisoners were doing. The colleague was told the prisoners were safe, but he could not see them, U.S. State Department spokesman Richard Boucher said yesterday. "The Consul General and Mr. Ali Khan are working together with the International Red Cross to send another care package and letters to the detainees by the end of the week," Boucher said. "We have no information yet on how they can do that. And we don't have any new information at this point on the status of the trial." When asked by a reporter if the U.S. Embassy has a plan for what to do about the hostages if the Northern Alliance captures Kabul, Boucher responded, "I don't do 'what happens if' questions. There are too many of those in the world for me to spend my days answering them. Sorry."
Boucher and the reporters also had a discussion about what to call the hostages:
Question: On the detainees? If we're not allowed to see them anymore, and there's no trial going on, why are they just detainees, and why don't we use another word that — like "hostages" or even "human shields," that have been used to describe people who are held against their will, and we don't know where they are, we can't talk to them?

Boucher: Detainees is a word that describes people being held against their will, and that's what they are. That's —

Question: But what is the difference between a "detainee" and a "hostage"?

Boucher: Look it up. I'm sorry, I'm not going to try to do those from here.

Question: I think the President has used the word "hostage" already. Why haven't we?

Boucher: As I said, these people are being detained. We have a strong interest in their welfare. We want to make sure we do everything possible to see that they are well kept, that they are not hurt —

Question: But you don't know?

Boucher: And that we want to do everything possible to make sure that they are well kept, that they are not hurt, that they are well tended to, and that they get out as soon as possible. We will continue to do that.
The Washington Times, on the other hand, doesn't hesitate to call them hostages. "Regardless of whether the Taliban deems their private conversations in the home of an Afghan family a violation of its repressive laws, [Heather] Mercer and [Dayna] Curry's bold gifts of service to the Afghan people must not be forgotten by the U.S. administration," the paper said in a Tuesday editorial. "It is easy to forget two young women who have risked their lives to help the poor of Kabul when every day there is a new bombing mission to carry out. But lives forgotten could be lives endangered—and another victory for the Taliban."
Sunday, the International Day of Prayer for the Persecuted Church, is also Dayna Curry's 30th birthday. Check our site later this afternoon for more on what her relatives, friends, and others are doing to mark the day.
Philippine military turns up heat on Abu Sayyaf
By Monday, there's likely to be some news about Gracia and Martin Burnham, the New Tribes missionaries held hostage in the southern Philippines. The area is heating up even as Weblog types. Several of the Abu Sayyaf guerrillas, including one of their leaders, have been killed in the last several days. Others have been captured. Abu Sabaya, spokesman for the militant group, has asked to open negotiations (reportedly demanding a $2 million ransom for the Burnhams), but the military denied the request. "Just surrender and release the hostages," said Lieutenant General Roy Cimatu, who suggested that the request was merely a diversionary tactic. Still, there is much confusion in the area. "American hostages Martin and Gracia Burnham are still alive contrary to rumors they were beheaded by the Abu Sayyaf over the weekend in this island province," Basilan governor Wahab Akbar said earlier this week.
More articles
Prayer in schools:
Ten Commandments displays:
Commercial controversies:
Revival reports:
Christians speak out on Holy Land violence:
Persecution:
Politics and law:
Other stories on interest:
Related Elsewhere
See our past Weblog updates:
November 1 | October 31 | 30 | 29

October 26 | 25 | 24 | 23 | 22

October 19 | 18 | 17 | 16 | 15

October 12 | 11 | 10 | 9 | 8

October 5 | 4 | 3 | 2

September 28 | 27 | 26 | 25 | 24

September 21 | 20 | 19 | 18 | 17

September 14b | 14a | 13 | 12 | 10

September 7 | 6 | 5 | 4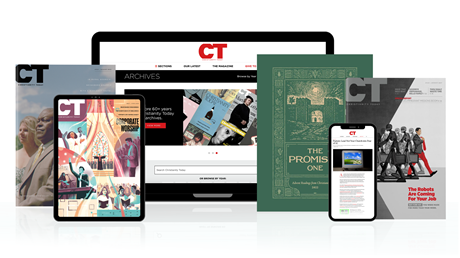 Annual & Monthly subscriptions available.
Print & Digital Issues of CT magazine
Complete access to every article on ChristianityToday.com
Unlimited access to 65+ years of CT's online archives
Member-only special issues
Subscribe
Taliban Ends Access to Aid Workers
Taliban Ends Access to Aid Workers