As government buildings emptied around him and thousands of federal workers fled a chaotic capital, the first thought of Washington Cardinal Theodore McCarrick was to find a hospital—or any place where he could donate blood.
During a meeting of Catholic bishops here, bishops prayed for peace at the National Shrine of the Immaculate Conception and urged calm.
"In the shock and sorrow that affects all of us at this terrible moment in the history of our nation and of our cities, it is hard to find the words to console those who lost loved ones and to strengthen those who are so wounded in spirit by this terrible deed," McCarrick said in a homily at a special Mass.
The executive committee of the U.S. Conference of Catholic Bishops was meeting here today (Sept. 11), including the most prominent leaders of the U.S. church, such as Boston Cardinal Bernard Law and Los Angeles Cardinal Roger Mahony. Six cardinals and some 38 bishops of the church attended the meeting.
From Washington, New York and beyond, religious leaders reacted with shock and utter disbelief to Tuesday's terrorist attacks at the Pentagon and World Trade Center. Gathering for prayer, they urged calm. They also urged people to search for God amid the choking smoke and death.
The nation's most eminent evangelist, Billy Graham, urged prayer for government leaders. "I call upon all Americans to pray especially for our president and for all who advise him, that they may have divine wisdom as they respond to this insane and horrific act," Graham said in a statement.
"The inexplicable, the unimaginable has taken place, we're all in shock and instinctively we just turn to God," said Archbishop Edwin O'Brien, the Roman Catholic bishop of the armed services. O'Brien was hosting a retreat for 50 Catholic chaplains in Washington and immediately held a Mass for Time of War or Civil Disturbance.
Across town, officials closed the landmark National Cathedral as a safety precaution, although spokeswoman Carrie Tydings said the Cathedral had not received any security threats. Tydings said a small chapel and the Cathedral gardens would remain open for prayer, and a national prayer service would be held within a week.
The United Methodist Church urged all congregations to open their doors for prayer on Tuesday and in the coming week. "We need to be in prayer individually and, when possible, corporately for our nation, the world's people, and, especially, those who have been most directly victimized by these horrendous acts," said Baltimore-Washington Bishop Felton E. May.
At the Episcopal Church Center in New York, just blocks from the United Nations, Presiding Bishop Frank T. Griswold gathered his staff in a conference room and led them in prayer.
"Just as we watched the second (World Trade Center) tower collapse, he urged the staff to try to stay together as a community in the building so we don't feel more isolated and feel more impact to the grief," said church spokesman Jim Solheim, who said he, like all New Yorkers, was in a state of "complete shock."
Muslim leaders expressed disgust at the attacks, particularly amid unconfirmed reports that extremist Islamic groups had claimed responsibility for the destruction. "There is no cause that justifies this type of an immoral and inhumane act that has affected so many innocent American lives," said the American Muslim Council.
The president of the nation's largest Protestant body, James Merritt of the Southern Baptist Convention, said this was not an act of God. "The world has witnessed firsthand today the terrible effects of sin and Satan's handiwork in the brutal killing of many innocent people," he said.
Jewish groups were especially dismayed by the attacks, in part because of reports that the violence was in retaliation for U.S. policy in the Middle East. Abe Foxman, national director of the Anti-Defamation League, said his Monday lunch with Holocaust survivor Elie Wiesel was "eerily prophetic" because Wiesel warned that terrorism was the greatest threat to the United States and the Jewish people.
"This is as close to a day of infamy as we can imagine," said Foxman, who added it is still "too early to talk" about whether the Middle East conflict influenced these acts.
Rabbi Jerome Epstein, head of the Conservative Jewish movement, watched the World Trade Center towers crumble to the earth from his office window. Staffers fled into the streets and said traditional prayers of mourning.
"(These terrorists) acted in order to get a reaction," Epstein said. "Either we give them the reaction they wanted, or we give them a reaction that's appropriate."
In Louisville, Ky., at the headquarters of the Presbyterian Church (USA), Moderator Jack Rogers prayed, "Help us not to speak or act rashly, not knowing by whom or why these awful deeds have been committed." Classes were canceled at Louisville Presbyterian Theological Seminary so students and faculty could meet at a chapel for prayer.
A host of churches and denominations said they would maintain prayer vigils for the victims and for all Americans. The Rev. H. George Anderson, presiding bishop of the Evangelical Lutheran Church in America, said all people—but especially people of faith—must reserve judgment until the facts are in.
"God has given us many gifts in terms of healing and helpfulness, and this is a time to exercise those gifts," Anderson said.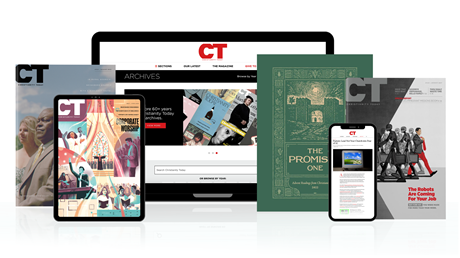 Subscribe to Christianity Today and get access to this article plus 65+ years of archives.
Home delivery of CT magazine
Complete access to articles on ChristianityToday.com
Over 120 years of magazine archives plus full access to all of CT's online archives
Subscribe Now
"Nation's Religious Leaders Urge Calm, Pray for Peace"
"Nation's Religious Leaders Urge Calm, Pray for Peace"