Religious leaders around the world responded with shock and sadness Tuesday (Sept. 11) at what Pope John Paul II called the "unspeakable horror" of the terrorist attacks on the United States.
"Shocked by the unspeakable horror of today's inhuman terrorist attacks against innocent people in different parts of the United States, I hurry to express to you and your fellow citizens my profound sorrow and my closeness in prayer for the nation at this dark and tragic moment," Pope John Paul II said in a telegram to President Bush.
Similar sentiments were voiced by the Archbishop of Canterbury, the head of the World Council of Churches and the Anglican Archbishop of South Africa, among others.
John Paul was told of the attacks on New York and Washington by Cardinal Angelo Sodano, the Vatican secretary of state. After being told, the 81-year-old pontiff sent the telegram to Bush and then withdrew to pray in the chapel of his summer residence in the hill town of Castelgandolfo, south of Rome, where he is still in residence.
The pope, who held a cordial meeting with Bush at Castelgandolfo last month, said he is praying also for the victims of the attacks in New York and Washington and the plane crash in Pennsylvania and for aid workers.
Vatican sources said they expected the pope to talk about the attacks at his weekly general audience on Wednesday.
In Geneva, where the executive council of the 342-member World Council of Churches is meeting, the Rev. Konrad Raiser, general secretary of the Protestant and Orthodox fellowship, called the attacks "terrible tragedies," and in a message to U.S. churches expressed "our profound shock and our profound sympathy."
"You are all in our prayers," the message said. "We pray especially for the victims of these tragedies and for their families and loved ones."
Raiser's message also said the church leaders in Geneva "fervently pray that this is the end of terror" and called on those responsible "to desist from any further such acts of inhumanity."
In Britain, Archbishop of Canterbury George Carey said he was "appalled" at the attacks.
"The scale of the carnage and suffering is truly devastating," Carey said. "My thoughts, prayers and sympathies are with all those caught up in these horrific events."
Roman Catholic Cardinal Cormac Murphy-O'Connor, archbishop of Westminster said the "tragic events … have shocked us all."
He called on Catholics to remember in their prayers "all those who have died, those who were injured, and those who are grieving, as well as those who have been left to cope with the aftermath." From South Africa, Anglican Archbishop Njongonkulu Ndugane issued a statement saying: "As the world watches the horror of the World Trade towers tragedy and American pain, our hearts go out to all people of that nation wherever they may be and I urge all South Africans, regardless of faith, to join forces in prayer."
In addition to urging prayers for the families of those dead and injured, Ndugane also urged prayers "that the American leadership is granted wisdom to deal with this horrific situation."
In addition to John Paul's statement, Vatican Radio and the Vatican newspaper L'Osservatore Romano also condemned the attacks, calling them "acts of madness" and "diabolically homicidal."
The Rev. Federico Lombardi, program director of Vatican Radio, expressed "horror" over what he said was one of the most terrible and bloody attacks of modern times.
"The madness of terror struck the United States today," the Vatican newspaper said. "The disaster rekindles the memory of Pearl Harbor. An hour of madness seems to have possessed the world.
"Horror, dismay and anguish grip the entire international community. Diabolical minds have carried out and are pursuing monstrous crimes that are sinking humanity in an unimaginable climate of war," the newspaper said.
Peggy Polk in Rome and Robert Nowell in London contributed to this story.
Related Elsewhere
Also appearing on our site today in response to the terrorist attacks:
Experts Say Spiritual Roots Will Aid in Coping With Catastrophe | Pray and connect with others, advise nation's chaplains.
Fear and Hate | In times like this, as in all other times, Christians have a responsibility to love above all else.
God's Message in the Language of Events | In the face of evil, we must focus on keeping our hearts right.
This afternoon, President Bush spoke on the tragedy from Barksdale Air Force Base and upon first hearing of the attack this morning in Sarasota, Fla. asked for a moment of silence for the victims.
For coverage of today's attacks on New York City and Washington, D.C., see Yahoo full coverage.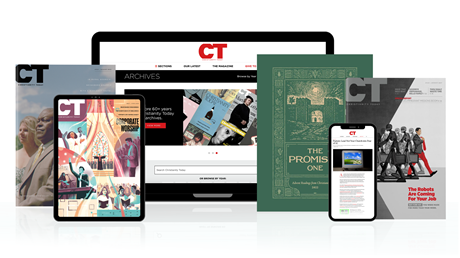 Annual & Monthly subscriptions available.
Print & Digital Issues of CT magazine
Complete access to every article on ChristianityToday.com
Unlimited access to 65+ years of CT's online archives
Member-only special issues
Subscribe
Church Leaders Around World Deplore 'Unspeakable Horror' of Attack
Church Leaders Around World Deplore 'Unspeakable ...