As The New York Timesnotes today, some Weblogs are practically made for events like these, allowing both posters and readers to share news and emotions. One great examples of this yesterday was found at Metafilter, where a massive community of readers was able not only to share personal stories of involvement with the tragedy, but also relayed information about what Web sites were working and how to work around those that weren't. (robots.cnn.com was working long after www.cnn.com was overloaded, for example, and the British Sky News was even able to offer live streaming video all day long even when the major news sites couldn't offer text.)
The Christianity Today Weblog, however, is a different kind of Weblog—mainly a collection of links to major news Web sites. This morning connections are still sporadic. If you can't get through at first, keep hitting your "refresh" button; the stories will come up eventually.
News on the death toll, responsibility, and other such matters will surely continue to develop all day long—check out Yahoo full coverage,.The New York Times, The Washington Post, BBC, CNN, and other such sites for updates. Rumors, conspiracy theories, and the occasional hard news tidbit will be available at WorldNetDaily, the Drudge Report, and elsewhere. Christianity Today Weblog's main concern this morning is with how the attack is affecting the country's religious life.
According to media around the country, one of the chief immediate effects of the attacks was the nation's unifying in prayer. The Pittsburgh Post-Gazette, The Detroit News (two stories), The Baltimore Sun, Houston Chronicle, The Dallas Morning News, Honolulu Star-Bulletin, and other papers all have stories this morning about how churches opened for prayer vigils and counseling.
At some of those prayer services, congregations heard the news of loss. Christ Church of Oak Brook, a Chicago-area megachurch (which Weblog used to attend) announced that associate pastor Jeffrey Mladenik was aboard one of the flights from Boston that was hijacked and crashed. His wife and four children were reportedly not with him at the time.
Other news stories around the Web seek guidance and comment from religious leaders. Fuller Seminary president Richard Mouw tells Beliefnet, "For those of us who look to the Book for guidance, we would do best to follow the example of the Psalm-writers: argue with God, ask the Lord where he is, allow the tears to flow, let the anger express itself, plead for mercy. And for followers of Jesus: look to the Cross, where we believe that the incarnate God experienced the depth of human suffering and abandonment on our behalf—and hold on to the promise that what happened in the death of Jesus is the essential ingredient for the final victory over these monstrous evils."
Crosswalk.com quotes Jerry Falwell: "Obviously, war has been launched against the United States … The only weapon we have as believers in Jesus Christ is prayer."
Compilations of statements from other Christian leaders are also available from Associated Baptist Press and WorldNetDaily.
Slightly unexpected commentary from religious celebrities include a few leaders who say they prophesied the attack. On The 700 Club last night, Pat Robertson touted a Labor Day message where he predicted terrorist attacks. "My only problem was that I was off in my dating," Robertson explained at the end of the broadcast. "It came much quicker than I thought and it's much more extreme than I thought. … And I'll tell you tonight, this isn't the end of it." (Hmmm. Weblog remembers hearing something about prophecies from God having to be 100 percent correct—otherwise they're false prophecies.) Robertson, who says God gave him the knowledge that this would happen, says he's also clear who's behind it. "This comes straight out of the struggle in the Middle East," he said. "This country has finally waked up to the reality of what our friends in Israel have been experiencing for years, the reality of Islamic fundamentalist terror. … There is no doubt in my mind that Israel is going to have to move against the Palestinians." Another "prophetic word" came from Operation Rescue's Flip Benham, who said he gave America "its own final warning over the shedding of innocent blood" on September 8 during a protest in front of the White House.
In a more down-to-earth analysis, Todd Nettleton of Voice of the Martyrs tells Mission Network News that the attack will have major repercussions on U.S.-based missionary and relief organizations around the world. "I would venture to say that most missionary organizations, especially those working in politically sensitive areas, would have some kind of a crisis plan," he says. "For most of the Americans on the ground in another country right now, the best advice is to lay low, stay out of sight."
Speaking of missionaries and relief workers, The Washington Post reports, "Some regional analysts said that the people on trial [by the Taliban for promoting Christianity]—four Germans, two Americans and two Australians—might now be used by the Taliban to ensure a restrained U.S. reaction if Washington decides to launch any retaliatory move against Afghanistan or [Osama] bin Laden."
Related Elsewhere
See our past Weblog updates:
September 10

September 7 | 6 | 5 | 4

August 31 | 30 | 29 | 28 | 27

August 24 | 23 | 22 | 20

August 17 | 16 | 15 | 14 |13

August 10 | 9 | 8 | 7 | 6

August 3 | 2 | 1 July 31 | 30

July 27 | 25 | 24 | 23

July 20 | 19 | 18 | 17 | 16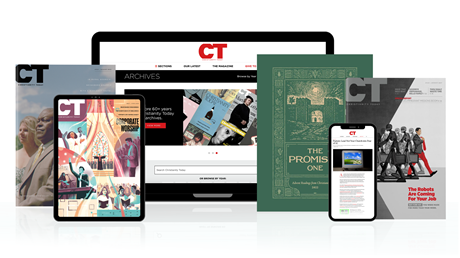 Subscribe to Christianity Today and get access to this article plus 65+ years of archives.
Home delivery of CT magazine
Complete access to articles on ChristianityToday.com
Over 120 years of magazine archives plus full access to all of CT's online archives
Subscribe Now
"Weblog: Prayer, Pain, and Prophecies Follow Attacks"
"Weblog: Prayer, Pain, and Prophecies Follow Attacks"