George Sayer, a pupil and biographer of C.S. "Jack" Lewis, wrote of the intimidating experience of entering the don's office at Oxford:
The tutorial was a formal occasion. Wearing a gown, a pupil would stand outside the tutor's door and wait until the clock struck to before knocking. Jack's door, like all the doors in New Buildings, was thick, but, through it, one could easily hear the strong, booming voice say, "Come in." The room was adequately, but rather shabbily, furnished. On one side of the lovely eighteenth-century fireplace in which a coal fire would be burning during cold weather, there was a sofa upon which he sat; on the other side, there was an armchair for the student.
I thought of this description when I walked into the new Wade Center facility at Wheaton College this week. The center houses Wheaton's Lewis collection, including his desk, dining table, and (most importantly) wardrobe, so visiting its rooms is probably as close as one can come on this side of the pond to entering by the thick door Sayer described—though the building also features much that Lewis would not recognize.
The Wade Center is not shabbily furnished. Gifts from Mary Wade, daughter of the center's original patron, Marion E. Wade, and from an anonymous donor assured that the 10,000-square-foot building would be appointed with the latest and finest. All of the tables in the reading room are wired for laptops, and the "smart classroom" has slick audio-visual capabilities as well. Glass in the windows and bookcases blocks UV rays that could damage fragile manuscripts. The carpet is thick, the ceilings are high, the woodwork is dark, and the stonework outside evokes an English manor house, charmingly out of place in the Chicago suburbs.
The Kilby Reading Room best captures a Lewis-like blend of scholarliness and friendliness. Visitors must leave their bags outside, sign in at the front desk, and write only in pencil if they are not taking advantage of the computer hookups. Reading copies of books, letters, transcribed tapes, and dissertations are available, but first editions and originals can only be retrieved from the archives downstairs if a scholar simply must consult them. Yet at the far end of the room, near a bay window, easy chairs await casual readers who wish settle down by the fireplace (where carved lions peek out from below the mantel) and lose themselves in Lewis or one of the other featured authors.
At "Oxbridge," Lewis surrounded himself with a group of writers and thinkers called the Inklings. He is in good company at the Wade Center as well. Wheaton English Professor Clyde S. Kilby, who started the Wade collection in 1965 with a handful of letters from Lewis, expanded his vision to include six other authors: George MacDonald, who helped to "baptize" Lewis's imagination; G.K. Chesterton, whose work eroded Lewis's atheism; Owen Barfield and J.R.R. Tolkien, who influenced his Christian conversion; and Charles Williams and Dorothy Sayers, literary fellows. These seven authors range across genres (apologetics, biography, detective fiction, drama, fantasy, literary criticism, and more), styles, eras, and denominations, but they do belong together—not just because of their Lewis links, but also because of their potent mix of faith, intelligence, and creativity.
That these authors also belong at Wheaton is in some ways a bolder claim. As critics of Wheaton's statements on beliefs and behavior love to point out, few if any of the seven Wade Center authors could have taught at Wheaton—Lewis drank, Barfield embraced anthroposophy (a non-evangelical religious philosophy), Tolkien was a Roman Catholic, Williams lacked an advanced degree, and so on. All seven authors hailed from the United Kingdom, and I don't believe any so much as visited Wheaton. Furthermore, a conservative community where Harry Potter and Halloween spark hot debate might seem an odd place for writers intimate with fauns, hobbits, and Phantastes.
Though there may be people at the college (past or present) who don't think these mystical, hard-drinking, high-church scribblers deserve a place on Billy Graham's turf, all of the Wheaton people I know are proud to have the Wade collection. These papers, portraits, and artifacts are genius by association, but they also represent an institutional ideal. On the other side of campus, buildings named after missionary martyrs Jim Elliot and Nate Saint inspire students to commit their lives to serving God through evangelism. The Wade Center can inspire the same level of commitment to serving God through the life of the mind. Lewis would approve.
Elesha Coffman is managing editor of Christian History magazine.
Related Elsewhere
The Wade Center's Web site describes the facility's many collections, but at last check it still said it was closed.
The Chicago Tribune also noted the Wade Center's reopening.
The Christian Science Monitor profiled the Wade Center in 1999.
Article continues below
Christian History profiled Lewis for its issue on "The 10 Most Influential Christians of the Twentieth Century" and quoted Dorothy Sayers in its recent Dante issue.
Books and Culture, another Christianity Today sister publication, recently looked at C. S. Lewis among the postmodernists.
If it's Lewis you're interested in, Into the Wardrobe should fill your every desire.
The Discovery Institute's C.S. Lewis and Public Life site is another wonderful resource of papers about and by Lewis.
Previous Christianity Today articles on C.S. Lewis include:
Aslan Is Still on the Move | There's too little evidence to prove that anyone is 'de-Christianizing' C.S. Lewis. (July 31, 2001)

Mere Marketing? | Publisher, estate under fire for handling of C.S. Lewis's identity. (July 31, 2001)

Myth Matters | C. S. Lewis bequeathed us a method and a language for sharing the gospel with the modern and postmodern world. (April 17, 2001)

Walking Where Lewis Walked | My reluctant entry into the world of pilgrimage. (Feb. 7, 2000)

Still Surprised by Lewis | Why this nonevangelical Oxford don has become our patron saint" (Sept. 7, 1998)

Jack Is Back | The search for the historical Lewis (Feb. 3, 1997)
Christian History Corner appears every Friday at ChristianityToday.com. Previous editions include:
Raiders of the Lost R | Documentary on School skips religious history, giving a skewed account of American education. (Sept. 7, 2001)

Explaining the Ineffable | In Heaven Below, a former Pentecostal argues that his ancestors were neither as outlandish as they seemed nor as otherworldly as they wish to seem. (Aug. 31, 2001)

Eyewitness to a Massacre | The bloodbath that started on August 24, 1572, left thousands of corpses and dozens of disturbing questions. (Aug. 24, 2001)

Live Long and Prosper | Though a recent survey raises questions, the health benefits of faith have been documented for centuries. (Aug. 17, 2001)

Divided by Communion | What a church does in remembrance of Christ says a lot about its history and identity. (Aug. 10, 2001)

Thrills, Chills, Architecture? | The most exciting adventure at St. Paul's Cathedral would be a time-traveling jaunt through its history. (August 3, 2001)

Deep and Wide| A dive into Reformation imagery yields striking new insights, while a drive-by church history overview largely disappoints. (July 27, 2001)

Shelling the Salvation Army | If William Booth's church could handle sticks and stones in the 1880s, it should withstand the recent barrage of hateful words. (July 20, 2001)

Historical Hogwash | Two books—one new, one newly reissued—debunk false claims about the "real" Jesus. (July 13, 2001)

Ghosts of the Temple | Soon after Jerusalem fell, the Roman Colosseum went up. Coincidence? (July 6, 2001)

Endangered History | The National Trust's list of imperiled places gives unnoticed gems a chance to shine. (June 29, 2001)

The Communion Test | How a "Humble Inquiry" into the nature of the church cost Jonathan Edwards his job. (June 22, 2001)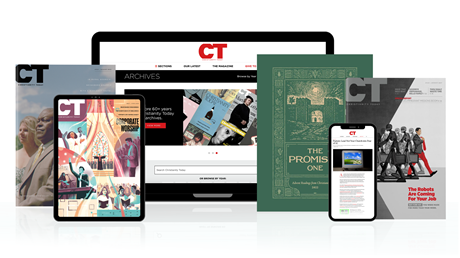 Subscribe to Christianity Today and get access to this article plus 65+ years of archives.
Home delivery of CT magazine
Complete access to articles on ChristianityToday.com
Over 120 years of magazine archives plus full access to all of CT's online archives
Subscribe Now
The House That Jack Built
The House That Jack Built