Nearly a week after unprecedented terrorist attacks on New York City and Washington DC, the United States mourned its losses in an outpouring of public grief and remembrance.
At least 2,000 people, including New York's mayor, Rudolph Giuliani, and the secretary general of the United Nations, Kofi Annan, packed St Patrick's Cathedral in New York, for a mass to remember all those who were killed September 11. Hundreds more, unable to get into the cathedral, gathered outside listening to the service over loudspeakers.
"I am sure that we will seek justice in this tragedy as citizens of a nation under God in which hatred and desires for revenge must never have a part," Cardinal Edward Egan of New York said in his sermon.
Interposed with displays of sorrow in recent days were calls for retaliation, and talk of war was heavy in the air.
"War has been waged against us by stealth and deceit and murder," President George W. Bush said on September 14 during the national day of prayer service at Washington National Cathedral. "This nation is peaceful, but fierce when stirred to anger.
"This conflict was begun on the timing and terms of others. It will end in a way and at an hour of our choosing."
The Washington service was marked by a solemnity unmatched in recent U.S. history. Billy Graham, 83 years old and frail from Parkinson's Disease, said the destruction of the World Trade Center did not destroy what he called the nation's spiritual foundation.
"Yes, our nation has been attacked, buildings destroyed, lives lost," Graham said, speaking to an audience that included every living former U.S. president except the ailing Ronald Reagan. "But now we have a choice: whether to implode and disintegrate emotionally and spiritually as a people and a nation or whether we choose to become stronger through all of this struggle to rebuild on a solid foundation. And I believe that we're in the process of starting to rebuild on that foundation. That foundation is our trust in God."
Graham's presence added a sense of continuity to the national religious ritual. Often called "America's pastor," Graham has been a well-known spiritual figure for half-a-century and has served as an unofficial spiritual adviser to many presidents.
But the Washington service also reflected the growing religious diversity in the United States. In addition to Protestant, Roman Catholic, and Jewish clergy, a Muslim cleric also participated. "Those that lay the plots of evil, for them is a penalty terrible," said Imam Muzammil H. Siddiqi of the Islamic Society of North America. "The plotting of such will not abide."
The symbolism of a Muslim cleric at the cathedral was not lost on Muslim Americans, who said they appreciated the honor, as well as statements condemning violence against Muslims made by President Bush, Mayor Giuliani and Cardinal Egan, among others.
But they were still deeply concerned about acts of violence and harassment against Muslims and non-whites that were being reported throughout the United States.
"This attack was aimed at all Americans without exception and the Arab-American community shares in every bit of the heartache and anguish that all Americans are enduring," said the New York-based Arab-American Family Support Center in a statement condemning the attacks in New York and Washington D.C.
"No matter who was responsible for this terrible crime, which no cause or ideology could possibly justify, Arab-Americans are no less moved, no less angry and no less outraged than our fellow Americans."
Prior to a September 16 march and vigil organized by New York City Muslims, Abdul Mubarez, president of the New York-based Yemeni American Association, siad, "There are a lot of thugs in every society."
The vigil was held in the borough of Brooklyn, ending at a promenade overlooking lower Manhattan. Smoke from the World Trade Center fire was still visible during an otherwise clear September day.
"Eight million Muslims are part of this country, and our neighbours know that we are part of the U.S., citizens of this country, and we are immigrants looking for freedom just like the previous immigrants who came from Europe or elsewhere in the world," Mubarez said.
The Brooklyn vigil was explicitly multi-faith, a theme adopted throughout the past week at a number of churches, synagogues, and mosques.
James Forbes, senior pastor at Upper Manhatten's Riverside Church, told worshippers at the regular Sunday service on September 16 that they had to gird themselves for a period of uncertainty and fear, declaring: "We are in a new place."
But he also warned against bigotry, saying: "We [need to] resist the temptation to breathe something more deadly in the air than asbestos [from the burning buildings]: the virus of hate in the air."
Official services were not the only ways Americans mourned losses: informal candlelight vigils were held throughout the country. New York's Union Square, a public park, became a popular place to post photos and descriptions of loved ones still missing.
It also became a locale for people to write public displays of grief and anger. They ranged from expressions of support to outright condemnation. "Arabs Are Not the Enemy," said one. "America: Hit the Arabs," said another.
Related Elsewhere
The Washington National Cathedral's Presidential Prayer Service is available on video via C-SPAN if you have the RealPlayer.
A transcript and video of Billy Graham's message is available on his official site.
President Bush's remarks at the service explained why he felt support from God was necessary after the attacks.
Yesterday, Christianity Today'sWeblog compiled articles on America's turn to the church for support.
Beyond American shores, citizens of the world also bowed their heads. From London and Scotland to Kenya, Pakistan to Wales, moments of silence were held for those lost on Tuesday.
Christianity Today's other articles on the attacks include:
Churches Meet Needs at Ground Zero | Brooklyn pastors and parishioners thank God for survival, but help victims and families cope. (Sept. 17, 2001)

Books & Culture Corner: The Imagination of Disaster | "We thought we were invulnerable." Really? (Sept. 17, 2001)

Church Mourns 'Father Frank' | Fond memories comfort those who knew retired priest killed in World Trade Center attack. ? (Sept. 17, 2001)

Taking It Personally | What do we do with all this anger? (Sept. 14, 2001)

'Is That Thunder?' | With metal cracking at the World Trade Center, New York pastors cry out to God. (Sept. 14, 2001)

Shaken Christians Turn to Prayer | Impromptu services usher in the bereaved by word of mouth, road signs, and e-mail. (Sept. 13, 2001)

Christians Provide Comfort in the Shadow of Calamity | Still "stunned and reeling," New Yorkers seek support at prayer service. (Sept. 13, 2001)

Illinois Pastor on Fatal Flight | Jeffrey Mladenik, 43, was involved in workplace ministry, international adoption. (Sept. 13, 2001)

Communication Troubles Challenge U.S. Church Relief Agencies | Aid work continues amid atmosphere of shock, fear, and sporatic harrassment. (Sept. 13, 2001)

Reflections on Suffering | Classic and contemporary quotations for dark times. (Sept. 13, 2001)

When Sin Reigns | An event like this shows us what humans are capable of becoming—both as children of darkness and of light. (Sept. 13, 2001)

In the Belly of the Beast | Christians, calling terrorist attack "satanically brilliant," minister at epicenter of World Trade disaster. (Sept. 12, 2001)

Churches, Agencies Respond to Attacks | Leaders call for prayer, justice, and mercy. (Sept. 12, 2001)

Muslims Fear a Backlash | No matter who is responsible, observers feel a reaction will still be present. (Sept. 12, 2001)

A Wake-Up Call to Become Global Christians | The deadly attacks on America will provoke many responses, but Christians are commanded to love our neighbors. (Sept. 12, 2001)

Nation's Religious Leaders Urge Calm, Pray for Peace | Churches will maintain prayer vigils for victims and leaders. (Sept. 11, 2001)

Church Leaders Around World Deplore 'Unspeakable Horror' of Attack | Christians urged to unite in prayer as they unite in shock and denunciation. (Sept. 11, 2001)

Experts Say Spiritual Roots Will Aid in Coping With Catastrophe | Pray and connect with others, advise nation's chaplains. (Sept. 11, 2001)

Fear and Hate | In times like this, as in all other times, Christians have a responsibility to love above all else. (Sept. 11, 2001)

God's Message in the Language of Events | In the face of evil, we must focus on keeping our hearts right. (Sept. 11, 2001)
Article continues below
For in-depth and continuing coverage, see The New York Times, The Washington Post, BBC, CNN, and Yahoo full coverage.
For more Christian perspectives and responses, see various articles posted on Christianity.com, Crosswalk.com, and Beliefnet.com.
The Text This Week, a resource for pastors, has collected sermons and reflections in response to the Sept. 11 events.
Yahoo has also compiled aid organization contact information, closure notification, and survivor lists.
President Bush addressed the nation on the evening of Sept. 11 (video | transcript). He declared Sept. 14, 2001 a national day of prayer. Bush first learned of the World Trade Center tragedy while preparing to speak to schoolchildren in Sarasota, Fla.. There, he asked Amercians for a moment of silence for the victims.
The Pope and Billy Graham have spoke out on the tragedy and sent out prayers to the victims and their families.
The BBC has compiled reactions from world leaders (with video).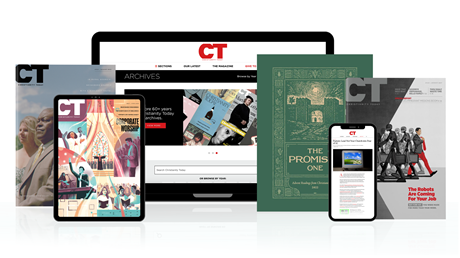 Subscribe to Christianity Today and get access to this article plus 65+ years of archives.
Home delivery of CT magazine
Complete access to articles on ChristianityToday.com
Over 120 years of magazine archives plus full access to all of CT's online archives
Subscribe Now
"With Grief and Anger, the U.S. Mourns its Losses"
"With Grief and Anger, the U.S. Mourns its Losses"