Is Islam really a religion of peace?
"The terrorists practice a fringe form of Islamic extremism that has been rejected by Muslim scholars and the vast majority of Muslim clerics—a fringe movement that perverts the peaceful teachings of Islam," President Bush said in a universally praised speech last night (text | full video | highlights). " [Islam's] teachings are good and peaceful, and those who commit evil in the name of Allah blaspheme the name of Allah. The terrorists are traitors to their own faith, trying, in effect, to hijack Islam itself." Indeed, if there's one message that's been drilled into Americans' minds since the September 11 attacks, it's that Islam is peaceful, terrorists are not. But today's Washington Times questions that argument. "Scholars differ that Islam requires terror in defense," says the headline, but the plural use of scholars isn't justified by the article text—which notably runs without a byline.
Instead, the article is really an opportunity for the Times to point out an article in London's Daily Telegraph by Patrick Sookhdeo, director of London's Institute for the Study of Islam and Christianity. He denies that Islam is to blame for the attacks, but he takes issue with those who want to equate the violence of Islamic militants with the crusades or past "Christian" violence. "Many horrific acts have been, and continue to be, perpetrated in the name of Islam, just as they have in the name of Christianity," he wrote. "But unlike Islam, Christianity does not justify the use of all forms of violence. … The trend is to focus on Islam as a religion of peace. … Now that Islam is no longer demonized, it seems it can do no wrong." A similar argument is made at the Barnabas Fund Web site, where Sookhdeo serves as international director (it's unclear if he wrote the piece): "There are clearly two strands in contemporary Islam: the peaceable and the war-like. Islam is not one or the other; it is both at the same time."
Operation Inoffensive Offensive
Crusade is out for obvious reasons: Muslims (and Eastern Orthodox Christians) are still upset about medieval cities "filled with corpses and blood." So the White House has promised to stop using the word when referring to its "war on terrorism." But now the Pentagon says it's ditching the phrase Operation Infinite Justice. "Is Infinite Justice the name of this operation?" one reporter asked Secretary of Defense Donald Rumsfeld at a news briefing yesterday. "Because in talking to several Islamic scholars, they find that name offensive. The only person or thing that can grant infinite justice, according to their religion, is Allah."
"I understand. I understand," Rumsfeld replied, saying he didn't know whether the phrase had formally been adopted. "And obviously the United States does not want to do or say things that create an impression on the part of the listener that would be a misunderstanding, and clearly that would be. … I have heard that someone somewhere in some place selected those words, and in some preliminary aspect of things use them. Whether they will persist, given what you've said and what I was aware of, I just don't know the answer, but I doubt it. I just don't know the answer, but I doubt it."
The Baltimore Sun notes that infinite has been used before in the war against terrorism: "The Clinton administration's limited airstrikes in 1998 against Sudan and Afghanistan, in retaliation for the bombings of U.S. embassies in Kenya and Tanzania, were dubbed Operation Infinite Reach."
Calvin College closed after threat
Calvin College has evacuated student residences, cancelled classes, and shut down after receiving an anonymous phoned-in threat yesterday. "Though the nature of the threat is unclear, we have decided that the threat is sufficiently serious that we needed to put in place a plan to close Calvin College," said college president Gaylen Byker. "In light of recent terrorist activities in the United States, and yet also the large number of hoax incidents which have occurred since, the decision to close the campus was difficult." About 2,200 of Calvin's 4,300 students live on campus, but half of those are from Michigan and returned home last night. The remaining 1,100 students found accommodations for themselves, even though local churches and charities offered to put them up. The residences are scheduled to reopen at 9 p.m. Friday night.
More stories:
Megiddo: Omega Code 2:
See You at the Pole:
Opinion pieces:
Falwell fallout:
Shelter Now detainees:
Churches:
Politics:
Books:
Stories that aren't about the September 11 attacks:
Related Elsewhere
See our past Weblog updates:
September 20 | 19 | 18 | 17

September 14b | 14a | 13 | 12 | 10

September 7 | 6 | 5 | 4

August 31 | 30 | 29 | 28 | 27

August 24 | 23 | 22 | 20

August 17 | 16 | 15 | 14 |13

August 10 | 9 | 8 | 7 | 6

August 3 | 2 | 1 July 31 | 30

July 27 | 25 | 24 | 23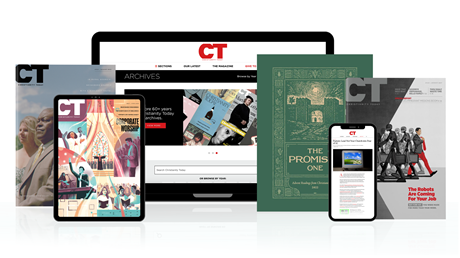 Annual & Monthly subscriptions available.
Print & Digital Issues of CT magazine
Complete access to every article on ChristianityToday.com
Unlimited access to 65+ years of CT's online archives
Member-only special issues
Subscribe
How Peaceful Is Islam?
How Peaceful Is Islam?