The pastor of the Evangelical Lutheran church and orphanage in Beit Jala and the children in his care are waiting nervously to see whether a fragile Israeli-Palestinian cease-fire will hold.
For three days, fighting raged in and around the church, where 45 Palestinian children huddled for safety. Early in the morning on August 28, the Israeli army invaded the church compound as they fought with Palestinian militants. The forces withdrew early in the morning on August 30 in the face of international condemnation.
At the height of the fighting, the pastor, Jadallah Shihadeh, conducted media interviews, while outside the building Palestinians fired guns and threw homemade bombs at Israeli troops, who responded with tank and machine-gun fire.
"We couldn't sleep for days," said the pastor, who faced a threatened walkout by frightened staff. "The children were terrified. All of us we were terrified and we have lost our nerves."
Observing a temporary cease-fire, Israeli troops withdrew from Beit Jala. Israeli Defence Minister Binyamin Ben Eliezer warned that he would order his forces back into the town if Palestinian attacks resumed on the nearby Jewish neighbourhood of Gilo, built on land annexed by Israel from the West Bank.
But Shihadeh said that even if this happened, he would stay to protect the children, who are both Christian and Muslim. "Whatever happens, it is my responsibility as a pastor to stay with the children," he said. "They are Palestinian children, they lost their parents. They come from a very, very difficult situation."
He said that Israel had misjudged the situation badly by entering Beit Jala. All that Palestinians desired was their own state, he said, in which they could live in peace side-by-side with the Jewish State.
As the pastor spoke, Palestinian gunmen outside the church moved into an open street to shoot at Israeli soldiers. They quickly ducked back into doorways to shelter from the firestorm they received in return.
One Palestinian gunman identified himself as a member of the military wing of Fatah, Palestinian leader Yasser Arafat's faction of the Palestine Liberation Organisation (PLO). Holding a pipe bomb that he later hurled at Israeli soldiers, he said he was not afraid to die for the cause of liberating Beit Jala from military occupation.
He said that his wife, who was nursing their newborn son, encouraged him to fight, declaring she wished she could have been at his side. "For Muslims and Arabs, Jihad (holy war) is more important than family and our children," he said. "For us the land equals our children, and we defend them."
As an Israeli tank approached, the Palestinian riflemen ran for cover, and waited for another opportunity to fire back at the enemy.
It remains uncertain whether the Palestinian militants will abide by an understanding reached between Israeli and Palestinian political leaders to observe a local truce.
Bishara Daoud, a member of the Palestinian Legislative Council, and a resident of Beit Jala, did not believe any cease-fire would hold as long as Israel continued to occupy areas in the West Bank and Gaza Strip.
He said that Beit Jala had not been truly liberated even when it was first handed over to Palestinian self-rule six years ago, because Israeli troops had remained on the outskirts of the town.
"I think we still are facing the occupation itself, no withdrawal for the Israelis, even when they took this step to enter again Area A [denoting a Palestinian self-rule area] in Beit Jala," he said. "It doesn't mean that Beit Jala had been liberated completely because we could not control our sky or the [ground]."
The Lutheran World Federation (LWF) has strongly condemned the Israeli military occupation of the town of Beit Jala, particularly the use by Israeli forces of the Lutheran church there as a base for military activities.
In a brief note to the Israeli Prime Minister Ariel Sharon, LWF general secretary, Dr Ishmael Noko, expressed "the outrage""of the global organization at the invasion of "one of the holy places of the Christian community of Beit Jala."
"I cannot refrain from saying how deeply this rash and precipitate action has undermined the LWF's faith" in the Israeli government's goodwill in responding to the current crisis, Noko said.
The general secretary, who was attending meetings in preparation for the World Conference Against Racism in Durban, South Africa, called for the withdrawal of all Israeli armed forces in the Beit Jala area.
The Lutheran Bishop in Jerusalem, Munib A. Younan, also condemned the Israeli occupation of the church in Beit Jala.
Last October the LWF general secretary wrote to then Israeli Prime Minister Ehud Barak protesting against the occupation of the LWF-run Augusta Victoria Hospital in East Jerusalem by Israeli forces.
Related Elsewhere
Media coverage of the Israeli occupation of Beit Jala included:
Israel's Beit Jala Thrust Divides Christian Town— Reuters (Aug. 28, 2001)

Israelis take town; US again is critical — Boston Globe (Aug. 29, 2001)

Lutheran Church says 50 children stranded in Beit Jala — The Jerusalem Post (Aug. 29, 2001)

Villagers Trapped as Israelis Vow to Stay 'as Long as It Takes' — Los Angeles Times (Aug. 29, 2001)

U.S. Asks Israel to Pull Troops From Town in West Bank — The New York Times (Aug. 29, 2001)

Israeli invasion provokes outrage — The Guardian (Aug. 29, 2001)

Israeli troops leave Beit Jala — BBC News (August 30, 2001)
Article continues below
For current articles on the Palestinian and Israeli conflict, see Yahoo's full coveragearea.
Previous Christianity Todayarticles on violence in the Holy Land:
Amid Fears for Future, Jerusalem's Churches Embark On Prayers for Peace | Week of prayer launched with services held in various congregations. (Aug. 22, 2001)

Strengthen Christian Presence In The Holy Land, Carey Pleads | Middle-East leaders asked to help tone down violence that has killed 650 in 10 months. (August 2, 2001)

Greek Orthodox Priest Falls Victim to Middle East Conflict | Monks worry they may appear as threats to each warring side. (June 21, 2001)

Violence Puts Archaeologists Between Rocks, Hard Places | About half of the planned excavations in the Holy Land this summer have been canceled. (June 27, 2001)

Pilgrimages Drop and Workers Lose Jobs as Middle East Violence Continues | Silence fills places normally crowded with pilgrims, reports British group. (April 11, 2001)

Holy Land Roadblocks | Christian pilgrims learn about Palestinians' everyday indignities. (Apr. 9, 2001)

Christian Zionists Rally for Jewish State | More than 600 Christians from around the world flock to Jerusalem to show solidarity with Israel as peace process collapses. (Apr. 9, 2001)

Between a Rock and a Holy Site | Muslims have stepped up their efforts to take control of places revered by Jews and Christians. (Feb. 13, 2001)

The Peace Regress | What's behind the current outbreak of hostilities in the Holy Land? (Jan. 11, 2001)

Conflict in the Holy Land | A timeline of trials for the most contested piece of real estate in the world.

Christmas in Palestine: Hunger and War | Starvation threatens Palestinian villages if U.N. aid continues to be delayed, Vatican official warns. (Dec. 13, 2000)

Between the Temple Mount and a Hard Place | Palestinian Christians want both peace in their villages and justice for their Muslim brothers. (Dec. 5, 2000)

Christmas Plans for Bethlehem Scrapped | Escalating violence cancels millennial celebration in town of Christ's birth. (Dec. 1, 2000)

Lutheran Bishop's Appeal from Jerusalem | Religious leader's letter requests prayer for Christians, Jews, and Palestinians in troubled region. (Nov. 10, 2000)

Latin Patriarch tells Israel to Surrender Lands to Palestinians | Catholic leader says Israel will never have peace unless it "converts all of its neighbors to friends." (Nov. 1, 2000)

Fighting Engulfs a Christian Hospital in Jerusalem | Lutherans call conflict on their hospital grounds "an affront" to humanitarian purposes. (Oct. 16, 2000)

Israelis and Palestinians Pay Tribute to Pope's Pilgrimage to Holy Land | Though some at grassroots remain unappeased, leaders of both groups are full of praise. (March 29, 2000)

Prepared for Pilgrims? | As Christian tourism surges, Holy Land believers brave troubled future. (Feb. 10, 2000)

Apology Crusaders to Enter Israel (April 15, 1999)

West Bank Squeezed by Warring Majorities | (Nov. 16, 1998)

Squeezed by Warring Majorities (November 6, 1998)

How Evangelicals Became Israel's Best Friend (Oct. 5, 1998)

Jerusalem as Jesus Views It (Oct. 5, 1998)

Temple Mount on Shaky Ground? | (April 6, 1998)
Article continues below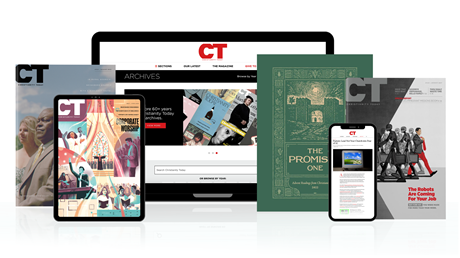 Annual & Monthly subscriptions available.
Print & Digital Issues of CT magazine
Complete access to every article on ChristianityToday.com
Unlimited access to 65+ years of CT's online archives
Member-only special issues
Subscribe
"Sleepless and 'Terrified', Orphans, Staff Dare to Hope Truce Will Hold"
"Sleepless and 'Terrified', Orphans, Staff Dare to ...