China in Black and White
I read with dismay yet another CT story on persecution in the Chinese church [" 'New' China: Same Old Tricks," March 11]. Why is it that CT can only paint China's incredibly complicated religious landscape in black and white?
My Christian Chinese friends, most of them evangelicals, would be stunned and hurt to see so many one-sided portrayals of the religious situation in China. Hammering the same theme over and over distorts the truth: The religious trends here are largely positive.
Tony Carnes could paint a more nuanced picture if he wanted to.
Kurt Selles
Beijing
The Church and Gays
My story in many ways parallels that of the anonymous author of "No Easy Victory" [March 11]. I became aware of my sexual orientation at age 9, was married for nearly 20 years, and raised four wonderful children.
I was saved at 24, and my faith was real. Yet I was still gay. I too was suicidal and felt I could not trust my brothers and sisters in Christ.
I prayed, pleaded, and begged God to change me. I went to Christian counselors, and Christians prayed for my "private struggle." When I was 45, God in his grace and in his time brought me out. His promise that no one would pluck me out of his hand became the reality of my life.
No words are powerful enough to describe the pain and fear I felt during that first couple of years. For a year my wife stood with me while she and my children suffered from remarks by friends and neighbors. Of my Christian friends, 99 percent simply walked away. The Lord did bring me other Christian friends who, although they did not understand or fully accept my being gay, did stand with me.
The guilt and judgment put on me by the church, however, took its toll. My wife filed for divorce, and my life as I knew it came to a close.
I began to hate myself so much that I felt my life was not worth living. But God showed me his love, compassion, and grace and brought me through to a full and a truly victorious life. In the four years since then, I have stood as a testimony to the reality of the power of God's divine love and grace.
Am I still gay? Yes. Am I still a Christian? Unquestionably yes! For my position in Christ is, and always has been, based on his work in my life, not my own. The psychological cost to my family was considerable. But today my children and their spouses and children have come to know and love me in a way that would never have been possible before. My former wife and I remain friends, enjoying our children and grandchildren together.
I know and live the reality of the Christian experience. Not much is preached on the cleansing power of the blood of Christ anymore, but it is through that cleansing and the power therein that I stand today.
To my brother I would like to say, "Remain true to your relationship with the Lord, stand fast in the reality of his truth, follow him and trust him fully as he leads you. Ours is no easy victory, but there is victory."
Bruce Hooper
Bryant, Arkansas
Thanks for publishing the experience of the anonymous author of "No Easy Victory." I pray that I will be able to implement the adjustment to my attitude required after reading of his experience.
Bob Snyder
Midland, Michigan
The gripping testimony of a married, nonpracticing homosexual Christian helps us see the battle "from the inside out." It also must add insight to the very nature of the battle itself—and cause God's people to weigh our often shallow responses to the several dilemmas in which this man and so many others are trapped.
Judith Deem Dupree
Pine Valley, California
I don't know the last time I read something so enlightening, challenging and sad as "No Easy Victory." The question this should raise for those of us who are heterosexual Christians is "What does this mean to me/us?" There is a huge discrepancy between the way we treat "straight" sexual sin and "gay" sexual sin, but what are we to do about it? Do we hit heterosexuals harder, or homosexuals softer? Or do we roll up our sleeves and get down to the dirty business of hating all sin more than we hate death, and loving all sinners more than we love life?
I can't imagine any evangelical would choose anything besides the third choice. How we go about doing that practically is something I hope Christianity Today and others will tackle in the near future.
Timothy Goddard
St. Paul, Minnesota
I applaud the author for sharing his story. Particularly insightful was the truth that those who struggle with homosexuality are no more broken than other pew dwellers.
One troubling point was the author's continued labeling of himself as homosexual, primarily because of feelings and pulls of the heart. There is danger in labeling oneself by besetting temptations, however deeply felt. Temptation does not equal orientation. Biblically speaking, we become oriented to that which we repeatedly give our hearts, in secret or in public.
John Freeman
Executive Director, Harvest USA
Philadelphia, Pennsylvania
Nuptial Disagreements
With a critical and negative attitude, I once visited a fast-growing church where a woman was preaching ["Nuptial Agreements," March 11].
As soon as she got up to speak, she announced, "In the Bible there are no women pastors or elders. I am not an elder or pastor. My husband is an elder, and he and his fellow elders have asked me to speak to the church on Sunday mornings. They believe God has given me the ability to speak his word in an encouraging way. So that is what I try to do."
She, her husband, and the elders were right. This experience put my complementarian head in touch with my egalitarian heart. I have found, contrary to Adam, that I am more likely to sin for not listening to my wife.
Bruce Southerland
Hooksett, New Hampshire
Any relationship would thrive from the kinds of negotiating represented by the Dudleys and Swarts. Perhaps we wouldn't be hearing of Andrea and Russell Yates if they had known of mutual submission.
Sara Robertson
Wheaton, Illinois
Interfaith Public Square
The "Interfaith Public Square" editorial [March 11] brought to mind my first interfaith experience. Evangelical faiths were conspicuously absent (of their own volition) from the service, sponsored by the local Interfaith Council. Apparently the participating liberal Christian clergy had muzzled themselves. Not once did they mention the name of Jesus Christ.
The Christian clergy were conspicuously careful to say nothing "Christian." One read an Iroquois prayer, a pantheistic giving of thanks to "our mother, the Earth, rivers and streams, all herbs … and to the Great Spirit."
The editorial agonized over the "empty chairs" of nonparticipating evangelicals in interfaith settings. Don't. Taking a cue from Jesus' words about "casting pearls before swine," it's a waste of time.
Peter Kushkowski
Haddam, Connecticut
Dueling Seminaries
Reading "The Battle of Lexington and Wilmore" [March 11], we found the words competition, compete, and competitive used 13 times. These were scattered throughout the article alongside words like comparable, contrast, conflict, and internecine "holy war."
This article was reporting about two theological schools in the same region as though they were engaged in some kind of contest. We fear that we Christians sometimes allow our view of one another to be permeated by the cultural attitudes of competition and bottom lines.
Have we developed among ourselves an "in your face attitude" (if even unspoken) that "my daddy can whip your daddy"? Is it not true that we Christians all have the same daddy?
We are not in competition with one another. We are in the same family, and, therefore, we rejoice that for whatever reason and in whichever manner, Christ is proclaimed (Phil. 15-18).
The Rev. Dr. Thomas D. Minton
Asbury Seminary, '92, '96
First Christian Church
(Disciples of Christ)
Sweetwater, Texas
The Rev. Barbara Taylor Minton
Asbury Seminary, '92
Lexington Seminary, '95
First Christian Church
(Disciples of Christ)
Colorado City, Texas
The pictures of the "signature buildings" of the two contrasting institutions were weakened by the fact that your photographer was facing backward while standing in Wilmore. The Hager Administration Building at Asbury College, not Asbury Theological Seminary, decorates your article. While the seminary grew out of Asbury College, they are two separate institutions.
Also, it is important to note that the huge endowment of Asbury Seminary includes one of the largest gifts ever made in private education, from the estate of Ralph Waldo Beeson in 1990. The Chronicle of Higher Education reports that gift as $58 million.
As a faculty member at Asbury College from 1977 to 1994, I was pleased to see our sister institution flourish after difficult times.
Richard J. Sherry
Dean of Faculty Growth and Assessment
Bethel College
St. Paul, Minnesota
Asbury theological seminary opened in 1923, not 1929. I am most concerned, however, by errors in William Weston's treatment of the theological problem of 1948-50 (not 1957 as the article states).
In 1948, Asbury seminary hired a faculty member whose teachings were not in harmony with those of the seminary. These included an eternal dualism between good and evil, and that the Bible was not the objective Word of God but became so only as it impacted the heart and soul. Most of the faculty members (not "younger" members) opposed his view.
He soon submitted his resignation, but the president and the board of trustees, naïvely hoping his views would become acceptable, did not accept it until May 1950. This professor was a sincere Christian, in spite of his theology, and he and his wife became very popular with many of the students. At least two faculty members sympathized with him, although probably not with his theology.
As a result, when his resignation was accepted, a great turmoil arose in the student body, and it was this unrest that led to the loss of accreditation for some years.
I believe I am the only surviving faculty member from those days. (I was a student and faculty member at Asbury from 1941 to 1965; the librarian also survives.)
J. Harold Greenlee
Fort Myers, Florida
Wesley biblical seminary was founded in 1974, not the late 1960s. Wesley was founded not primarily by disaffected Asbury Seminary faculty, but by two persons: one a faculty member of Anderson School of Theology, and another who served one year on the faculty at Asbury.
In 1975 Delbert Rose left Asbury to join his two longtime friends at Wesley. He has told me that while theological concerns about Asbury were part of his decision, the major factor was the call of his friends to "come over and help us."
John N. Oswalt
Acting President
Wesley Biblical Seminary
Jackson, Mississippi
Still Friends and Partners
In "Jenkins Gets Left Behind" [April 1] you parrot my quote about why I didn't join Tim LaHaye's new mega-book deal: "Well, it's not like I was asked." The false implication in CT, as it was in The New York Times, is that I expected to be asked or was disappointed that I had not been. Dr. LaHaye and I are partners only for the Left Behind series and have also continued doing our own projects all along. We're still friends and partners and expect to be for a long time. The business about my son mistakenly calling to congratulate me [which also originally appeared in the Times] was also inaccurate.
Jerry B. Jenkins
Black Forest, Colorado
L.V. Booth
The tone of the profile on L.V. Booth, the former Cincinnati pastor and a founder of the Progressive National Baptist Convention (PNBC), was perfect ["The Forgotten Founder," March 11].
I covered religion for The Cincinnati Enquirer. It was characteristic of L.V. that I learned about his role in the PNBC from others. I also discovered how his references to "Martin" differed from so many others'.
While some black pastors were noisier and flashier, L.V. devoted himself to his family, his congregation, the diverse and fractious black community, and the wider interfaith, interracial community. He also made enemies, moved faster than others were willing to follow, and had his failures. Some made news.
In the decades I covered religion, L.V. was an unfailingly generous teacher and candid, on-the-record source even when it was news he'd rather not see in the paper.
During all of those years, no call was more welcome than one that began with his warm, booming salutation, "Brother Kaufman."
What set L.V. apart was that he meant it.
Ben L. Kaufman
Cincinnati, Ohio
Have something to add about this? See something we missed? Share your feedback here.
Our digital archives are a work in progress. Let us know if corrections need to be made.
This article is from the April 22 2002 issue.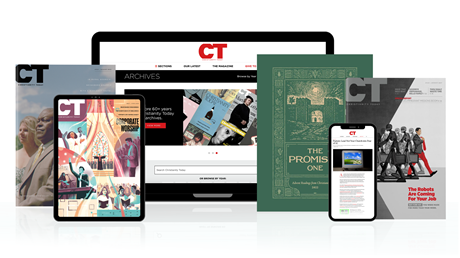 Annual & Monthly subscriptions available.
Print & Digital Issues of CT magazine
Complete access to every article on ChristianityToday.com
Unlimited access to 65+ years of CT's online archives
Member-only special issues
Subscribe
Letters
Letters