Judge: Ashcroft overstepped duties in enforcing law, but doctors don't overstep when they kill
U.S. District Court Judge Robert Jones ruled yesterday that the Department of Justice can't block Oregon's assisted-suicide law. The attorney general, Jones said, has no authority "to decide, as a matter of national policy, a question of such magnitude as whether physician-assisted suicide constitutes a legitimate medical purpose or practice." When Attorney General John Ashcroft decided to use federal drug laws to punish doctors who killed their patients, it was an effort "to get through the administrative door what they could not get through the Congressional door, seeking refuge with the newly appointed attorney general whose ideology matched their views."
That administrative door is apparently still closed, reports The Oregonian. "The decision … could inflame election year rhetoric in Congress, but decisive action against the law is unlikely soon," reports the Portland paper. Democrats control the Senate, and Republicans don't want to risk putting Sen. Gordon Smith against the Oregon voters who approved an assisted-suicide measure in 1994 and reaffirmed it in 1997. "If there were a Republican who was determined to press ahead on this, I think he would certainly get a lot of informal pressure from his colleagues to back off," Rutgers University political science professor Ross Baker tells the paper. "The last thing any Republican would want is to lose a Republican senator."
Meanwhile, religious and profamily groups are really upset. "Oregon's argument that its 'Death with Dignity Act' regulates the practice of medicine and that Ashcroft's order interferes with its state right to do so is preposterous on its face," says the Family Research Council's Jan LaRue. "A license to cure isn't a license to kill."
The Christian Medical Association agrees. "This judicial intrusion into the ethics of medicine that has protected patients for over two millennia is unconscionable," executive director David Stevens says. "Do we really want to return to the days before Hippocrates when patients didn't know if their physician was a healer or an agent of death?"
Likewise, Concerned Women for America's senior policy director, Wendy Wright, complains, "Judge Jones ignored centuries of ethical guidelines that physicians should heal, not kill. This lone judge claims that doctors in Oregon can ignore federal law by killing their patients with powerful drugs. This decision must be appealed."
The Oregonian is sympathetic to these arguments, but says the judge's decision was "predictable, clear, and mostly correct." "We continue to oppose assisted suicide, so we'd dispute the judge's assertion that the question is settled," the paper editorializes today. "But we follow Jones' thinking up to a point. We don't think the corridors of the Ashcroft Justice Department are the right place to resolve the argument."
Dobson, others say it's time to leave public schools
"In the state of California and places that have moved in the direction that they've gone with the schools, if I had a child there I wouldn't put that youngster in the public schools," James Dobson said on his March 28 Focus on the Family radio broadcast with guest Pat Buchanan. "I've been very careful not to be negative to the public schools, because there are many Christian teachers that are struggling mightily to do what's right there, and I haven't wanted to put pressure on them. But given the fact that in every classroom in the state, for 13 public school years, they're being taught homosexual propaganda and these other politically correct, post-modern views, I think it's time to get our kids out. And I'm going to get hit for that." (Listen here: the comments start just shy of 16 minutes into the program).
So far, he's getting support instead. "I stand with Dr. James Dobson," Laura Schlessinger said on her April 9 show. "Take your kids out of public schools." (While Schlessinger was apparently talking about all public schools, Dobson was more limited. "There are other states where that's not happened. And there are many states where there are a lot of Christian people and Christian influences still there, particularly in the South and to some degree in the Midwest," he said. "But where that happens, we cannot sacrifice our kids on the altar of some kind of public schools ideal.")
Radio host Marlon Maddoux similarly supported Dobson on his show that day.
The Alliance for Separation of School and State, an anti-public school organization, told conservative Web site WorldNetDaily that its "Proclamation for the Separation of School and State," which was getting about five signatories a day, jumped to 100 a day after Dobson's broadcast.
More articles
Bible:
Science:
Church life:
Clergy abuse:
Crime and violence:
Pop culture:
Technology:
Related Elsewhere
See our past Weblog updates:
April 17 | 16 | 15
April 12b | 12a | 11 | 10 | 9 | 8
April 5 | 4 | 3 | 2 | 1
March 28 | 27 | 26 | 25
March 22 | 21 | 20 | 19 | 18
March 15 | 14 | 13 | 12 | 11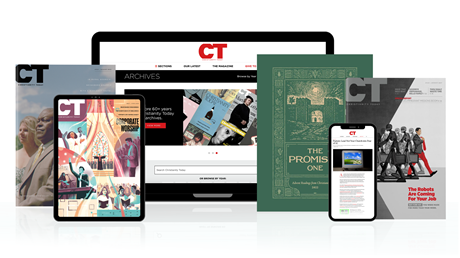 Annual & Monthly subscriptions available.
Print & Digital Issues of CT magazine
Complete access to every article on ChristianityToday.com
Unlimited access to 65+ years of CT's online archives
Member-only special issues
Subscribe
Federal Judge Says Feds Can't Interfere With Oregon's Suicide Law
Federal Judge Says Feds Can't Interfere With Oregon's Suicide Law