Supreme Court will hear Operation Rescue case. Again.
Back in 1994, the Supreme Court ruled that prolife activists could be prosecuted under the Racketeer Influenced and Corrupt Organizations Act (RICO), a law created to combat organized crime. Eight years later, the case is back at the Supreme Court as activists on both sides of the abortion debate argue over how RICO can be applied. Does RICO allow a court to grant an injunction, or does it just allow judges to award damages? And does the "right of access to abortion services" count as property, which activists would "steal" through their demonstrations?
"It is clear that a federal statute designed for drug dealers and organized crime has been misapplied and used as a powerful weapon to silence the prolife message," says American Center for Law and Justice chief counsel Jay Sekulow.
The court battle, which dates back to 1986, pits Operation Rescue and the Pro-Life Action League against the National Organization for Women (NOW) and a group of abortion clinics, but the issues involved have created strange bedfellows. Among those supporting the prolife activists are groups like People for the Ethical Treatment of Animals and the Southern Christian Leadership Conference, both of which also engage in protest tactics like sit-ins and blockades. The ACLU is staying out of the Supreme Court battle, but in lower courts sided with the prolifers.
"From the burning or hanging of effigies in Colonial times to the civil rights and anti-war sit-ins of the 1960s and 1970s, demonstrations, even illegal ones, have been both an outlet for dissent and an instrument for social and legal change," says Sekulow's appeal.
NOW lawyer Fay Clayton says the prolife activists are wrong to describe themselves as descendents of those historical protests. "The folks who hate abortion and would stoop to any means to end them call what they do civil rights," she tells The Washington Times. "Protest should always be protected, but not when the tools are force, violence, or fear."
The Supreme Court will likely hear the case in the fall.
Deadly bombing in Philippines may have been work of Abu Sayyaf
Abu Muslim Ghazi says he's a spokesman for Abu Sayyaf, the Muslim terrorist group holding American missionaries Martin and Gracia Burnham. He also says the group is responsible for the Sunday bombings in the city of General Santos that left 14 people dead and 34 injured. And he says the bombings will continue. "We will not stop [if] the president does not stop in her program to get rid of Muslims in Mindanao," he said on Radio Mindanao Network yesterday. "We are claiming responsibility because the government is calling us terrorists. There is no problem with that. We are indeed terrorists."
There are some questions, however, over whether the Abu Sayyaf was really responsible for the bombings. The two men arrested so far were originally thought to be members of the Moro Islamic Liberation Front, another militant Muslim group in the Southern Philippines. But it turns out they're actually from the similarly named Moro National Liberation Front, and the police think that group may have joined forces with Abu Sayyaf.
Meanwhile, while we've heard much from Martin's parents, Paul and Oreta Burnham, we haven't heard much from Gracia's. Retired pastor Norvin Jones and his wife, Betty Jo, aren't talking much about the captivity, even when they speak to churches, reports The Examiner of Independence, Missouri. "Instead, the [Joneses] prefer to talk about their daughter and Martin as missionaries and parents." But while speaking at Independence's Pleasant Grove Bible Church, they did answer some questions about the hostage missionaries. "I don't think they will regret [going to the Philippines]," Norvin told the paper. "I think they will want to return to their mission. It has always been dangerous, but that cannot stop those who feel the call of the Lord to preach."
As for the two of them, Betty Jo says she's surprised at how they're holding up: "I thought we wouldn't be able to eat or sleep but God has been supporting us and we just thank the Lord for all the good Christian people who are praying for our children."
More articles
Politics:
Church & state:
Vatican summit:
Pedophilia and homosexuality:
Abuse opinion:
More church abuse stories:
Related Elsewhere
See our past Weblog updates:
April 23
April 12b | 12a | 11 | 10 | 9 | 8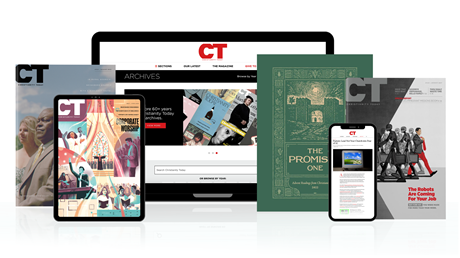 Annual & Monthly subscriptions available.
Print & Digital Issues of CT magazine
Complete access to every article on ChristianityToday.com
Unlimited access to 65+ years of CT's online archives
Member-only special issues
Subscribe
1986 Abortion Protest Case Goes to Supreme Court for Second Time
1986 Abortion Protest Case Goes to Supreme Court for Second Time