'We could not condone their actions.'
On Thursday, Weblog reported that Paul Burnham, father of kidnapped missionary Martin Burnham, told Radio Mindanao that his family had made a deal with the group holding his son and daughter-in-law but the captors reneged.
Burnham did not elaborate on the details of the deal; nor has anyone been able to confirm that it was the $300,000 that Washington insiders say was paid to the Abu Sayyaf in March. Just hours after the news broke, Oreta Burnham told Christianity Today that "We did not pay the ransom." Since then, both parents have remained tight-lipped about the deal. But others have not.
Yesterday, Philippine President Gloria Macapagal-Arroyo scolded the Burhams for their negotiations with the kidnappers. "I'm sorry that (Martin and Gracia) are still there... But we already told them not to negotiate because these bandits cannot really be trusted," Mrs. Arroyo said in a weekly radio address. "They were negotiating without the government's consent. Now they are complaining that the Abu Sayyaf have no word of honor."
New Tribes Mission has also commented on the Burnhams' apparent deal-making. An update on the NTM Web site yesterday said that members of the mission's crisis team called the Burnhams on Thursday after Paul's radio announcement.
"NTM wanted the families to know that we love them and care for them in spite of their choice to act independently of the mission," the site's report reads. "We could not condone their actions but we did not want this to breach our relationship with them. We affirmed that grace must be extended both ways."
On Sunday Abu Sabaya, the leader of the Abu Sayyaf, called the same radio station as Paul Burnham. The station broadcast the interview yesterday. In it, Sabaya denied that the group ever received $300,000 in ransom. He said some talks were held but offered no details about them. He gave the Philippine government one last chance to negotiate.
In his call, Sabaya also taunted the U.S. "All I can say to the U.S. government … is 'welcome to the party,'" he said. "I am still kicking and alive. I'm fine and alive. It's really an embarrassment because the superpower can't do anything to us."
Bush: 'I'm just a humble sinner who sought redemption.'
At one point in President Bush's speech in South Central Los Angeles yesterday, a member of the crowd shouted out, "Preach, Mr. President." At other times, "Amen" and "Yes" were heard throughout the crowd. In fact, the Associated Press said Bush even sounded like a preacher as he talked about the role of faith-based organizations. Speaking to the staff of a church-sponsored redevelopment program, Bush said:
Government can hand out money. But government cannot put hope in people's hearts. It cannot put faith in people's lives. And faith is a powerful motivator. Many a program relies upon faith, and we ought to welcome the faith-based programs into the compassionate delivery of help. I know firsthand. I know what faith can mean in somebody's life. That's why I remind people I'm just a humble sinner who sought redemption.
Bush took the opportunity to speak to the First African Methodist Episcopal Renaissance Center in the neighborhood torn by race riots ten years ago to share his testimony and stress the importance of faith-based programs like Renaissance.
"I don't want government to be the church, and I don't want the church to be the government. But government should not fear faith and faith-based programs," Bush said. "I firmly believe God is on the side of justice and reconciliation. But as Martin Luther King said, God isn't going to do it all by himself."
ABC News reports the Vatican may have known of abuse.
In 1997 The Hartford Courant reported that nine men had come forward with charges against the Rev. Marcial Maciel Degollado, the founder of the Legion of Christ, for sexual abuse going back to the 1940s. Maciel denied the accusations.
The accusers said they were coming forward at that time because the Vatican had failed to investigate or answer letters sent through official channels. Two years ago, the men filed a lawsuit with the Vatican in order to excommunicate Maciel. Accusers say they were not interviewed and the Vatican did not investigate.
ABC News reported last week that the alleged victims say the Vatican not only ignored their claims but protected Maciel and "made the lawsuit go away."
J. Paul Lennon was a member of the Legion of Christ and left to aid those claiming to be Maciel's victims. He told ABC: "I would say he has the pope eating out of his hand. Who is going to touch him, no matter what he does? He's untouchable."
The ABC News report includes graphic details of the accusations but focuses on the claims that powerful cardinals covered up the case. The nine former students of Maciel claim Vatican-based Cardinal Joseph Ratzinger was responsible for shelving their accusations. Ratzinger was recently appointed by the pope to investigate the current sex abuse scandal.
Maciel did not speak with ABC News but sent a strong statement of denial. Reporter Brian Ross did, however, interview Ratzinger, who "became visibly upset and actually slapped this reporter's hand."
Related Elsewhere
See our past Weblog updates:
April 29
April 26 | 25 | 24 | 23 | 22
April 19 | 18 | 17 | 16 | 15
April 12b | 12a | 11 | 10 | 9 | 8
April 5 | 4 | 3 | 2 | 1
March 28 | 27 | 26 | 25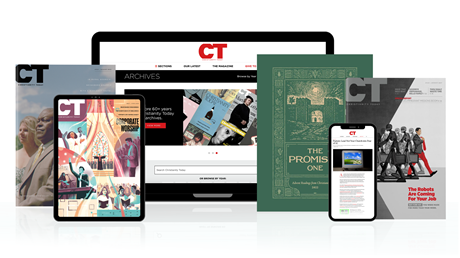 Subscribe to Christianity Today and get access to this article plus 65+ years of archives.
Home delivery of CT magazine
Complete access to articles on ChristianityToday.com
Over 120 years of magazine archives plus full access to all of CT's online archives
Subscribe Now
Philippine President, New Tribes Mission Speak Out On Negotiations With Kidnappers
Philippine President, New Tribes Mission Speak Out ...