Six years after launching a movement to attack religious persecution, a core group of political and Christian leaders on Wednesday issued a second "Statement of Conscience" that singles out Sudan and North Korea as the worst violators of human rights.
The torment "suffered by faith communities of Sudan and North Korea may be more brutal, more systematic, more deliberate, more implacable and more purely genocidal than those taking place anywhere in the world today," according to the statement supported by some 150 church, think-tank, and political leaders.
Sen. Sam Brownback (R-Kan.) told the thought-shapers, government officials and clergy, including a bishop from Sudan and a woman tortured in a North Korean labor camp, that since the first summit in 1996 concern for religious persecution has moved from a hotel conference hall to Capitol Hill.
"We ask people to pray," Brownback said. "It has to happen in the heavenlies before it can happen in the U.S. Congress."
The afternoon summit, sponsored by the National Association of Evangelicals and the Center for Religious Freedom of Freedom House, supports President Bush's characterization of Sudan as "monstrous" and his inclusion of North Korea in the "axis of evil."
It calls for the administration to press North Korea to allow more aid from nongovernmental organizations, as well as greater resources generally for reporting abuses in all problem countries. The statement also vowed "never to commit the sin of silence" in the face of abuses.
The gathering came amid a surprise offer by North Korea to reopen sensitive arms talks with U.S. officials. Former North Korean labor camp prisoner Lee Soon Ok offered an emotional prayer for Christians imprisoned because of their faith. "For they simply sang hymns to you, and their faces were kicked and broken," she prayed.
Norbert Vollertsen, who as a visiting physician has documented numerous North Korean abuses, told those in attendance that the country's regime is an updated composite of the world's worst dictators. The government of Kim Jong-il views Christianity as the worst kind of subversion of the communist state, he said. Missionary pastor Tim Peters, who has helped run an underground railway through which North Koreans escape the country, added: "The fury with which North Korea meets Christianity is hard for us [in the West] to understand."
One of the achievements related to the first summit on January 23, 1996 was passage of the International Religious Freedom Act and its creation, in 1998, of the U.S. Commission on International Religious Freedom (USCIRF). In theory, the act makes religious freedom a priority of U.S. foreign policy.
Commission Chairman Michael Young told the second summit that North Korea is systematically starving 5 million of its own people—to little international criticism. Only 56 percent of Americans in a recent poll considered North Korea's government "evil"—compared with 80 percent regarding Iraq as such—and Young said this should not stop the administration from tying U.S. aid to human rights improvements in North Korea.
"We urge the president to speak out to North Korea itself," as well as urge Japan and European allies to press the communist regime for religious freedom, Young said.
A White House representative read a statement from President Bush. It included the assertion that, "Today, as we wage war against a global terror, our resolve to defend religious freedom around the world is as important as ever." It also recognized the religious element of Sudan's civil war.
Michael Horowitz, who directs the conservative Hudson Institute's Project for International Religious Liberty, said from his seat that as a Jew he was amazed at the unified effort of Christians in the past six years.
"You don't know your own power," Horowitz said. "For God's sake, keep it up. You're really doing God's work not only for your own people, but for mine and everyone else's."
Horowitz told of government officials in Islamic countries who publicly denounce him after his organization exposes abuses—then privately encourage him to keep it up, providing him information on their regime's latest human rights violations.
Various leaders spoke out against abuses in Sudan, noting that the White House and Senate have stalled a bill that would prohibit foreign companies with investments in Sudan from listing their names on U.S. stock exchanges.
With Sudanese oil revenues gushing thanks to foreign oil firms (U.S. sanctions prohibit American concerns from participating in Sudanese projects), the regime in Khartoum hopes to build up enough military might to crush the Christian and animist south in the 19-year civil war. The Muslim regime imposed shari'ah law in 1983.
"Make no mistake about it—the most significant factor in this war is religion," Nina Shea, director of the Center for Religious Freedom, told the summit. "U.S. Special Envoy to Sudan John Danforth has not addressed underlying issues of religious freedom."
Besides vigils and protests, concerned citizens can go to Freedom House's Web site to send automatic letters of support for the stalled Sudan Peace Act to their senators, Shea said.
Paul Marshall, Senior Fellow at the Center for Religion Freedom, told CT that without the capital markets prohibition of the Sudan Peace Act, foreign companies "can come here and raise money from Americans to do things that no American companies are allowed to do."
"There need to be pressure points—levers, sticks—available for addressing the Sudanese government," he said. "At the moment the Sudan Peace Act doesn't have enough incentives for a real and just peace."
Awareness of religious persecution has risen substantially in both churches and the media since the first summit, Marshall said, and there have been a few concrete victories—the release of prisoners in Uzbekistan after the intervention of then-Ambassador for Religious Freedom Robert Seiple, and Vietnam granting legal status to the Evangelical Church of Vietnam. But Marshall said he is amazed at the lack of knowledge that persists among some policy makers and media.
"Many reporters are ignorant and don't have contacts with people in the churches, so they often miss what is happening," Marshall told CT. "And like many other human rights, in terms of U.S. foreign policy, religious freedom will often get all too quickly sidelined in favor of other issues."
The elevation of religious freedom as an issue in Washington over the past six years is undeniable, Chuck Colson of Prison Fellowship Ministries told the summit. But the cause goes on, he said, to make tyrants aware that people have inalienable rights—"pre-government rights that governments can neither grant nor take away because they're given by God."
The Rt. Rev. Henry Riak, bishop of Wau Diocese, Episcopal Church of Sudan, was denied such rights. But, sporting a Southern Sudan Under Tree Schools ball cap, the bishop told the summit that his imprisonment from 1994 to 1999 for being "against Islam" gave him many opportunities to convert Muslims to Christ. He said a prisoner once told him that, as he bowed among a line of Muslim worshippers, Christ on the cross revealed himself to him in a mosque.
"He said, 'Bishop, I'm [now] a Christian; pray for me,'" Riak told the summit. "I told him, 'You are saved. But you will suffer.'"
Associate editor Jeff M. Sellers writes regularly on persecution issues for Christianity Today.
Article continues below
Related Elsewhere
Also appearing on our site today:
CT Classic: The Suffering Church | Increasingly, Christians are harassed, arrested, interrogated, imprisoned, fined, or killed because of their religious beliefs and practices.
The NAE site includes the text of both the 1996 and 2002 "Statement of Conscience."
Other news coverage of the summit includes:
Christian leaders ask U.S. to sanction Sudan, North Korea—The Washington Times (May 2, 2002)
Previous Christianity Today articles on the effect of 1996's statement includes:
Progress for the Persecuted | New successes represent a new approach. (Oct. 6, 1997)
State Department Report Decries Persecution of Christians | Freedom from Religious Persecution Act reflects the initiatives outlined in the NAE's Statement of Conscience. (Sept. 1, 1997)
Government Awakens to Persecution | The Clinton administration and Congress have taken new steps to re-examine U.S. policy responses to global religious persecution. (November 11, 1996)
Christianity Today'spersecution archive has more articles on religious discrimination and violence from around the world. The World Report section allows readers to search for past articles by country.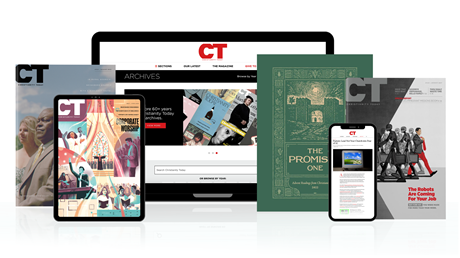 Annual & Monthly subscriptions available.
Print & Digital Issues of CT magazine
Complete access to every article on ChristianityToday.com
Unlimited access to 65+ years of CT's online archives
Member-only special issues
Subscribe
Persecution Summit Takes Aim at Sudan, North Korea
Persecution Summit Takes Aim at Sudan, North Korea