The National Association of Evangelicals (NAE) yesterday released a "Statement of Conscience" concerning worldwide religious persecution. The first version of this statement was released on January 23, 1996. At a time of little concern for religious persecution, this statement helped bring new attention to Christians harassed, arrested, or killed for their faith. In the summer of 1996, Christianity Today senior news writer Kim A. Lawton wrote on the crisis of the persecuted church.
Hussein Qambar Ali, who has been a Christian for less than two years, found his life on the line in Kuwait, a nation where the state religion of Islam opposes conversion by its citizens.
Hussein, who uses the Christian name Robert, could be executed after his conviction for apostasy in a Kuwaiti Islamic court May 29. The religious court recommended that Hussein, a Muslim by birth, should be killed because of his conversion to Christianity. According to local reports, the court also said his marriage should be dissolved and all his possessions be distributed to his heirs. The ruling says that the supreme Muslim ruler, or imam, would have the sole authority to carry out the execution.
Hussein remains in hiding as he fears for his life. An apostasy conviction is unprecedented in modern Kuwait. It is not an explicit crime under Kuwait's legal system, although the constitution stipulates that Shari'ah (Islamic law) is the basis for all Kuwaiti laws. Some Islamic societies, including Iran and Saudi Arabia, interpret Shari'ah to mandate the death penalty for apostates.
"Apostasy in the Islamic world is serious," Hussein told Christianity Today in a telephone interview. "Anyone, even an ordinary person, has the right to kill me without any penalty."
Hussein went public about his conversion last December when he told Kuwaiti newspapers that his estranged wife refused to let him visit his two children because he had embraced Christianity. After publication of the interviews, three lawyers filed a private suit charging Hussein with apostasy. He soon began receiving death threats. Western missionary groups estimate that fewer than 300 Kuwaiti nationals in the predominantly Sunni Muslim country are Christians. "Why should I pay the heavy price because of my beliefs?" Hussein asks.
Worldwide Suffering
Kuwait is one of many nations where Christians are particularly subject to religious discrimination and persecution. Although there are 1.7 billion Christians worldwide, they are a religious minority in 87 countries and territories.
Increasingly, Christians are harassed, arrested, interrogated, fined, imprisoned, or killed because of their religious beliefs and practices, including spreading the faith, which is discouraged or outlawed by some governments.
In southern Sudan, Christian women and children are routinely sold into slavery, and there are persistent reports of crucifixions of Christians in remote areas. Provincial officials in northern Laos closed all known Catholic and Protestant churches last year, forcing church leaders to sign affidavits promising not to engage in religious activities. In Cuba, popular Pentecostal pastor Orson Vila remains under house arrest for conducting worship services in his back yard.
"Christians are in fact the most persecuted religious group in the world today, with the greatest number of victims," asserts Nina Shea, director of Freedom House's Puebla Program on Religious Freedom.
Several factors have complicated the problem of religious freedom for Christians worldwide. Christianity has become a global force with more than half of its believers living outside developed countries. Experts say that the "nonwhite indigenous church" in Asia, Africa, and Latin America is the fastest growing among major Christian groupings. This rapid gain among nonwhite Christians is occurring in countries without a history of religious pluralism.
Also, religious-liberty advocates charge that the majority of Christians in the developed West—and in the United States in particular—have shown either ignorance or indifference about global Christian persecution. "Since the end of the Cold War, there has been a deafening silence from the church," Shea says.
Some experts believe evangelical churches in the West ignore the issue at their own peril. "We have not understood what the Bible teaches about the body of Christ," asserts Brother Andrew, founder of Open Doors, an organization supporting persecuted Christians. "If one member suffers, the whole body suffers."
Brother Andrew's organization has shifted its focus from communist countries to Muslim-dominated countries, believing Islam poses the biggest challenge to the church today. "The message is no longer There is no God, but Who is God?" Brother Andrew told CT.
"We in the Western church don't come close to matching the level of commitment, determination, and strength of many Muslim groups," he writes in The Calling (Moorings, 1996). "Until we do, Islam will continue to be the world's fastest-growing religion—not because of its strength, but because of our weakness."
Anti-Christian Forces
In the United States, a new movement of Christians hopes to counter the widespread ignorance and uninvolvement with the persecuted church by pressing for political and social change, by raising awareness, and by coordinating efforts of missions organizations and human-rights groups—which seemingly are often at odds with one another.
Although these efforts remain at an early stage, veteran human-rights leaders are hopeful. "I think we're beginning to see the tide turn," says Shea, who believes a refocusing on the plight of persecuted believers cannot come too soon.
Three powerful forces are responsible for most of the persecution of Christians worldwide: resurgent communism, a religiously intolerant form of Islam, and re-emerging nationalism.
According to Paul Marshall, senior fellow at the Institute for Christian Studies in Toronto, these forces see Christianity—and especially evangelical Christianity—as a dangerous threat: "People believe influences such as evangelical Christianity are agents of foreign forces, which are undercutting who they are and what they believe."
While the fall of communist regimes in Europe and the Soviet Union during the late 1980s opened the way for religious liberty, Christians continue to suffer because of their faith in countries that are still under the grip of communism, especially throughout Asia.
In Beijing, China's capital city of 5.9 million, for example, outspoken Christians are at grave risk. Gou Qinghui and her husband, Xiao Biguang, have paid a high personal price for seeking religious liberty. Xiao, a Christian intellectual, has not been seen since his arrest in April 1994. Periodically, police officers come and ask his wife, Gou, to provide clothes or money for Xiao, providing hope that he is still alive.
According to Human Rights Watch/ Asia, Xiao stood trial in a closed two-hour session on April 10, 1995. He had been charged with several crimes, including "creating a negative atmosphere among students." But he still has not been sentenced. Under the Chinese system, prisoners can be held incommunicado until their sentencing.
Xiao, 34, came to Christian faith after the 1989 Tiananmen Square massacre. He began studying the Bible and came to the conclusion that only Christianity could solve China's problems, which he saw as essentially problems of the heart. Active in a labor union movement, Xiao then wrote several academic articles promoting Christianity among intellectuals. Prior to his arrest, he also spoke out on behalf of Christians imprisoned for holding "illegal" religious meetings.
While awaiting word about her husband, Gou, a member of the Beijing Christian Holy Spirit Study Center, has been continually harassed. She has lost her teaching position at a government-sanctioned Protestant seminary. She has been detained by authorities four times and remains under close police surveillance. Authorities have not responded to her two-year request to visit Xiao or to give him a Bible.
Reining in Religion
In China, where tens of millions of Christians live, such a story is not unique. The communist government still keeps a tight rein on religion, and any Christian straying outside a strict set of regulations faces fines, police harassment, arrest, interrogation, torture, or lengthy stays in labor camps.
Protestants and Catholics belonging to state-sanctioned "patriotic" associations are allowed to conduct religious activities—within the realm of government approval. But Catholics who choose to stay loyal to the Vatican and Protestants who worship in a "house church" and refuse to register with the government encounter severe persecution.
In January, authorities stepped up their campaign to force all Protestants to register places of worship. Many Chinese Christians have refused, believing that registration would compromise their faith by giving ultimate authority to the government rather than to God. The city of Shanghai and the provinces of Anhui and Xinjiang have borne the brunt of the campaign, with hundreds of unregistered churches being raided, and dozens of Christians being arrested, detained, and fined this year.
"The message is very consistent that we right now are in the midst of the biggest crackdown against Christians since 1979," says David Stravers, executive vice president of the Bible League, an evangelistic agency that supports Chinese churches.
In other remnant communist nations, including North Korea, Vietnam, and Cuba, severe oppression persists as well. "The churches assert moral values that these governments do not want to hear," Shea says. "[The Christian] tenet of human dignity and rights remains anathema to communist authorities for it threatens their monopoly on absolute and unchecked political power."
Ironically, the fall of the Berlin Wall may have contributed to religious repression elsewhere in the communist world. "[Authorities] look at Eastern Europe and the role of the church in toppling communism, and they are determined they will not repeat that," says a Christian relief worker in Southeast Asia.
In Vietnam, officials have coined the term "peaceful evolution" to describe the threat of Western materialism and Christianity, which is perceived to be a Western religion. "They are afraid such forces will creep in and influence the people so that there will be a peaceful overthrow of the government," a
Christian worker says.
At least 13 Vietnamese evangelicals have been imprisoned in the past year for attempting to spread Christianity. In February, three Americans discovered meeting with 20 young Vietnamese Christians in Ho Chi Minh City were placed under house arrest.
Under the Crescent
Beyond communism, many observers believe an increasingly intolerant and sometimes militant version of Islamic fundamentalism poses a grave threat to Christian churches. "It has gained the reins of power in Iran and the Sudan," says Cleveland State University law professor David Forte. "It threatens Algeria, Bangladesh, Egypt, even Saudi Arabia. It cows a timid government in Pakistan to accede to its program."
Forte argues that the radical Islamist movement seeks "to steal the soul of Islam, to change that great religion's tradition of art, culture, learning, and toleration into its own image of rigid and tyrannical power."
Observers say these Islamists see Christianity as an outside threat. "Muslim extremists vary their attacks, sometimes seeing their main enemy as Israel, sometimes the secularism and materialism of the West, sometimes the Crusades, and sometimes proselytism and missionary efforts," says one Arab Christian leader. Evangelicals have been particular targets of the extremists, he adds, because they are seen as being tied to "all of the above."
While Robert Hussein's plight in Kuwait has received some media attention in the West, human-rights groups report that millions of Christians in the Islamic world suffer numerous horrors in virtual anonymity.
In Sudan's bloody civil war, Christians in the south continue to be victims of the National Islamic Front government's "Islamization" drive (CT, April 29, 1996, p. 52). Christian Solidarity International estimates that more than 25,000 children from the Nuba Mountains have been abducted and sold into slavery—some for as little as $15. According to United Nations special rapporteur Gaspar Biro, Sudanese children from Christian families are captured and placed into Islamic training camps where they are forced to learn the Qur'an, while some Christian women are reportedly raped so they will produce Muslim children.
From Africa to Asia, Christians are increasingly becoming the targets of Islamist movements using violence to seek greater political power. In January, pastor Severino Bagtasos III was shot and killed during a worship service in his Christian and Missionary Alliance Church in the Philippines.
Local Christians say Bagtasos had received death threats because of his evangelistic work among Muslims.
During Easter season, at least two churches and three movie theaters showing films about Christ were bombed in the southern Philippines city of Zamboanga. Muslim rebel groups have been waging a terrorist campaign seeking an independent Islamic state in the southern Philippines. Five months ago in Egypt, church renovations done without official permission provoked a mob of Muslim radicals, who burned houses and stores and killed eight Coptic Christians.
Religious Nationalism
Rising nationalism poses another significant threat to Christians. When one religion is used to define national identity, violent clashes may result. Those outside the national and religious norm are accused of betraying their society.
As the world moves toward a global economy, "the integration and disappearance of boundaries makes people insecure about their place in the world, and so we are getting stronger nationalism," Marshall says.
Often, that nationalistic impulse leads to action against religious minorities. In Bulgaria, for example, non-Orthodox groups are seen as foreign "sects," according to Lachezar Popov, founder of the Bulgarian Christian Legal Society. "If you are a Bulgarian and a Baptist, you are half a traitor." Under legislation enacted in 1994, several evangelical organizations have been denied official status in Bulgaria. Popov is working to secure legal recognition of groups from Campus Crusade for Christ to the Nazarene Church.
The religious nationalist phenomenon exists throughout the world. In Latin America, including the Chiapas region of Mexico, Roman Catholicism is widely viewed as the national religion, while other groups are given secondary status (CT, Feb. 6, 1995, p. 46).
In Thailand, Sri Lanka, and Mongolia, a nationalistic Buddhism seeks a monopoly on citizenship. And the recent electoral gains of the Hindu nationalist BJP Party in India demonstrate the popularity of the notion that to be Indian is to be Hindu.
Christopher Catherwood, visiting scholar at the Cambridge University Center of International Studies, says evangelicals in many of these places "have the same problem that Christians in the early church had: The challenge of how to be loyal to the state and also loyal to Christ." In more and more countries, the net result is persecution when Christians press for the freedom to worship, build churches, or spread their faith.
Confronting Silence and Ignorance
Against such a backdrop of international suffering, the outcry from the Western evangelical church has been inadequate, religious-liberty advocates say.
Brother Andrew, who gained international fame for smuggling Bibles behind the Iron Curtain, offers a harsh indictment of Western Christians: "We want to surround ourselves with prosperity and materialism."
Others place the blame on a more benign ignorance. "There seems to be the assumption that everything is all right now that the Berlin Wall has fallen," says Wilfred Wong, who works with Jubilee Campaign, a British-based human-rights group. "There is a lack of recognition that Christians are still facing severe persecution in many places."
Stravers of the Bible League believes many Christians in the Christian-dominated developed world simply feel too far removed from oppression and persecution. "It's not real [for them]," he says. "In the U.S., foreign policy issues have almost no impact whatsoever. The Christian community reflects the same generally apathetic attitude."
Some missionary and relief groups balk at taking a high-profile stand against persecution. Most depend on government permission to stay in a country and continue their work. They fear that being too closely tied with efforts critical to the host government could jeopardize future work.
"It's a real dilemma," says one missionary to Asia. "You try to build up credibility to have a voice, but at what point do you have enough to say something and not get thrown out?"
In some cases, persecuted Christians themselves may fear that big public advocacy efforts could lead to more actions against local churches. Such situations are not without precedent. "People who speak too loudly on this get in trouble," Stravers acknowledges.
In Iran, prominent evangelical pastor Haik Hovsepian-Mehr launched an international campaign in 1993 on behalf of fellow Assemblies of God pastor Mehdi Dibaj.
Dibaj was imprisoned on death row on apostasy charges for converting from Islam to Christianity decades earlier. Hovsepian-Mehr also invited the United Nations to investigate the religious-liberty violations occurring against Iran's minority Christian community.
Within a year, both Hovsepian-Mehr and Dibaj had been mysteriously murdered, as was a third leading Protestant pastor (CT, Feb. 6, 1995). Since then, many church leaders in Iran have been reluctant to draw more public attention to their situation.
At a May consultation in Prague sponsored by the Religious Liberty Commission of the World Evangelical Fellowship (WEF), delegates discussed strategies for more dialogue and cooperation between international religious freedom advocates, regional churches, and Western missionary and relief organizations.
Reg Reimer, director of WEF's Department of Church and Society and a longtime president of World Relief Canada, argues that the choices in religious-liberty advocacy are not limited to either launching a massive public campaign or doing nothing. Reimer says the tensions can best be resolved with more cooperation and interaction, not only between missionary groups and advocacy groups, but also among Christian nongovernmental organizations.
"You do a division of labor," Reimer told CT, adding that there are times when some groups should be quiet while others "stick their necks out."
Reimer, a veteran missionary to Vietnam, says Western groups should always take their cues from the local churches: "There are basically three options: they can flee, they can endure, or they can resist.
"We can talk with them and pray with them, but when the decisions are made—even if it wouldn't have been our first choice—we need to support them in their decisions."
In the United States, several religious leaders are taking a new look at the issue of persecution. At a Freedom House consultation in January, more than 60 Catholic, Protestant, and Jewish leaders gathered in Washington, D.C., to discuss strategies for mobilizing a new activism about the global persecution of Christians.
Prior to the meeting, the National Association of Evangelicals (NAE) released a "Statement of Conscience" calling on the U.S. government to "adopt policies that would limit religious persecution" worldwide.
"We are dismayed that the United States government has been indifferent to its obligation to speak out against reigns of terror now being plotted and waged against Christians," the NAE Call to Action stated. "At the same time, we confess our own culpability in failing to do all within our power to alleviate the suffering of those persecuted for their religious beliefs."
Catholic leaders are also speaking out. In his annual speech to the Vatican diplomatic corps this year, Pope John Paul II raised the issue of religious persecution, singling out China, Vietnam, and several Islamic countries.
Evangelical Scapegoats?
One unexpected organizer behind the new mobilization has been former Reagan administration official Michael Horowitz, a senior fellow at the Hudson Institute, a conservative think tank. Horowitz believes evangelicals have become "the Jews—the scapegoats" of the twenty-first century.
"As a Jew, I find what is going on with the persecution of Christians throughout the rest of the world eerily parallel to what happened to the Jewish community in Europe during the late nineteenth century." Horowitz believes that a public campaign on behalf of persecuted Christians can be successful.
Many in the new movement say the political policy dimension against persecution is crucial. "We need political moral leadership," says NAE policy analyst Richard Cizik.
In its Statement of Conscience, the NAE urged several "achievable goals," including a major policy address by President Clinton; the appointment of a special adviser to the President for religious liberty; improvements in State Department research and documentation of religious liberty violations; changes in what the NAE called the "indifferent and occasionally hostile manner" in which the Immigration and Naturalization Service treats religious asylum cases; and termination of nonhumanitarian aid to countries that allow religious persecution.
Critics charge that government inaction—or all too often the wrong action—adversely affects Christians in repressive countries. Rep. Christopher Smith (R-N.J.), one of the leading congressional advocates for religious liberty (see "Congressmen Focus on Persecuted Believers," above), has criticized Clinton for reneging on his campaign promise to withdraw U.S. trade benefits until China improves its human-rights record. The Clinton administration has taken the position that stronger economic engagement will give the United States more leverage to urge changes.
Strategies Apart from Politics
Several Christian leaders have pledged to push widespread participation of a WEF-sponsored "International Day of Prayer for the Persecuted Church" on September 29 in which WEF leaders are urging their 116 country and regional evangelical alliances to express solidarity with persecuted Christians and to set aside time for specific prayers during church services.
According to Catherwood, new advocacy and prayer strategies also can be built around the positive aspects of globalization. "The information technology can help persecuted people immensely," he says, adding that with electronic mail and global cable television, "it's actually much more difficult now for repressive regimes to control the information flow out of their countries." In addition, information can be disseminated more widely and more quickly.
Egyptian Christian Ehab El-Kharatt, a church leader in Cairo, advises Western churches that they will gain more credibility in their struggle on behalf of evangelicals if they become more active in human rights generally, "not only for religious liberty, and not only for Christians." He also urges Westerners to give more deference to local Christians.
Sam Ericsson, president of Advocates International, argues that a long-term commitment is essential. "So far, our religious-liberty strategy has been reactionary, putting out the fires," he says.
Popov agrees. "It's harmful [to the local churches] when people come in with a big fuss and then forget about it," he says. Ericsson works closely with Popov and other Christian legislators, lawyers, and judges building international networks and doing education on principles of equal religious freedom for all.
Activists admit that in a sinful world, persecution of Christians will never be eradicated. They note that Christ himself told followers they would be persecuted. But, Reimer points out, the Bible also promises "the same thing about hunger or famine," yet still instructs Christians to feed the poor and aid the needy.
"At any given time, the least of our brethren could be someone in Lithuania or Romania or China or Cuba, and we need to make the difference on their behalf," Smith says. "That's what our Christian duty is, and I don't take that lightly."
In addition, religious-liberty activists say persecuted believers have much to teach Christians in the West about the cost of discipleship. Many places experiencing the worst persecution often also see the great spurts of church growth and vitality. As the new movement against religious persecution progresses, observers agree the key test will be sustaining the momentum and ensuring that it gets translated to the grassroots. Those leading the movement acknowledge it is an important calling.
"Religious liberty is not a privilege to be granted or denied by an all-powerful State, but a God-given human right," asserts the NAE Statement of Conscience.
Brother Andrew advocates friendship evangelism in dealing with Muslims. "We must forever set aside the idea that they are our enemies," he writes. "We did this for decades with the Russians-they were the terrible, evil communists who were going to conquer the world. That very attitude on our part is why it took so long for their system to crumble. In our fear we did not go to them with the love of God."
This article originally appeared in the July 15, 1996 issue of Christianity Today. At the time, Kim A. Lawton was senior news editor for the magazine.
Related Elsewhere
Also appearing on our site today:
Persecution Summit Takes Aim at Sudan, North Korea | Christian leaders issue second "Statement of Conscience."
The NAE site includes the text of both the 1996 and 2002 "Statement of Conscience."
Previous Christianity Today articles on the effect of 1996's statement includes:
Progress for the Persecuted | New successes represent a new approach. (Oct. 6, 1997)
State Department Report Decries Persecution of Christians | Freedom from Religious Persecution Act reflects the initiatives outlined in the NAE's Statement of Conscience. (Sept. 1, 1997)
Government Awakens to Persecution | The Clinton administration and Congress have taken new steps to re-examine U.S. policy responses to global religious persecution. (November 11, 1996)
Christianity Today'spersecution archive has more articles on religious discrimination and violence from around the world. The World Report section allows readers to search for past articles by country.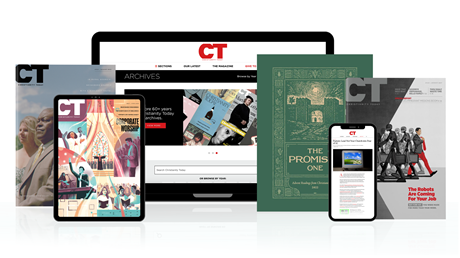 Annual & Monthly subscriptions available.
Print & Digital Issues of CT magazine
Complete access to every article on ChristianityToday.com
Unlimited access to 65+ years of CT's online archives
Member-only special issues
Subscribe
The Suffering Church
The Suffering Church