Last year, The New York Times claimed that Christian relief and development agency Samaritan's Purse had blurred church and state lines by using grants from the U.S. Agency for International Development (USAID) to "preach, pray, and seek converts" in El Salvador.
The organization responded that federal funds are used exclusively to pay for building materials and supplies in its aid work—not for evangelism. But Samaritan's Purse didn't deny it tries to "preach, pray, and seek converts." Instead, as it has since its founding 32 years ago, the organization clearly stated the motivation behind its work: the love of God. Said Mark DeMoss, spokesperson for president Franklin Graham, "We are going to tell people what we do and why we do it."
This approach doesn't apply only to federal funds. When inviting corporate sponsorships for its annual Operation Christmas Child, Samaritan's Purse openly acknowledges that the heart of the program is spreading the gospel. "We won't send a packet B that doesn't mention God in order to get more money," DeMoss told Christianity Today. "It might mean fewer corporate sponsors, but it is a matter of integrity."
This clarity of purpose—and the open presentation of it—is a key component for Christian organizations that have expanded their reach beyond the walls of the church but remain true to their original vision.
"As an institution grows and the founders move on, an organization becomes more professional and more influential," said David Beckman, president of Bread for the World and a Lutheran minister. "In the course of that growth, it is relevant to ask, 'As we evolve, are we staying consistent with the original vision?'"
Some organizations—such as The Salvation Army and Habitat for Humanity—have successfully answered 'yes' to this question. Others, including the Young Men's Christian Association (YMCA) and the Red Cross, have not, observers claim.
Groups who have maintained their original Christian vision hold a deep commitment to that foundation. It permeates the groups and is a part of daily life. As simple as it may sound, devotion to core Christian values is integral to keeping an organization true to its mission despite financial pressures, growing influence, and staffing issues that arise during institutional growth.
"Every ministry has to come to grips with this reality and make careful decisions," DeMoss told Christianity Today. "At Samaritan's Purse, [the Christian mission] has always been a laser-like focus. You could not derail this train given the tracks that it's established on."
External Face
Larry Reed, chief executive officer of Opportunity International Network, extensively studied the practices of large Christian organizations to find patterns in organizations that have maintained their original vision.
He told Christianity Today this week that there is danger for organizations that put out marketing materials inconsistent with their foundation. "Donors and staff members are brought into the organization and all they know of you depends on your marketing," Reed said. "The problem comes when they assume leadership responsibilities and guide the organization based on that [marketing] image instead of the original vision."
Reed said Habitat for Humanity is an example of an organization that does a good job of using plain language to explain their views without Christian "code words." Its terminology is readily understandable to non-Christians but accurately depicts Habitat's beliefs.
Like Samaritan's Purse, organizations contacted for this article told Christianity Today that clear communication of who they are in marketing materials is important for maintaining their Christian foundation. "Because we exist motivated by Christ's love, we have no choice but to say that's why we are here," said Jeffrey Houser, associate director of corporate and foundation relations for Food for the Hungry.
In order to ensure that it delivers a clear, consistent message, Bread for the World has developed printed norms of how to communicate the organization's religious identity. The organization has a voice, Beckman said, and it is important to keep that voice above individual preferences, which can vary from one representative to the other.
For many Christian organizations, marketing to the general public is only part of the communication to secular audiences. In lobbying government or partnering with secular agencies, organizations have to find a balance between using language that will be understood and being clear about who they are.
"We handle [speaking to secular audiences] the same way Paul did on Mars Hill (Acts 17)," said Serge Duss, director of public policy and government relations for World Vision. "When we talk to those in government, we talk about law and policy. When we meet with secular non-governmental organizations, we talk in the language that is suitable. We want the message to be understood. However, we are always up front with our position, we explain that it comes from Christ's call."
Bread for the World follows a similar approach. "Our function is to lobby Congress for hungry people, so legislation obviously doesn't say 'Jesus,'" said Beckman. "But Congress knows our identity and respects it because the work we do is ethically compelling to non-Christians. They know we do our job with might and do it well."
There are times even in governmental settings for personal testimony. When talking with Presidents Clinton and Bush and others in authority, Beckman has shared his faith by saying, "I am a preacher, and this is what I believe."
The source
An organization's focus does not begin with external communication. How an entity presents itself is a reflection of a commitment to faith made individually and corporately within the organization.
Successful approaches to maintaining focus include active, passionate leadership; regular reassessment and internal awareness of the original mission; and staff commitment to core beliefs.
At Food for the Hungry, decisions are made by comparing individual activities to an organizational statement called the "Vision of a Community" (VOC) that unites the activities of eight fundraising offices and Food for the Hungry work in 40 countries. The statement reads: "The community and its people are advancing towards their God-given potential by being equipped to progress beyond their basic needs, and having a growing group of Christians loving one another, manifesting the fruit of the spirit, and reaching out to serve others."
The VOC also keeps the organization's foundation at the forefront of staff consciousness. Every employee is required to take a training course, which includes learning the tenets laid out in the VOC.
Approximately every two years, all employees take a discussion-heavy refresher course one morning a week for several weeks. Even board members go through parallel training, which enables them to lead with the same commitment.
At World Vision, a weekly chapel service is "probably the most important thing we do," Duss said. "We bear each others' burdens. We constantly affirm to each other to follow Christ where he wants us to go. We are all led here to do this work."
Bread for the World's leadership gives systematic attention to the organization's faith life. Board members see themselves as stewards of the mission. They choose candidates for leadership who have strong faith backgrounds. Three-year plans include goals of spiritual deepening as well as business objectives.
This leadership-directed mission is reinforced by a commitment to prayer and Scripture at all levels of staff. Beckman said that voluntary prayer meetings and Bible studies at Bread for the World keep the organization's faith alive. "The Christian mission comes from the top but goes both ways," Beckman said. "It is a very powerful religious experience being here because there's prayer going on all the time. People are coming here to be part of this."
Passionate leadership is what keeps Samaritans' Purse on track, said DeMoss. "There is always danger with succession," he said. "But it is almost foolproof that Samaritan's Purse will run this way. It all starts with Franklin and the board. Just being around it attracts employees who have the same passion. Someone who just has an interest in water purification in Africa won't be comfortable here.
At Samaritan's Purse, internal project reporting includes a ministry report that will list such items as the churches or partnerships involved in an activity, the number of those who committed themselves to Christ, and what local pastors said about the work. These reports are included in Samaritan Purse newsletters and annual reports.
"We wouldn't talk about blanket distribution without detailing the sharing of the gospel as well," DeMoss says. If reports show that evangelism on a specific activity is inhibited, the project will be re-evaluated.
At most of these organizations, the faithfulness to Christian values has produced a circular effect. The strong spiritual atmosphere attracts employees passionate about Christian mission, which in turn, increases the overall depth of conviction.
Commitment to the mission is necessary as a corporate climate, but also on the personal level. "How the biblical worldview stays with the organization is that the individual chooses to believe in it and expresses it," said Food for the Hungry's Houser. "What is required is a commitment that this corporate commitment is not just a tagline, but is truth. Because of its truth, it supersedes what we do."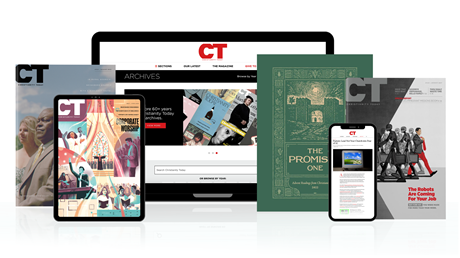 Annual & Monthly subscriptions available.
Print & Digital Issues of CT magazine
Complete access to every article on ChristianityToday.com
Unlimited access to 65+ years of CT's online archives
Member-only special issues
Subscribe
Keeping Christ in Christian Organizations
Keeping Christ in Christian Organizations