Ben Heppner has been called the finest dramatic tenor of our time. He's acclaimed in music capitals around the world for his beautiful voice, intelligent musicianship, and sparkling, dramatic sense. Last year, his recording of Berlioz's Les Troyens won the Grammy Award for both Best Opera Recording and Best Overall Classical Recording.
In addition to his professional accomplishments, he's also committed to his family and a devoted follower of Jesus. He's also very interested in the integration of faith and art. Last year, after winning the Chalmers Award (given to Canadians who make outstanding contributions to the arts), he donated the entire $25,000 prize to Brookstone Performing Arts, a Toronto-based theater troupe that connects performing arts with spiritual issues. Heppner's latest CD, Airs Français, was released late last year by Deutsche Grammophon.
How does a kid decide that he's going to be an opera singer when he grows up?
When I went off and left the farm …
Were you really raised on a farm?
Well, for the first eight years.
Milking cows and that kind of stuff?
Well, yeah, when they let me. I really wasn't trained well enough.
I think probably what happened was I don't actually have any marketable skills so, I figured why don't I just be a singer? But I went off to university thinking I could be a music teacher. I somehow wanted to spend my life with music in some way. And the idea of being a performer was the farthest thing from my mind. But when I went there I got sidetracked into the performance program.
And you had already been singing in high school choirs?
Not so much choirs. Where I grew up, singing is something that could get you beat up, not a great acclaim. So I was in the band. I did some singing, mostly through church.
So where did you go to Bible college?
Canadian Bible College in Regina, Saskatchewan.
When did you begin to realize this may be a career?
It wasn't really until after I graduated. I didn't like opera at all. I did a little bit in university.
Had you heard it as a kid?
When I did it was on the TV, and I couldn't believe that people were singing that loud. It seemed so ridiculous. It wasn't until two years later, when there was no money coming in that I realized maybe I should take a look at opera. I was living in Montreal at the time, and went off to Toronto to enter opera school. It was pragmatic, if anything can be pragmatic about opera.
It sounds like you think about opera the way mere mortals do. It's hard to understand.
It took me awhile. It took me awhile to start to understand the whole idea of what it is about. What is opera to a novice? I would say it's a story told through music. Even the dialogue is sung. That's something that they have to get over. They have to understand that we sing the dialogue, not just speak it like in musical theater, for example. So you just have to get used to that convention and the emotions. The reason that you sing these intimate things at great volume levels is that the passion is so great.
Do you like to listen to your own CDs?
No. Why would I when I've got so many other people I can listen to?
In January, you got laryngitis. What happens when an opera singer gets laryngitis?
Sometimes laryngitis lasts two or three days, so it's just a swelling in your vocal chords. This time I ended up having to take three months off.
January 17 was my Waterloo. I had been struggling throughout the fall, and wasn't singing to my satisfaction. I came to Toronto, my hometown, and about two-thirds of the way through my voice gave out. The audience didn't hear it for a while, but then it became very obvious, and I just eventually had to stop right in the middle of it. And that threw me for a loop.
It took an emotional toll. I needed to rebuild vocally and emotionally. And that's where faith meets reality. My wife and kids are very much with me and praying for me. And I have lots of friends. So I think if there's been any great things to have come out of this, a lot of people will have probably started praying that didn't used to. I'm also reading Scripture. Particularly I'm finding the Psalms are speaking very much to me these days.
How did your faith journey begin?
I started attending a local church at a very early age, and then continued in that denomination, the Christian and Missionary Alliance. We still are there. At about age nine, I first came to the idea to make some kind of a commitment to walk with Jesus on a continual basis. To greater or lesser degrees I have been walking that way ever since.
Were there any big moments in your understanding of what it means to follow Jesus?
Probably it was more of a journey, but yeah, there were certainly these watershed moments. I think one of them probably is these last three months. Priorities shifted. I certainly have rearranged my touring schedule from six years ago. I made the decision to cut back the number of weeks, and that made a huge difference to my life because I was doing far too much time away. So this meant a whole lot to me, to my family, and to my kids, that dad wasn't away continually.
I feel that I'm a sinner that's been knocked to my knees by the sounds of grace. I'm the same as everybody else except I've heard the gospel. I've heard that Jesus wants to speak into my life. He wants to be part of my everyday conversation, part of my everyday walk. And that's where I'm living. And in my very imperfect way I'm just trying to live this out in front of people.
I heard you just before you came in here bemoaning the fact that there was no place for kids to hear P.O.D. and ska bands and alternative groups that are walking with Jesus.
Exactly. I have three children. My daughter is 21, and I have two sons, 17 and 16. The 17-year-old is big into music. He forms a new band every couple of weeks, it seems, and it's a big passion in his life. The church crowd, quite frankly, doesn't really identify with it. So I'm thinking, as we're listening to the stuff that he listens to on the CD player, there's no radio station that plays this kind of stuff. And I would rather that they listen to stuff that has this undercurrent of Christian philosophy underneath it even though for us old guys it doesn't necessarily thrill us. It's not supposed to. The kids of the new generation have to find their own expression of their own faith. Without it, we lose them.
Whether it's me in my mid-40s, or my son who is 17, we need to find an authentic expression of our faith. And it won't be the same. But we need to allow the other. The 17-year-old also needs to allow mine.
What words of advice do you have for somebody who wants to follow Jesus as an artist?
It's not going to be easy. You have to have thick skin. And you have to have passion. You have to be passion-driven. You have to absolutely know what this is all about. And rather than rejecting the old fuddy-duddies out there who don't understand you, educate. Bring them along. Help them understand what you know. Somewhere along the line, if they understand that your motives are real and true and honest, they're going to get it.
Related Elsewhere
Visit DickStaub.com for audio and video of his radio program (4-7 p.m. PST), media reviews, and news on "where belief meets real life." The full text of this interview will be for sale on the website soon.
Earlier Dick Staub Interviews include:
Morton Kondracke | The political commentator talks about how being saved from alcoholism, and trying to save his wife from the ravages of Parkinson's (Aug. 13, 2002)
Article continues below
Mike Yaconelli | The author of Messy Spirituality discusses God's "annoying love" (Aug. 6, 2002)
David Brooks | The Weekly Standard senior editor talks about the spiritual life of Bobos. (July 30, 2002)
Calvin Miller | The author of Jesus Loves Me: Celebrating the Profound Truths of a Simple Hymn talks about childlike faith (July 23, 2002)
Kathleen Norris | The author of The Virgin of Bennington talks about being found by God in the midst of sex, drugs, and poetry. (July 16, 2002)
Thomas Moore | "To really live a secular life and enjoy it is part of being a religious person," says the author of Care of the Soul and The Soul's Religion (July 9, 2002)
Os Guinness | Whether we're seeking or have already been found, we're all on a journey. (July 2, 2002)
Oliver Sacks | The physician author of Awakenings talks about his Orthodox Jewish upbringing, order in the universe, and testing God. (June 25, 2002)
David Myers | People say they know money can't buy happiness, says the Hope College psychology professor. But they don't truly believe it. (June 18, 2002)
Richard Lewis | The comedian, actor, and author talks about his humor, addiction, and spiritual journey. (June 11, 2002)
The Dick Staub Interview
Dick Staub was host of a eponymous daily radio show on Seattle's KGNW and is the author of Too Christian, Too Pagan and The Culturally Savvy Christian. He currently runs The Kindlings, an effort to rekindle the creative, intellectual, and spiritual legacy of Christians in culture. His interviews appeared weekly on our site from 2002 to 2004.
Previous The Dick Staub Interview Columns: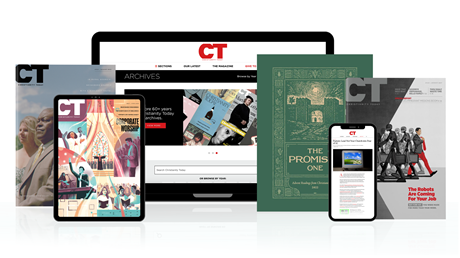 Annual & Monthly subscriptions available.
Print & Digital Issues of CT magazine
Complete access to every article on ChristianityToday.com
Unlimited access to 65+ years of CT's online archives
Member-only special issues
Subscribe
Ben Heppner
Ben Heppner