Nashville paper tries to connect the dots over Christian publisher Thomas Nelson
"Several weeks ago, shortly before Thomas Nelson Inc. disclosed that Chief Executive Sam Moore reimbursed the company $139,000 for personal expenses and services from employees, its top regulatory compliance officer was quietly put on paid administrative leave," reports The Tennessean. "Now, questions have emerged whether the two actions are in some way connected."
The Nashville paper reports that the officer on leave, Eric Hayden, "privately told friends they are" connected. "He has said certain actions by Moore placed him in a position that would compromise his responsibilities to ensure that the company was complying with federal regulatory and securities rules."
But Moore says Hayden was put on leave to cut costs. (Hayden, however, continues to draw paychecks—he's just not working. Moore wouldn't tell the paper why he'd keep paying a nonworking employee if he's on leave to cut costs.)
So far, no details are available over Moore's $139,000 reimbursement, which came out in a filing with the Securities and Exchange Commission. All Joe Powers, Thomas Nelson's CFO, would tell the paper is that they "made the disclosure that's required."
"It's not known if Moore's reimbursement and Heyden's status will come up this Thursday at Nelson's annual meeting," reports The Tennessean. Do any Thomas Nelson shareholders plan to bring it up? E-mail Weblog here.
Thomas Nelson hasn't yet responded to the article, but if they do it's likely to appear either at its website's corporate news page or in The Tennessean's letters to the editor area.
Girls reconcile with their lesbian mom
Kimla Green's two teenage daughters, La Kenna and Shanicola, ran away from home July 4 and have been living with an aunt and uncle ever since (video). The girls, both Christians, sued for permanent separation, saying they can't condone their mother's very active homosexual lifestyle.
"She has tried to make this a case of gay-bashing against Christianity," the girls' attorney, David Sloan, told members of the media earlier this week. "But this is about an irresponsible mother and her behavior. She would hold birthday parties for the girls and invite her lovers over—that's the kind of bizarre behavior I'm talking about."
Kimla said her daughters were being "brainwashed" by their church, the Body of Christ Ministry in Houston. "I am not an unfit mother. I stopped going to the church, but I never stopped them going. … I am a lesbian, and it is against the Word of God, but I've talked to my kids about it."
In court yesterday (video), the family reconciled. "My agreement is not to show any type of homosexual lifestyle in front of my kids or to do anything that makes them feel uncomfortable concerning the gay lifestyle," said Kimla. The daughters agreed to stop attending Body of Christ.
Kimla Green says she already "No longer practices that lifestyle." "I'm praying about the situation," she said. "It would take God to cleanse me" (more video here).
More articles
UNC Koran debate:
Islam:
Missions and Ministry:
Persecution in Eastern Europe:
Pope John Paul II in Poland:
Related Elsewhere
See our past Weblog updates:
August 19
August 16 | 15 | 14 | 13 | 12
August 9 | 8 | 7 | 6 | 5
August 2 | 1 | July 31 | 30 | 29
July 26 | 25 | 24 | 23 | 22
July 19 | 18 | 17 | 16 | 15
July 12 | 11 | 10 | 9 | 8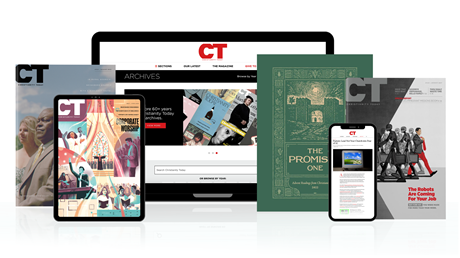 Subscribe to Christianity Today and get access to this article plus 65+ years of archives.
Home delivery of CT magazine
Complete access to articles on ChristianityToday.com
Over 120 years of magazine archives plus full access to all of CT's online archives
Subscribe Now
Newspaper Raises Questions About Thomas Nelson's Financial Practices
Newspaper Raises Questions About Thomas Nelson's ...