Newsweek explores heaven and hell
Why doesn't Newsweek let its religion reporter write its religion cover stories anymore? Last summer, music writer Lorraine Ali got to write about Christian music. Managing editor Jon Meacham wrote on the Catholic Church's abuse scandal earlier this year. Ken Woodward got to write his piece on the Qur'an vs. the Bible, but this week (as with the abuse package) he's again relegated to sidebar status. It's up to senior editor Lisa Miller to examine "Why We Need Heaven." "In the '00s, a decade known so far for its calamities, the question of what heaven is and who gets to go has taken on new urgency," she writes. "Suicide bombers and terrorists, similar to those who killed seven people at the Hebrew University of Jerusalem last week, often invoke heaven before they act, and, afterward, the survivors invoke heaven to guide them forward."
A Newsweek poll found that 76% of Americans believe in a heaven, and 71% of them believe it's a real, physical place. (The magazine's online poll is currently running at 72% believing in heaven.) Three quarters of respondents say their actions on Earth determine whether they'll go there.
Much of the article is very good, though one finishes the piece feeling like heaven is probably a nice psychological construct—in the words of a 14-year-old vacation Bible school counselor who's either not well-trained theologically or not well-quoted, Heaven is "whatever you dream it is."
There's the occasionally odd sentence, such as "Heaven was designed in part to bolster constituencies under stress," but these are fortunately rare.
Evangelicals definitely get their say, and are mainly represented by Anne Graham Lotz (whose new book, Heaven: My Father's House, is on the CBA bestseller list) and Columbia University historian Randall Balmer. Lotz's description of heaven is written off as Pollyannaish—"the theological version of comfort food," Miller calls it. It helps grieving people, but it's not intellectually respectable. Descriptions like Lotz's, she says, make "more-progressive Christian theologians go crazy."
Balmer, meanwhile, points out that mainline Christians don't preach about heaven—let alone hell—because of the "demise of the conviction that actions have real consequences." But then that's tied back to Lotz's rejection of works righteousness: "The only thing you need to do to get to heaven is accept Jesus Christ as your savior, says Lotz. With that simple act, murderers can get in, she says, and terrorists can, too." This could have used much more nuance on Newsweek's part. It's not that heaven has such a lax immigration policy that it'll even let known terrorists in—it's that the immigration policy is so tight that none of us can get in without being personally accompanied by Jesus.
"The urge for heaven is universal; we need it the way we need love," Miller writes. But it's also divisive. "When a religious community feels endangered or at odds with the mainstream culture, a vision of heaven can be like a badge of belonging. 'This heaven is mine,' believers say. 'If you don't join me, you can't come.' And when that feeling of oppression turns to war, heaven can be a flag waved in battle."
This might have been the theme of Ken Woodward's article, "Why We Need a Hell, Too," but he knows better. Hell isn't just a psychological weapon to use to bolster faith and attack enemies. Ultimately, hell isn't for other people. It's potentially for us. "Can we have a heaven without a hell? Not if, according to the three prophetic religions, we all live under divine justice," he writes.
"If what we do now is to make no difference in the end," argued the philosopher Ludwig Wittgenstein, "then all the seriousness of life is done away with." Ultimately, we become what we love. Hell is not a not place, but a community of those who remain outside the circle of Divine Embrace. All are called to enter heaven, but it is hubris to suppose that any one of us is worthy of a free ticket.
Emphasizing hell's essential feature as separation from God? Noting that none of us deserve heaven? Seriously, Newsweek: get Woodward out of sidebar city and assign him another cover.
Missions & ministry:
Rowan Williams, the next Archbishop of Canterbury:
War protests:
School vouchers:
Stem-cell research:
Pop culture:
Related Elsewhere
See our past Weblog updates:
August 6 | 5
August 2 | 1 | July 31 | 30 | 29
July 26 | 25 | 24 | 23 | 22
July 19 | 18 | 17 | 16 | 15
July 12 | 11 | 10 | 9 | 8
July 5 | 3 | 2 | 1
June 28 | 27 | 26 | 25 | 24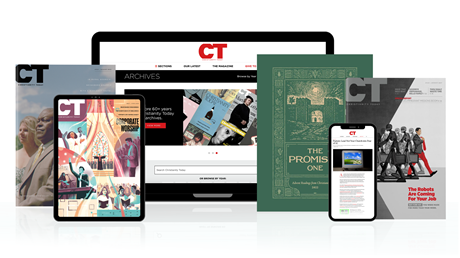 Subscribe to Christianity Today and get access to this article plus 65+ years of archives.
Home delivery of CT magazine
Complete access to articles on ChristianityToday.com
Over 120 years of magazine archives plus full access to all of CT's online archives
Subscribe Now
Newsweek's Divine Comedy
Newsweek's Divine Comedy