true
Sounds like … skillfully crafted folk pop, reminiscent of Wes King, Phil Keaggy, or Dan Fogelberg
At a Glance … Waiting for Aidan is full of intelligently written and beautifully performed inspirational folk-pop, and Steve Bell deserves some attention for the quality of songwriting on this album.
I've read articles that have appropriately called Canadian artist Steve Bell one of the best-kept secrets in Christian music. Despite domestic releases in the States since 1989, Steve hasn't quite made a name for himself here. Perhaps that's because Steve has openly said he's not a "Christian artist," but rather an "artist who is a Christian" (like U2 or Lifehouse, for example). It's funny, because you'll probably have a difficult time telling the difference from listening to his music. Lyrically, he's as open about his faith as just about any Christian artist I've ever heard. If anything, Steve Bell should be set apart from other Christian artists not because of semantics, but for the quality of his songwriting. One listen to his new album, Waiting for Aidan, and you'll see that Steve is a cut above the norm.
Steve's folk-pop style reminds me of Wes King, Wayne Kirkpatrick, and Phil Keaggy (who happens to appear as a guest guitarist on this album). At times, Waiting for Aidan also reminds me a bit of Amy Grant's Behind the Eyes album because it has a similar acoustic-pop feel and has plenty of songs that wrestle with faith and hardship. Steve's skills on the acoustic guitar rival those of Wes King's, and his soft-tenor vocals sound remarkably close to those of Brent Bourgeois. Steve is clearly a gifted musician who's not afraid to dabble with a little bit of jazz in his music. Check out the album's instrumental title track, a fast finger-picking little ditty that was written in anticipation of his manager's first child. The piece sounds like an old tune written by Paul McCartney for a family member or like something you'd hear in an old silent movie by Buster Keaton. In any case, I could recommend the album based on the quality of the musicianship alone.
Of course, that would be ignoring the spiritual side of Steve's music as well as his gifts as a well-rounded songwriter. There are artists who simply set Scripture to some chords, and then there are those who adapt Scripture to music and make it artistic. 2001 saw the release of numerous songs based on The Prayer of Jabez, but none of them have been as beautiful, artistic, and meaningful as Steve's "Eventide" (which was written in January 2001, well before the Jabez-mania peaked). The song opens the album as a beautiful a cappella arrangement that recalls Glad's finest work, and combines the Jabez verse with a passage in Ecclesiastes that points out how sorrow grows as knowledge increases. All of this is phrased as a bedtime prayer. An acoustic accompaniment version of "Eventide" also closes the album, and I frankly can't get the melody out of my head.
Clearly recognizing the Psalms as poetry, Steve also adapted several of them for songs on his album. "Jesus My Glory," which reminds us to rely on the Lord through all times of trouble, is taken from Psalm 3. Psalm 19 is the inspiration for "Pleasing to You," with its well-known passage: "May the words of my mouth and the thoughts of my heart be pleasing to you, my God." The eternal constancy and sovereignty of God and the mystery of his personal love for us is the message of "Oh Love," based on Psalm 8. There's also a soulful rendition of "Psalm 121" — "I look unto the hills, where does my strength come from?" I think it's important to emphasize that these aren't merely word-for-word adaptations of the Psalms set to a melody. Steve has a knack for zeroing in on a key verse and then elaborating on the feeling and emotion evoked in that verse. I'm amazed more artists haven't tried to be more creative with the Psalms (or even write their own), because it's very effective.
I also enjoyed the album tracks that viewed Christ through unusual perspectives. For example, "A Sorrow for Connoisseurs" is an interesting take on Gabriel's announcement of Christ's birth to Mary in Luke 2. The song depicts Gabriel being straightforward with Mary about how Jesus will be loved so much by so many, though her heart will inevitably break because he's destined to die — and yet love will emerge out of this death. There's also "Stay Awake," which assumes the role of the disciples in the Garden of Gethsemane, who see Christ weary from sorrow and sense that events are coming to a climax soon. The surprising thing about Steve's music is how often his songs are beautifully melodic and positive sounding, yet his lyrics often deal with dark struggles. For example, "Restless" expresses the feelings of a weary soul searching for peace and freedom through quiet time with the Lord, yet the melody sounds fairly chipper and upbeat. I've got to hand it to Steve Bell for writing songs that truly convey feeling, passion, and thought while focusing on the Christian life. It's not often you find intellectual inspirational pop — music that speaks to the heart via the head. Waiting for Aidan is currently only available in Canada (you can order via Signpost Music's Web site), but it's worth going out of your way to order.
Browse All Music Reviews By: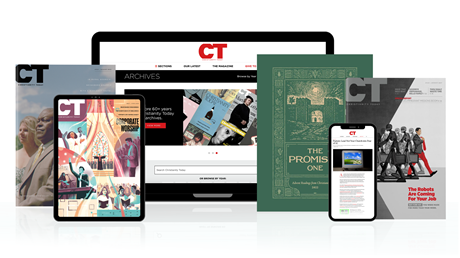 Annual & Monthly subscriptions available.
Print & Digital Issues of CT magazine
Complete access to every article on ChristianityToday.com
Unlimited access to 65+ years of CT's online archives
Member-only special issues
Subscribe
Waiting for Aidan
Waiting for Aidan