In our post-September 11 world, one of the most important contributions Christians can make is respectful and courageous outreach to Muslims. We should seek them out both in the Islamic world and here at home, where, by conservative estimates, Muslims number about 2 million.
One hundred years after Samuel Zwemer, the renowned "apostle to Islam," began his work in Arabia, Christian outreach to Muslims has been dwarfed by the growth of Islam. During the 20th century, the global population of Muslims grew to 21 percent from 12.3 percent in 1900. Yet only 6 percent of all Christian foreign missionaries are working among Muslims.
According to Mission Handbook statistics, American Protestants do not expend a large amount of their ministry resources in Muslim-majority nations. Compare American Protestant outreach in two nations: Brazil with 170 million people and Pakistan with 150 million. In Christian-majority Brazil, more than 100 American Protestant missions agencies support 1,488 workers. In Muslim-majority Pakistan, there are 24 agencies with 111 American workers. There are many reasons why American agencies devote less time and energy in Muslim nations, including the reality that many Muslim nations are closed to missions organizations and do not embrace true freedom of religion.
The closed nature of most Islamic nations stands in stark contrast to the openness of Western ones. This openness is rooted in the gospel: God's love, Christ's sacrifice, the equal worth of individuals, the limited authority of political institutions, and the gradual but thorough liberation of women, slaves, and others. Where the gospel has flowered, it has been good for society.
Closed societies, on the other hand, deprive individuals of civil rights and suppress peaceful change. Among many contemporary examples, the arrest and torture of Mohammed Saeed Mohammed Omer in Sudan stands out. Omer became a Christian as a student in India. After his family in Sudan found out, he was forced to return home and received a death threat from his uncle. While in police custody, Omer "was tortured and beaten and he lost three fingernails pulled out with pliers," a source told Compass Direct news service.
'Ministry of Friendship'
One of the lasting legacies of Zwemer's work in the Middle East is his strategy—"ministry of friendship"—for outreach to Muslims. Yet even friendship evangelism paired with relief work may be costly. One high-profile example is the apparent entrapment of Shelter Now workers Dayna Curry and Heather Mercer. The two Americans showed the Jesus film to a seemingly friendly family of Afghan Muslims at their request. Immediately afterward, Taliban police arrested the two women (see "Entrapment Suspected," p. 22).
The new regime in Afghanistan has welcomed relief and development agencies back into their nation. This development is a sure sign that compassionate provision of food, housing, education, and medical care is free of roadblocks to Christians.
But there is more for American Christians to do. Acknowledging our need for contrition and repentance is a good place to start. A 1978 Lausanne report on Muslim evangelism noted the tragic lack of progress in Muslim outreach: "We Christians have loved so little and have put forth such little effort to regard Muslims as people like ourselves." More recently, Frontiers, AIMS (Accelerating International Mission Strategies), and other Muslim-focused missions issued a declaration of "Christian Attitudes Toward Muslims," which says in part, "We are guilty of believing and perpetuating misconceptions, prejudice, and, in some cases, hostility and outright hatred toward Muslim peoples." But this statement also declares, "Reconciliation is the goal of our repentance" and sets out an agenda of prayer, compassion, and interaction with Muslims.
The Untapped Force
Philip Roberts, previously in charge of Interfaith Witness for the Southern Baptist Convention and now head of Midwestern Baptist Seminary, has developed a ten-point program for respectful religious dialogue and witnessing to Muslims. He emphasized the need for American Christians to understand the Qur'an and "to become a friend and a personal evangelist to Muslims."
His plan rests on several important realizations:
Muslims rarely hear a truthful presentation of the gospel.


Few U.S. Christians understand essential Islamic teaching.


Evangelistic outreach should be defined in terms of relationships, not transactions.


American Christians have an additional valuable resource in outreach to Muslims. Looking at overseas outreach to Muslims, the 1978 Lausanne report says, "The major untapped force for evangelism among Muslims is the Christian community scattered throughout the Muslim world." Indonesia, Turkey, Egypt, Pakistan, Iran, Sudan—all have such churches, some of them growing faster than the surrounding Muslim population. Given appropriate support, these national churches are well positioned to aid in outreach.
Evangelicals in Muslim-controlled Malaysia provide an encouraging example of Christian-Muslim interaction. Last year, for instance, Malaysian President Mahathir Mohammed delivered a keynote address to an international meeting of evangelicals. "Our experience in Malaysia is that we have to be tolerant with each other," he said in later remarks about religious harmony. "Otherwise we are going to fight each other and we are not going to get anything out of it."
Under this umbrella of mutual tolerance, Christians have planted new churches as well as expanded their outreach. It takes Christians working on both sides of a closed door to get it open.
Related Elsewhere
A 1996 article in International Journal of Frontier Missions, "The Apostle to Islam: The Legacy of Samuel Zwemer" (PDF), gives great background of Zwemer and his work.
Answering Islam has a page of essays and articles on "The Christian Witness to the Muslim."
Other Christian sites discussing Muslim beliefs about Jesus and Christianity are available at The Muslim-Christian Debate, Campus Crusade for Christ, and FarsiNet.
Muslim perspectives on Jesus and Christianity are also ubiquitous online. They include Al-Sunnah, Harakah, Islam 101, Answering Christianity, and WhatIsIslam.com
Christianity Today covered the apparent entrapment of Dayna Curry and Heather Mercer in "Entrapment Suspected: Shelter Now leader believes workers were pawns in Taliban scheme."
In 2000, Christianity Today focused on Muslim-Christian relations in a series by Wendy Murray Zoba. Articles included:
Islam, U.S.A.Are Christians prepared for Muslims in the mainstream?
Islamic FundamentalsChristians have a responsibility to understand our Muslim neighbors and their beliefs.
How Muslims See ChristianityMany Muslims don't understand Christianity—especially the idea of salvation by grace through faith.
Engaging Our Muslim NeighborsThe Church faces a challenge not just to understand Muslims, but to befriend them.
Recent Christianity Today articles on Islam include:
Is the God of Muhammad the Father of Jesus?The answer to this question reveals the heart of our faith.
Does God Hear Muslim's Prayers?We must remember that God does not deal with theologies; he deals with persons. (Feb. 1, 2002)
Is Islam a Religion of Peace?The controversy reveals a struggle for the soul of Islam. (Dec. 28, 2000)
A Many Splintered ThingThough Muslims shared allegiance to Muhammad and to the Qur'an, Islam faced division as soon as the prophet died. (Dec. 28, 2000)
Article continues below
Adherents.com is the place to go for statistics related to the adherents of any religion.
In a recent column for Christianity Today, Philip Yancey reprinted a letter from a Muslim seeking to learn more about the Christian God. "I read some books about the prophet Muhammad and the Islamic faith by Western scholars," the letter read. "I was shocked to learn a lot of things about my religion that I never knew."
Islamic and scholar's sites of interest include:
Have something to add about this? See something we missed? Share your feedback here.
Our digital archives are a work in progress. Let us know if corrections need to be made.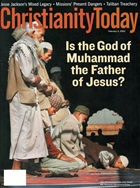 This article is from the February 4 2002 issue.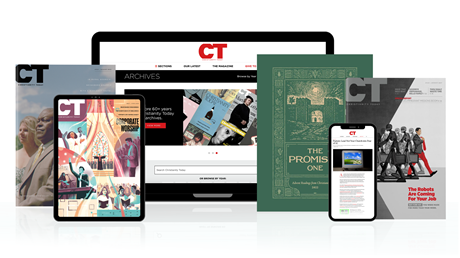 Annual & Monthly subscriptions available.
Print & Digital Issues of CT magazine
Complete access to every article on ChristianityToday.com
Unlimited access to 65+ years of CT's online archives
Member-only special issues
Subscribe
Outpaced by Islam?
Outpaced by Islam?