A few weeks after the September 11 terrorist attacks, I traveled to Australia on a book tour. Quite understandably, people there had more interest in discussing anthrax and the war in Afghanistan than in discussing my book. Although Australians support U.S. policy, and have lent ground troops, ships, and planes to our efforts, they have many questions about the origin of terrorism and our response. Listening to them, I discovered that I have many questions as well.
Let me make clear that I support wholeheartedly the attempt to bring to justice the perpetrators of that evil deed, and to rid the world of terrorism (some of my reflections are found online at www.christianitytoday.com/go/yancey911/). Even so, these questions continue to nag me:
Would a doctrinaire pacifist have participated in the attempt to retake the cockpit of United Airlines Flight 93 by force, in order to save the lives targeted by the hijackers?


How much would it have cost to reconstruct Afghanistan after their war with the Soviet Union, which the United States helped the Afghans fight? How much will it cost to reconstruct it after we finish with it?


Why is the United States so much better at destroying buildings and then rebuilding them—as in Germany, Japan, Korea, Kosovo—than in keeping them from being destroyed in the first place?


Can you bomb a country back into the Stone Age if it already lives in the Stone Age?


How much did the CIA spend training Osama bin Laden and his associates during the war with the Soviet Union?


How much are we now spending to hunt him down?


How do you demolish an ideology of fanaticism when, by killing those who preach it, you attract even more converts to their fanaticism?


During the war with the Soviet Union, Afghans lost one-third of their dwelling places. Yet, thanks to their tradition of hospitality, not a single person went homeless. Why does the richest nation in the world have so many homeless people while one of the poorest nations has none?


Could someone explain to me why the U.S. threatened to break the patent on Cipro after three anthrax deaths, yet vigorously resists "tampering with intellectual property rights" when someone suggests breaking the patent on AIDS drugs for the sake of 25 million infected Africans?


Why is it so much cheaper to prevent war than to conduct it?


Why did television seem so much more useful during the week following September 11? Would our society be better or worse if no comedians, sporting events, or commercials appeared on television?


Why do people resent Americans for consuming so much when world prosperity depends on that consumption?


What do Christians who advocate a simple lifestyle think about our leaders urging us to spend money as an act of patriotism? What do they think about all the people who lose their jobs when we stop spending money? Would Jesus help his neighbors by spending money, or by maintaining his ascetic lifestyle?


If Jesus spoke about money four times as often as he spoke about faith or prayer, why do Christian bookstores carry four times as many books on faith or prayer as they do on money?


Why do we Americans think of ourselves as such generous people when we allocate a smaller percentage of our Gross Domestic Product to foreign aid than does any other industrialized nation?


Why do the people who quote statistics about foreign aid fail to note that Americans prefer to give, not through government grants, but through private organizations such as the Red Cross and the Salvation Army?


Why do we Americans, who consider ourselves friendly and compassionate, arouse such hatred in some parts of the world?


Do Arab terrorists hate the United States and Europe because of our support for Israel, or hate Israel because of its association with the West?


Pentagon officials changed the name of the war from Operation Infinite Justice when they learned it might offend Muslims, who believe only Allah can execute infinite justice. Did anyone wonder whether it might offend Christians, who believe only God can execute infinite justice?


Why are there so many "post-Christian" nations and so few "post-Muslim" nations? Why are Muslims so dangerous as a minority in a country whereas Christians are so dangerous as a majority?


I was just wondering …
Related Elsewhere
Philip Yancey's previous reflections on September 11 include:
Where Was God on 9/11?Reflections from Ground Zero and beyond. (October 23, 2001)
Letter from a Muslim SeekerChristians aren't the only ones asking 'Why?' after September's tragedy. (December 5, 2001)
Previous Yancey columns for Christianity Today include:
Honest Church MarketingWe enhance our 'image' by offering the world a realistic picture of faith. (October 24, 2001)
Compassion ConfusionWe should serve the needy even when it has bad political consequences. (August 28, 2001)
Fixing Our Weakest LinkEvangelicals should be more "needful of the minds of others." (July 13, 2001)
Replenishing the Inner PastorChurches should take greater interest in their shepherds' spiritual health. (May 14, 2001)
Article continues below
Beyond Flesh and BloodI used to disdain biblical talk of "invisible spirits." No more. (Mar. 27, 2001)
God at LargeA look around the globe reveals a God as big as we want him to be. (Jan. 31, 2001)
Humility's Many FacesEveryone I've looked up to has shared one trait. (Dec. 4, 2000)
Getting a LifeThe most fully alive persons are those who give their lives away. (Oct. 16, 2000)
Yancey's Where is God When it Hurts, Special Edition and Soul Survivor: How My Faith Survived the Church are available on Christianbook.com
For more perspective on the aftermath of the September 11 terrorist attacks, see Christianity Today's previous essays and editorials:
Blame GameSeeking mercy is a better response to 9/11 than seeking meaning. (Nov. 8, 2001)
Blood, Sweat, and PrayersOne man's journal of ministry among New York City's firefighters and police officers at Ground Zero. (Nov. 8, 2001)
Rally Round the FlagAmerica may not be God's chosen nation, but it does have a mission that churches can support. (Nov. 7, 2001)
Wake-up CallIf September 11 was a divine warning, it's God's people who are being warned. (Nov. 5, 2001)
Prayer After 9.11.01The author of The Prayer of Jabez says now, more than ever, we need to seek God's power. (Sept. 28, 2001)
Judgment DayGod promised that calamity would follow disobedience. So why are we quick to dismiss it as a reason for the September 11 attacks? (Sept. 25, 2001)
Now What?A Christian response to religious terrorism. (Sept. 21, 2001)
To Embrace the EnemyIs reconciliation possible in the wake of such evil? (Sept. 21, 2001)
After the Grave in the AirTrue reconciliation comes not by ignoring justice nor by putting justice first, but by unconditional embrace. (Sept. 21, 2001)
Taking It PersonallyWhat do we do with all this anger? (Sept. 14, 2001)
A Wake-Up Call to Become Global ChristiansThe deadly attacks on America will provoke many responses, but Christians are commanded to love our neighbors. (Sept. 12, 2001)
God's Message in the Language of EventsIn the face of evil, we must focus on keeping our hearts right. (Sept. 11, 2001)above all else.
When Sin ReignsAn event like this shows us what humans are capable of becoming—both as children of darkness and of light. (Sept. 13, 2001)
Have something to add about this? See something we missed? Share your feedback here.
Our digital archives are a work in progress. Let us know if corrections need to be made.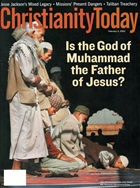 This article is from the February 4 2002 issue.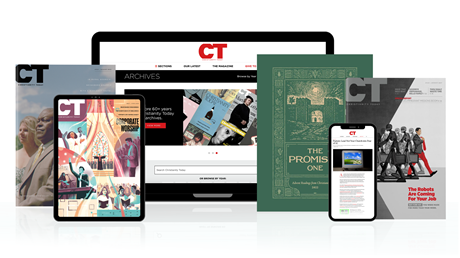 Annual & Monthly subscriptions available.
Print & Digital Issues of CT magazine
Complete access to every article on ChristianityToday.com
Unlimited access to 65+ years of CT's online archives
Member-only special issues
Subscribe
Was Just Wondering…
Was Just Wondering…