If you've heard Faith Popcorn's name even once, you're not likely to have forgotten it. Talk about branding! She's "an internationally respected forecaster of consumer trends," the dustjacket of her new book reminds us, "and a key advisor to many Fortune 500 companies"; among her clients are Bell Atlantic, BMW, Cigna, McDonald's, and Procter & Gamble. (I wonder what her take on Enron was.) In short, we're not talking about horoscopes.
The new book, written with Adam Hanft, is Dictionary of the Future: The Words, Terms, and Trends That Define the Way We'll Live, Work, and Talk, just out from Hyperion. Popcorn and Hanft have identified and defined up-and-coming words and terms in a variety of fields, supplemented by more speculative entries for words and terms they predict will come into use. And a few of the entries, they note, are for words that are not at all new but are generally not well understood or are becoming newly relevant.
The definitions, discursive and even chatty rather than in the terse mode favored by lexicographers, are arranged according to subject in 35 categories, from Aging to Transportation, with stops along the way for Biology and Biotechnology, Crime and Terrorism, Fashion and Style, Health and Medicine, and so on. Most of the categories are standard, but some are not: Fear, Frustration, and Desire, for instance. Each category come with a mini-introduction surveying the territory.
This is irresistible stuff, whatever its value to marketing mavens. "Virtual Immigrants," for instance, are "technology workers who serve U.S. companies from their native countries—such as China, Russia, and the Philippines—where they must remain because of immigration restrictions . …Imagine the economic impact in these countries when you have some people making $35 an hour working for a U.S. company, and others making $35 a week working for a local one." Actually, despite such significant differences in pay, it's lower costs and greater flexibility for the U.S. companies, rather than immigration restrictions, that primarily account for this phenomenon. But Popcorn and Hanft are surely right to identify it as a prime example of "the efficiency—and complexity—of globalization," with implications that are not only economic.
Some of terms seem to identify trends that exist mostly in a few blocks on New York, in not solely in the imagination of the trendspotters. "Couch Surfers," for instance, are "a group of young men who have everything except a place to live. As the New York Timesdefines it, these 'yuppie vagabonds' are 'a nomadic subculture of young professionals in their late 20's, 30's, and even 40's who appear to live normal, prosperous lives but in fact are couch-surfers who rely on the kindness of friends, seek shelter in their sports utility vehicles, or list about in all-night coffee shops.' " This sounds like a Saturday Night Live parody, but Popcorn and Hanft offer it straight.
B&C readers will be disappointed by the section on Religion and Spirituality, both because it's so skimpy—surprisingly, it's one of the shortest sections in the book—and because the entries are rather lame. The very first term in this section is "Church Planting," defined as "the practice by which evangelical congregations establish multiple small groups of core worshippers who then 'grow' into full-fledged churches." Here Popcorn and Hanft seem to have taken a venerable term and applied it rather fuzzily to one aspect of the church-growth movement. Their unfamiliarity with the subject is glaring.
Many of the words and terms collected or coined here are ephemeral, of course, but even if they don't give us the future in a crystal ball they make a cock-eyed kind of sense as probes or soundings. Age Rage. BizVacs. Black-Water Rafting. Brain Fingerprinting. Eating Amnesia. Germography. You can look it up.
John Wilson is editor of Books & Culture and editor-at-large for Christianity Today.
Related Elsewhere
Visit Books & Culture online at BooksandCulture.com or subscribe here.
Leadership Journal, another Christianity Today International publication, interviewed Popcorn in 1997.
Books & Culture Corner appears Mondays at ChristianityToday.com. Earlier Books & Culture Corners include:
Does Creationism Equal Holocaust Denial? | Yes, says Michael Shermer in Scientific American. (Feb. 4, 2002)
Theodore Rex | Is "popular history" getting a bad rap? (Jan. 28, 2002)
Letter to Martin Luther King, Jr. | A progress report. (Jan. 21, 2002)
Keeping the Dust on Your Boots | Remembering the Afghan refugees—and the church in Iran. (Jan. 14, 2002)
Coming Attractions | Books to watch for this year. (Jan. 7, 2002)
Books of the Year, Part 2 | After the top ten, here's the best of the rest. (Jan. 4, 2002)
Books of the Year | Part 1: The Top Ten (Dec. 17, 2001)
"Daddy, What Is the Soul?" | Does the church have an answer? (Dec. 10, 2001)
'We Now Know' | The boast of imperial science. (Dec. 3, 2001)
"24 Cow Clones, All Normal" … | Oh yes, and a few cloned human embryos that died. (Nov. 26, 2001)
"Discovering" Islam: The Intellectual Challenge | There's good reason to believe that there will be staying power to the West's belated "discovery" of Islam. (Nov. 19, 2001)
Disturbing the Peace | Is art always subversive when it's doing its job? (Nov. 12, 2001)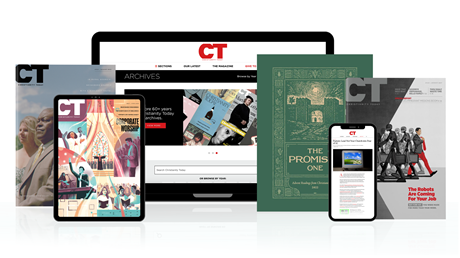 Annual & Monthly subscriptions available.
Print & Digital Issues of CT magazine
Complete access to every article on ChristianityToday.com
Unlimited access to 65+ years of CT's online archives
Member-only special issues
Subscribe
Dictionary of the Future
Dictionary of the Future