When Wayne Pederson moved to Virginia last month to assume his duties as president and chief operating officer of the National Religious Broadcasters (NRB), he kept his family's home in Minneapolis.
By Saturday evening, Pederson will know if he'll be returning to Minneapolis sooner than he had anticipated.
After his comments in a January 5 article in the Minneapolis Star-Tribune generated a controversy in the 1,300-member organization, Pederson submitted his resignation to Chairman and CEO Glenn Plummer on February 8. Saturday, the 93-member board of directors will vote on whether to accept Pederson's resignation during its annual convention in Nashville. Pederson was to have been inaugurated Saturday.
Pederson suggested to the Star-Tribune that the NRB should be known more for its evangelical theology than its conservative stance on political and public policy issues. Pederson said that people automatically associate Christian broadcasters with the Religious Right.
Shortly after the article was published, several prominent members of the organization publicly called for his resignation.
"I think what I was saying has been misunderstood," Pederson told CT. "I wasn't saying that Christian broadcasters shouldn't be speaking to the moral issues of the day. What I was trying to say [was that] our theology, evangelism, and discipleship should always take priority over our political positions, and we ought to be more known for our gospel than for our politics. But in no way was I trying to distance NRB from religious conservatives or saying that they shouldn't use their broadcasts to speak to the moral and cultural issues of the day."
Still, Pederson's remarks have ignited a public and private controversy in the 59-year-old organization, as members both castigated and defended Pederson. Formerly president of Northwestern Radio in Minneapolis and NRB chairman, Pederson assumed his duties January 1 after being unanimously elected last year. Brandt Gustavson, the previous NRB president, died last May 14 of cancer.
Don Wildmon, president and founder of the American Family Association (AFA) and American Family Radio Network, declined CT's request for an interview. "Mr. Pederson has criticized those he calls the members of the Religious Right," Wildmon told WorldNet Daily. "If one stops to think about it, that includes Jim Dobson and Chuck Colson and Adrian Rogers and Vic Eliason and Dick Bott—I mean, just about anybody who has worked hard to make the NRB what it is. It is just tragic. I really think Mr. Pederson would best serve the cause to step aside, because if he does not, there is a good chance, a real good chance, that either he would be replaced or that an organization more representative of our views would come forth."
The nine-member executive committee of the NRB began to discuss the issue January 23 after Wildmon, his son Tim (an AFA executive), Tom Minnery of Focus on the Family, author/broadcaster Tim LaHaye, and Richard Bott of Bott Radio Network spoke about their concerns in news articles.
However, according to Plummer, a turning point in the discussion took place January 24, when Focus on the Family President James Dobson held a conference call with several influential members of the organization to discuss Pederson. The group unanimously agreed that Pederson should resign. Plummer told CT that Dobson called Pederson to inform him of the group's decision. Dobson, the scheduled keynote speaker at the convention, has said he will not speak at the opening session and will leave the organization if Pederson is retained.
Plummer said he is dismayed that the group would ignore the board's authority to pressure Pederson directly. "For this to happen was a concern. Now there is pressure for Wayne to resign. The executive committee had already begun our process, and my concern simply was, 'Allow us to do our job.' We hadn't even talked to Wayne yet. And what was worse, neither did they." He said the idea that some members would leave NRB to form a new organization is "very unfortunate. Why would they do something like this when the board has said our position [on matters of public policy] hasn't changed?"
At a January 28 meeting, the executive committee split 4-4 over whether to retain Pederson as president. Plummer, who does not usually vote as chairman, cast the deciding vote that he should stay.
Plummer says that a few days later the executive committee "unanimously concluded that the best thing for Wayne and for the NRB is to give him at least the opportunity to resign." Plummer approached Pederson with the consensus, and says Pederson vacillated before offering a letter of resignation February 8.
Plummer says that most board members have been strongly supportive of Pederson However, he says the larger question is "Can Wayne still lead the organization with such a fracture?"
Board members are clearly divided. Bott says he has written or spoken to many of the NRB members, asking them to weigh in on the issue. "My feeling right now is, [Pederson's statement] hasn't been a misstep, it's been a mismatch," he said. "It has nothing to do with personality. It has everything to do with having a leader that is a good match for an association like NRB. A good leader will unite an association. What I see here is a division."
Meanwhile, in a letter to the board, Tony Evans, president of the Urban Alternative, wrote, "NRB is perceived as an arm of the Christian right, and in fact, to a great extent this is more than a perception." Evans says many minority Christians do not attend NRB because they feel "unwelcome and marginalized by the politics of NRB. Even I, as a conservative, bibliocentric evangelical, have felt unwelcome and dismissed by certain aspects of NRB's perspectives."
"President Pederson's statement is, in fact, a divine wakeup call for NRB," Evans wrote. "Those who call for Mr. Pederson's resignation have missed the point."
Char Binkley, executive director of the WBCL radio network, also defended Pederson. "Since Christian broadcasters became involved in political issues several years ago, there has been a tension between those who believe we should use the airwaves to force change in the culture and those who believe that changing hearts is the primary way the culture will really change," she told CT. "I believe Wayne was simply trying to say that we want NRB to be known first and foremost for changing the culture the way Jesus would."
The disagreement has raised questions for some executive committee members about whether Pederson was the right choice to succeed Brandt Gustavson. Although Pederson had been a member of the organization for more than 25 years, executive committee members seem surprised by his comments. "When I first read the article, I felt that it was a perspective that Wayne and I had never discussed before, and I was rather surprised at both the content and what I felt was the tone," Plummer said. "We never talked about any new direction concerning this matter [of public policy]. NRB believes that public policy matters are extremely important and there are issues we must address as Christians."
Executive committee member Stuart Epperson expressed a similar concern in a memo to the committee. "During our selection process he represented himself to us as having no agenda to significantly change NRB from its historic policies of  … proclaiming the Gospel of Jesus Christ and exerting a Biblical influence on our culture by direct involvement in public policy issues," Epperson wrote. "Our conclusions were largely based on his direct statements to us and his two year record as NRB Chairman. Some had reservations but we confirmed him."
In the memo, Epperson suggests that the executive committee fire Pederson "with no appearance before the board. Then we carefully and explicitly explain our action to the Board … if the board rehires him, that is their prerogative." At an executive committee meeting, Epperson, chairman of the board of Salem Communications, played a voice-mail message Pederson left him in which Pederson stood by his statements in the article.
Epperson said the message has been "widely circulated" among the membership. Epperson's memo also suggests that Pederson's "agenda to dramatically change NRB" may include some new engagement with the National Association of Evangelicals (NAE). The NRB broke off from its parent organization last year, due in part to the NAE's openness to member organizations of the National Council of Churches (CT, April 2, 2001).
Additionally, some members of the NRB believe Pederson's decision to withdraw an invitation for House Majority Whip Tom Delay to give the keynote address at a public policy session at the convention was politically motivated. "I thought that action simply paralleled the statements he made as to the agenda for NRB," Bott said. "He went over the heads of the public policy committee and chose Bud Paxson [founder of Pax TV]." Pederson said the decision was motivated by a printing deadline for the convention program, and that Delay has been invited to speak at the convention next year.
LaTonya Taylor is editorial resident for Christianity Today.
Related Elsewhere
The NRB controversy began following Pederson's comments in a January 5 article in the Minneapolis Star-Tribune. Christianity Today's Weblog covered the NRB dispute as it became public last month.
Other news coverage includes:
A healthy debate — World (Feb. 15, 2002)
NRB president submits resignation — WorldNetDaily (Feb. 14, 2002)
Wayne Pederson criticized for comments on NRB role — Minneapolis Star-Tribune (Feb. 3, 2002)
Row among nation's religious broadcasters — WorldNetDaily (Jan. 22, 2002)
Christian Broadcaster Critical of Comments by NRB Head — Agape Press (Jan. 21, 2002)
NRB's official Web site has more information on this weekend's convention in Nashville. The site also includes a press release on Pederson's selection as president and COO and an interview with him.
In April, Christianity Today covered NRB's breakaway from the NAE after 57 years of association.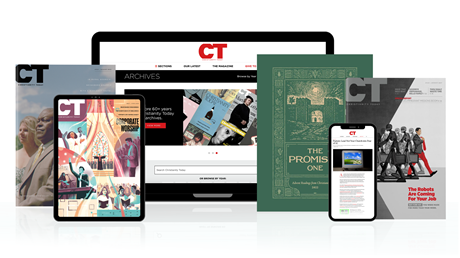 Subscribe to Christianity Today and get access to this article plus 65+ years of archives.
Home delivery of CT magazine
Complete access to articles on ChristianityToday.com
Over 120 years of magazine archives plus full access to all of CT's online archives
Subscribe Now
Politics May Splinter NRB
Politics May Splinter NRB