After a month of escalating controversy over religion and politics, the executive committee of the National Religious Broadcasters (NRB) voted 7-1 to accept the resignation of the association's president, Wayne Pederson, effective February 16.
Meeting in Nashville before the association's annual convention, the NRB board (with 83 of its 93 members present) voted 47-36 to endorse the committee's decision. The association's bylaws give the committee the power to hire or fire the president. The nine-member committee had taken the final vote the day before.
A January 28 vote on whether to retain Pederson resulted in a 4-4 split. Glenn Plummer, chairman and CEO, voted to break the tie, making the 5-4 vote a slight majority in Pederson's favor. The chairman of the board does not usually vote. The NRB has about 1,300 member organizations.
Pederson took office the first week of January, but controversy began to brew January 5, when portions of an interview Pederson gave to the Minneapolis Star-Tribune were published in an article. In the story, Pederson said that Christian broadcasters should focus more on preaching the gospel than on participation in political matters. Pederson said he would like to change the image of the NRB from its strong association with the "far Christian right."
Several of the prominent members of the 58-year-old broadcasting association felt Pederson's statement indicated that NRB would make a dramatic shift away from taking stands on public-policy issues. Some, including American Family Association President Don Wildmon and author Tim LaHaye, called publicly for Pederson to resign. Focus on the Family founder James Dobson made personal contact with Pederson, saying several top NRB leaders, himself included, wanted him to resign.
Dobson told NRB leaders he might leave the association over the Pederson controversy. Dobson, in a short interview with CT, said, "My concern was where NRB was going. Not with regard to Wayne Pederson . The issue was whether NRB would move [from its current stance]. If it did, I would not want to be associated with it."
Plummer said the group does not plan to change its position on engagement with politics and public policy.
"The anxiety about a change of direction of NRB on the part of anyone is unfounded, regardless of what you have heard, regardless of what you have read in recent weeks. NRB's mission remains the same," Plummer said. "Since the beginning of NRB almost 60 years ago, NRB has existed to protect access to the airwaves so that our members would have the right to preach the gospel, to speak to the moral, spiritual, social, and even at times political issues of the day, to promote excellence in Christian broadcasting, and to provide fellowship among Christians of like calling."
Plummer said the issue came down to Pederson's ability to lead the group.
"While the executive committee recognizes Wayne as a competent broadcaster and administrator, the majority of the executive committee came, just within the past two days, to believe that he will not be able to strike the balance and to bring us together and maintain a consensus."
Plummer said at the annual member business meeting Saturday afternoon, "During this controversy, many on this executive committee—many, not all—felt that Wayne alienated a substantial portion of the NRB."
Pederson, who left his position as executive vice president at Northwestern Radio to take the position, addressed NRB members briefly about his disappointment in the decision and hope for the unity of the organization.
"We're sad to leave, but [my wife Norma and I] would even be sadder still if this breaks NRB apart," he said, referring to some members' suggestion that they might leave the association. "However you may feel about the issues, as they've been reported and greatly exaggerated, I trust that you will unite around a common cause. Preaching the gospel is our highest priority. And in doing that, and adopting a biblical standard, we will impact the culture. Setting our spiritual priorities in such a way, we will impact our culture with the gospel." The NRB board gave Pederson a standing ovation after his remarks.
Pederson encouraged the members to work at reaching the postmodern culture and to use new technologies.
Plummer said the executive committee will soon agree on a severance package for Pederson and begin to consider options for an interim leader.
After the vote, a supporter of Pederson, Jerry Croucher, general manager of WAKW, an FM radio station in Cincinnati told the NRB board, "I'm very disappointed with the actions that were taken, but it's time to go forward.
"If the National Religious Broadcasters is perceived by the public as the National Conservative Broadcasters, then our fortunes will rise and fall with the conservative movement in this country.
"I would much rather put my faith and my hope in Christ, and him alone, not Christ and something else, even if it is something as important as my conservative [beliefs] … That's a weakness that we as Christians have. We should transcend politics. We should point to Christ, and to him alone."
LaTonya Taylor is editorial resident for Christianity Today.
Related Elsewhere
See Friday's Christianity Today article, "Politics May Splinter NRB."
The NRB controversy began following Pederson's comments in a January 5 article in the Minneapolis Star-Tribune. Christianity Today's Weblog covered the NRB dispute as it became public last month.
Other news coverage includes:
Pederson steps down at NRB — WorldNetDaily (Feb. 18, 2002)
Christian broadcast group accepts leader's resignation — The Tennessean (Feb. 18, 2002)
A healthy debate — World (Feb. 15, 2002)
NRB president submits resignation — WorldNetDaily (Feb. 14, 2002)
Wayne Pederson criticized for comments on NRB role — Star-Tribune (Feb. 3, 2002)
Row among nation's religious broadcasters — WorldNetDaily (Jan. 22, 2002)
Christian Broadcaster Critical of Comments by NRB Head — Agape Press (Jan. 21, 2002)
NRB's official Web site has more information on the organization's convention held this past weekend in Nashville. The site also includes a press release on Pederson's selection as president and COO and an interview with him.
In April, Christianity Today covered NRB's breakaway from the NAE after 57 years of association.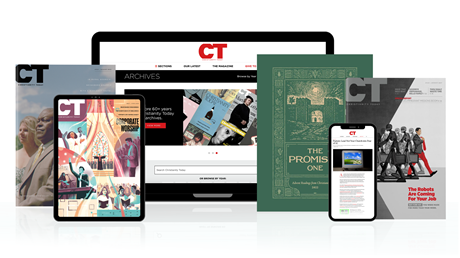 Subscribe to Christianity Today and get access to this article plus 65+ years of archives.
Home delivery of CT magazine
Complete access to articles on ChristianityToday.com
Over 120 years of magazine archives plus full access to all of CT's online archives
Subscribe Now
New NRB President Resigns
New NRB President Resigns