A Nigerian Catholic archbishop has voluntarily offered to die in place of a Muslim woman who has been condemned to death by stoning by an Islamic court for the crime of adultery.
Dr Anthony Olubunmi Okogie, the Catholic archbishop of the Lagos Archdiocese in south-western Nigeria, has offered to pay the sentence recently imposed on the woman in the northern state of Sokoto in a case which has created an international outcry. The man has been allowed to go free.
The woman, Safiya Hussaini Tungar-tudu, is appealing the conviction; the next hearing has been set for March 18.
In a statement released to the news media by the archdiocese earlier this week, Archbishop Okogie explained that he decided to make the offer as a protest of the Nigerian Catholic Church against the Islamic Shari'ah legal system.
The archbishop accused the system of deliberately persecuting Christians and the poor of northern Nigeria. He called on religious leaders vested with responsibility for administering and interpreting the Islamic legal code to do so in the fear of God and with humility, taking human considerations into account.
The archbishop warned the nation's political leaders that unless checked, policies in certain Nigerian states could isolate the entire nation from the international community.
Under the strict Shari'ah law applied in Sokoto, adultery carries a mandatory death sentence.
Hussaini, a nursing mother whose one-year-old baby girl is at the center of the case, was convicted of having had an illicit sexual affair with a man out of wedlock.
Her lawyers were preparing to appeal the verdict on the grounds that Hussaini was raped. But Hussaini, who is divorced, has since claimed that her former husband is the father of the child, which would not be an offense under Shari'ah law.
Bello Sanyinnawal, the judge who convicted Hussaini, said the criteria for adultery on the part of a man were very specific.
Speaking of Hussaini's case, Sanyinnawal said, "The man had to be freed for lack of evidence. Under the Shari'ah law, for the man to be convicted, there must be four male witnesses who saw them at the same time having sex. Either that or the man himself confesses to the act. These two instances were lacking."
The judge said that the sentence passed on Hussaini, if carried out, would ensure her access to paradise. "She will be saved on the day of judgment. The manner of her death now will save her from a terrible ordeal on judgment day. She may be admitted in the good heaven."
Abdulkadir Imam Ibrahim, a legal practitioner, has filed an appeal on her behalf at the Sokoto State Sharia Court of Appeal and asked for a stay of execution of the death sentence pending the appeal.
"I can't predict anything now, but surely, we will examine very critically whether there were procedural or legal errors in the judgment delivered," he said.
Mallam Hussaini Tungar, Hussaini's father, said that he had appealed to both the state of Sokoto and the federal government not to kill his daughter: "I don't want my daughter to be stoned to death. Allah is forgiving. Let them forgive her."
Related Elsewhere
Last week, Okogie cautioned Nigerians to avoid using religion as a smokescreen for fomenting internal rowdiness and confusion.
For more on Nigeria and Shari'ah, see Yahoo's Full Coverage and AllAfrica.com
In January, Human Rights Watch released a report on the tensions in Nigeria and violence in the town of Jos. BBC reported on the release of the report in which the human rights group claimed Nigeria ignored danger signs.
Previous Christianity Today coverage of religious tensions in Nigeria includes:
Chronic Violence Claims 2,000 Lives | The adoption of Islamic law in northern Nigeria has ignited conflict between Christians and Muslims. (Jan. 7, 2002)
Hundreds of Christians Take Shelter in Barracks After Riots in Nigeria | Some report that violence since mid-October has left more than 200 dead. (Nov. 1, 2001)
Religious Riots in Nigeria Leave Hundreds Dead | Leaders condemn the use of religion as a tool for violence. (Oct. 2, 2001)
Orphaned and Widowed | Christian families devastated since Shari'ah law adopted. (August 29, 2001)
Christians and Muslims at Odds Over Nigerian Constitution | Calls made to limit Shari'ah law in Northern states. (July 12, 2001)
Nigeria Officials Press Northern Governors to Scale Back Islamic Law | Churches harassed by Islamic youths purporting to enforce the law. (June 14, 2001)
Five Anglicans in Court After Rescuing Teenagers From Arranged Marriages | Priests claim Christian sisters are being forced into Islam. (June 5, 2001)
The Shari'ah Threat | Muslim Fundamentalist law troubles Christians and some Muslims. (Feb. 2, 2001)
'Focused, Determined, Deliberate' Destruction | Ecumenical leader calls on Nigeria to deal with religious violence between Muslims and Christians. (Oct. 30, 2000)
Nigerian Muslims and Christians Form a Religious Council | Gombe, a north Nigerian state, creates a council of faiths to deal with fears over Islamic law. (Sept. 19, 2000)
Churches Challenge Islamic Law | Christians plan to take Shari'ah to court. (Aug. 15, 2000)
Is Nigeria Moving Toward War? | Deadly riots lead to suspension of Islamic law. (March 31, 2000)
Nigeria On the Brink of Religious War | Northern states adopt Islamic law, increasing Christian-Muslim tensions. (Dec. 16, 1999)
Nigeria's Churches Considering Legal Challenge to Islamic Laws | Third state moving toward implementing Koranic laws (Dec. 17, 1999)
Can Christianity and Islam Coexist and Prosper? | Is peace with Islam possible? (Oct. 25, 1999)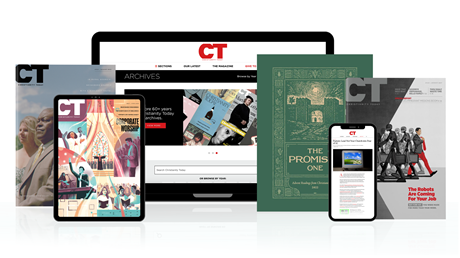 Subscribe to Christianity Today and get access to this article plus 65+ years of archives.
Home delivery of CT magazine
Complete access to articles on ChristianityToday.com
Over 120 years of magazine archives plus full access to all of CT's online archives
Subscribe Now
Archbishop Proposes to Die in Place of Woman Sentenced to Stoning
Archbishop Proposes to Die in Place of Woman Sentenced to Stoning