Newsweek on the Qur'an vs. the Bible
While Christianity Today examines how Christian and Muslim views of God differ, Newsweek's cover story looks at the two religions' books. "As sacred texts … the Bible and the Qur'an could not be more different," writes Kenneth L. Woodward. "Like the Bible, the Qur'an asserts its own divine authority. But whereas Jews and Christians regard the Biblical text as the words of divinely inspired human authors, Muslims regard the Qur'an … as the eternal words of Allah himself. Thus, Muhammad is the conduit for God's words, not their composer. … If Christ is the word made flesh, the Qur'an is the word made book."
Woodward also examines the difference between the two books' treatment of religious violence:
The Bible, too, has its stories of violence in the name of the Lord. The God of the early Biblical books is fierce indeed in his support of the Israelite warriors, drowning enemies in the sea. But these stories do not have the force of divine commands. Nor are they considered God's own eternal words, as Muslims believe Qur'anic verses to be. Moreover, Israeli commandos do not cite the Hebrew prophet Joshua as they go into battle, but Muslim insurgents can readily invoke the example of their Prophet, Muhammad, who was a military commander himself. And while the Crusaders may have fought with the cross on their shields, they did not—could not—cite words from Jesus to justify their slaughters.
Woodward has really done a tremendous job in this piece (though there are a few small errors—such as saying that Abraham's father is not named in the Bible). Those interested in more should also check out The Atlantic Monthly's January 1999 cover story, "What Is the Koran?" Newsweek's Web site also offers the usual extras, including audio bits of Woodward talking more about the Qur'an.
Bill would allow churches to directly endorse, oppose candidates
U.S. Rep. Walter B. Jones (R-N.C.) is pushing to repeal a 48-year-old law barring ministers from supporting or opposing political candidates from the pulpit. In fact, Jones has made it his "signature issue." The 1954 law "took away the freedom of our preachers, priests, and rabbis," Jones told The New York Times. "The cause has been taken up by more than 12 religious conservative lobbying groups and is becoming a frequent topic on Christian talk shows on radio and television," reports the Times' Laurie Goodstein, but she doesn't name most of them (those groups she does mention are associated with Pat Robertson: the American Center for Law and Justice and The 700 Club). Jones's bill, the Houses of Worship Political Speech Protection Act, has found support of its own in the House: it has 112 cosponsors. An editorial in yesterday's Pittsburgh Post-Gazette attacks the bill. "The suggestion that American priests, pastors, rabbis and even mullahs are tongue-tied is laughable," the paper says. "Over the past half-century there has been abundant religious witness on everything from poverty to civil rights to globalization to the war against terrorism. … Congress should continue to keep partisan politics out of the pews—at least when those pews are paid for with tax-exempt funds."
Shocking headline of the day
Trinity Backs Out of Easter Service (Los Angeles Times) Don't worry. God will still be there. It's just that the Trinity Broadcasting Network, having won the rights to the Hollywood Bowl, released them when faced with community outrage. What strikes Weblog is that TBN would bow to public criticism. Has any cable network been more subject to public ridicule? (Whether TBN deserves it Weblog will leave to the reader.) Maybe there's a clue in TBN President Paul Crouch's letter releasing rights to the Hollywood Bowl. He complained that he was becoming "an unwilling victim of false accusations, lascivious innuendo and the whirlwind of negative reporting in the media." Huh? Weblog checks a lot of media, and hasn't seen evidence of this whirlwind—though there were whispers that someone was working on a major piece on the network. What were all these "lascivious innuendos" Crouch mentioned? Was Trinity blackmailed? As always, Weblog's e-mail inbox is open.
"The last taboo"
"Pornographic images, erotic paraphernalia, and raunchy sexual talk are reaching a near-saturation point in the daily lives of Americans, through television, movies, magazines, and the Internet," reports The Christian Science Monitor. "And the target market is an increasingly younger audience." PBS's Frontline documentary program will also examine the subject tonight. "With adult movies, magazines, retail stores, and the growth of the Internet, business is booming," says the show's introduction. "But the leaders of the adult entertainment industry are worried. They see the election of George W. Bush and his appointment of Attorney General John Ashcroft as a signal that there may be renewed interest in mounting obscenity prosecutions."
The proliferation of pornography apparently isn't enough for one Polish priest. He allowed a "fashion show" in the church that included "see-through blouses with embroidered crucifixes and small tops featuring portraits of Jesus." "Priest Marc Scheerens said he was challenging the last taboo of nudity in church," says the Ananova news service, quoting the Dutch paper Het Nieuwsblad. "A church is not the house of God," Scheerens reportedly said. "A church is the house of everyone, fashion designers included. And God couldn't have been shocked by it, since he was not invited. All guests knew exactly what they could expect. There was no churchgoer present who could take offence."
Not yet?
Contrary to media reports, Martin and Gracia Burnham were not freed yesterday, says Philippine military spokesman Major Noel Detoyato. Meanwhile, a letter from the Burnhams has reportedly been found. "To be honest, we do not want to be rescued as they come in shooting at us," Martin says. "If someone can't give somewhere, we will die."
More on freeing the Burnhams:
More articles
Life ethics:
Politics:
Religious liberty:
Church and state:
Church and denominational life:
Missions & ministry:
Catholicism:
Popular culture:
Other religions:
Other stories of interest:
Related Elsewhere
See our past Weblog updates:
February 6 | 5 | 4
February 1 | January 31 | 30 | 29 | 28
January 25 | 24 | 23 | 22 | 21
January 18 | 17 | 16 | 15 | 14
January 11 | 10 | 9 | 8 | 7
January 4 | 3 | 2 | December 31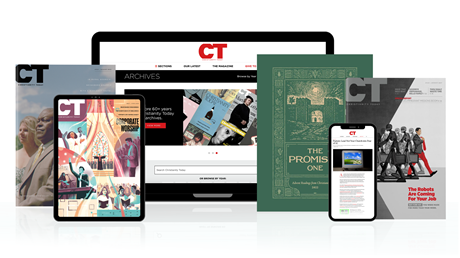 Annual & Monthly subscriptions available.
Print & Digital Issues of CT magazine
Complete access to every article on ChristianityToday.com
Unlimited access to 65+ years of CT's online archives
Member-only special issues
Subscribe
'People of the Book' Are Reading Very Different Texts
'People of the Book' Are Reading Very Different Texts