true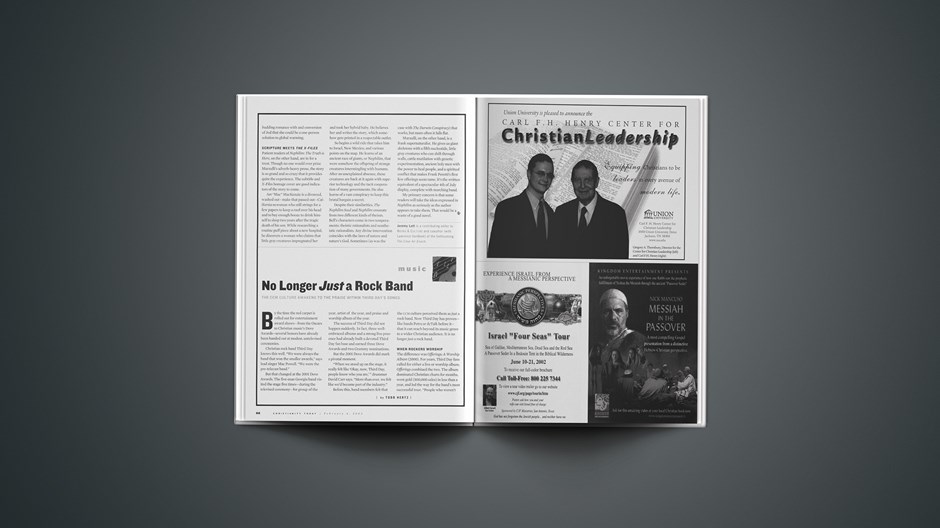 By the time the red carpet is rolled out for entertainment award shows—from the Oscars to Christian music's Dove Awards—several honors have already been handed out at modest, untelevised ceremonies.
Christian rock band Third Day knows this well. "We were always the band that won the smaller awards," says lead singer Mac Powell. "We were the pre-telecast band."
But that changed at the 2001 Dove Awards. The five-man Georgia band visited the stage five times—during the televised ceremony—for honors including group of the year, artist of the year, and praise and worship album of the year.
The success of Third Day did not happen suddenly. In fact, three well-embraced albums and a strong live presence had already built a devoted Third Day fan base and earned three Dove Awards and two Grammy nominations.
But the 2001 Dove Awards did mark a pivotal moment.
"When we stood up on the stage, it really felt like 'Okay, now, Third Day, people know who you are,' " drummer David Carr says. "More than ever, we felt like we'd become part of the industry."
Before this, band members felt that the CCM culture perceived them as just a rock band. Now Third Day has proven—like bands Petra or dc Talk before it—that it can reach beyond its music genre to a wider Christian audience. It is no longer just a rock band.
When Rockers Worship
The difference was Offerings: A Worship Album (2000). For years, Third Day fans called for either a live or worship album; Offerings combined the two. The album dominated Christian charts for months, went gold (500,000 sales) in less than a year, and led the way for the band's most successful tour. "People who weren't familiar with us finally had an album they could listen to," Powell says. "But we didn't do anything differently than we normally do. I guess it was all in presenting ourselves in a different way. Worship has always been a big part of what we are all about, and on Offerings we could communicate that."
Third Day plays driving, casual Southern rock in the tradition of Lynyrd Skynyrd or the Black Crowes. Third Day believes that being a rock band is its calling, but this is a rock band that worships.
Praise music has always been a major part of both live shows and albums. In fact, three tracks on Offerings are from the first Third Day album.
Half the songs are live versions of original tunes. "We never even thought of a couple of them as worship songs until we saw people at concerts with their hands up worshipping God to them," Carr says. The other half comprises unreleased tunes and cover songs including Bob Dylan's "Saved" and a little-known Christian rock ballad, "These Thousand Hills."
"If you had a professional worship leader grade the album, he would probably give it a D-minus," bass player Tai Anderson says. "We wanted to show worship could be different."
'We Aren't from Nashville'
Members say the band has been different from the beginning. "What set Third Day apart and why we wanted to start the band in the first place was that we were excited about our faith," guitarist Mark Lee says. "And as simple as that sounds, everything has extended from that."
While still high school students in Georgia, Lee and Powell started a garage band, Nuclear Hoedown. At the same time, their faith was beginning to grow. They felt God wanted them to quit. But they loved music.
One night, Lee asked, "Hey, do you want to start a Christian band?"
So they did. A year later, they played at a church where drummer Carr and bassist Anderson were members of the youth group's band. A few years passed until guitarist Brad Avery hooked up with Third Day at a benefit concert.
"I think there's an innocence in the way Third Day came together," Carr says. "It wasn't like a record label put this thing together. We aren't from Nashville. We were Christians, and we wanted to glorify God with our music."
Third Day's sound is most recognizable by the deep, captivating voice of lead singer Powell. Its instrumental sound has continually grown through experiment over the years. In 1995, the band independently released an album of pounding Southern roots rock. A year later, it signed with Reunion Records, which released the self-titled debut (1996) nationally.
Third Day followed up with Conspiracy No. 5 (1997), which switched to more standard, straightforward rock. Its third album, Time (1999), returned to head-bobbing Southern rock. The recent Come Together (2001) melds the various styles of Third Day with a new maturity and sophistication.
Throughout the growth, the quality has never suffered. Likewise, the Third Day message has not wavered. Songs range from praise to searches for truth and comfort. Lyrics aren't limited to the blessings of living as a Christian. The band finds its mission in honestly tackling struggles, tribulations, and temptations.
"There needs to be more of that honesty in Christian music," guitarist Lee says. "There is almost this plastic image to it. But I think fans want to see someone who is real."
Early on, the members attended a Rich Mullins concert and respected his honest, genuine approach to songwriting. It rubbed off.
"If we made a whole album where it was totally blatant and we increased our Jesus-per-minutes," bassist Anderson says, "we would probably sell more records, but that wouldn't be Third Day."
Instead, Anderson says, the band chooses to communicate the reality that "we love the Lord, he saved us, but there are struggles. I think more people can relate to that than a candy-coated, bubble gum life that none of us have."
This honesty and palpable love for God often transforms the response of Third Day's concert audiences. As Powell often says, fans may come for a rock show, but they find a church service.
At the 2001 Cornerstone Christian Music Festival in central Illinois, Powell led a sing-along hymn. Fans huddled close together, their eyes shut and hands in the air. Behind them, set against a purple sunset, a chain of linked hands lined the ridge of the hill. At other times, people raised their hands in praise.
"When I come home after a long time, my little girl runs at me as fast as she can and holds her arms out because she wants me to hold her," Powell said at the concert.
"I think of how she wants to be held and feel my desire to hold her, and I realize that is how it is with God. We worship him and we lift our hands in worship because we want to be held."
Todd Hertz is online assistant editor of Christianity Today.
Related Elsewhere
The official Third Day site has an extended discography, bios of members, and a tour journal.
The band is up for six 2002 Dove Awards to be announced in April.
Articles on Third Day by Christianity Today sister publication Campus Life include:
A Big HitThe guys from Third Day are hitting home runs with award-winning music. (September/October 2001)
The Heart of WorshipThe guys in Third Day work hard to keep God at the center of their music—and their lives. (May/ June 1999)
ChristianityToday.com's Music channel has a profile of Third Day and a review of the latest album, Come Together (2001).
For more CT Review articles, see our music archive.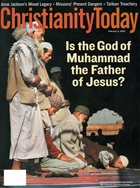 This article is from the February 4 2002 issue.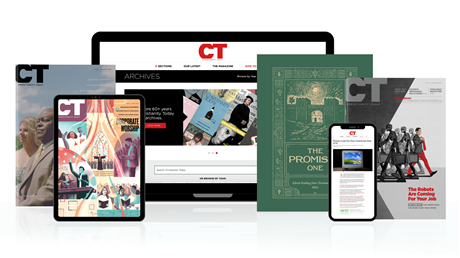 Subscribe to Christianity Today and get access to this article plus 60+ years of archives.
Home delivery of CT magazine
Complete access to articles on ChristianityToday.com
Over 120 years of magazine archives plus full access to all of CT's online archives
Subscribe Now
No Longer Just a Rock Band
No Longer Just a Rock Band