Dear Dr. King:
I've noticed that a lot of people refer to you simply as "Martin." Michael Eric Dyson, for instance, is full of "Martin this" and "Martin that." But I don't feel entitled to call you by your first name. I never met you. I'm not black—though in fact I'm pretty sure I have some African ancestry (who doesn't?), so to a degree I am black: we all are. But for all that, it would be ridiculous for me to pretend to a chummy connection with you.
As you stroll under the larches of Paradise, you may not be keeping track of what's going on down here. Not that you would have forsaken the passion for justice that fueled the civil rights movement. But perhaps you are simply on another plane of existence, incomprehensible to those of us who are still in perishable bodies.
Nevertheless, on the off chance that this message in a digital bottle might reach you, I thought I would fill you in on some of the news. (You don't get the Times in heaven, do you?) The most important story of the moment is the attempt by the recently installed president of Harvard University, Lawrence Summers, to embarrass Professor Cornel West. Summers had the nerve to suggest that it might be time for West to publish another work of serious scholarship. He also hinted that West was contributing to the rampant grade inflation at Harvard, and he seemed unenthusiastic about West's rap CD, Sketches of My Culture.
It was a clear case of racial bullying. As Ayana Karanja, director of the Black World Studies Program at Loyola University-Chicago, put it, "Who determines scholarship? Who decides what is knowledge?" Exactly! In any case, Summers had to eat a plate of crow as soon as West and some of the other stars in Harvard's Afro-American Studies program threatened to jump ship (Princeton was courting West heavily).
It occurs to me that you might not be familiar with CDs, or rap, for that matter. CDs replaced vinyl albums. They're much smaller, but they contain more music and they last much longer. Rap, or hip-hop (the distinction is too fine to belabor here), is harder to describe because you really need to hear it, and I can't quote many of the lyrics, due to the puritanical standards that still throttle the mainstream media. Suffice it to say that the model rapper is a thug who brags about killing and intimidating his foes, having his way with women, and spending a lot of money—all in a clever rhyming style that prompts fans to "parse every line like English majors, debating each rapper's use of puns and metaphors," as the Times explains. And in your day there was so much hand-wringing about black students falling behind academically!
As the maestro of rap, Russell Simmons, says about the work of his younger contemporary, Jay-Z, "Jay has seen the streets, and he raps about it as poetically as imaginable." (Here you will you have to use your imagination.) "Fifty years from now we can listen to Jay's lyrics and know every detail of what it was like to grow up in Brooklyn." You recall James Joyce's boast about his novel Ulysses? Move over, JJ.
I know you will be heartened to learn that this powerful expression of African American culture has profoundly influenced white artists as well. Indeed, white kids in the suburbs are drinking in rap like their mother's milk. Just the other day, the Times reported on a white hip-hop duo in Greenwich, Connecticut, the Sons of Belial, whose lyrics focus on "the hypocrisy of religion."
Have we achieved the dream you unforgettably painted for us so many decades ago? Not quite—but as you can see, we've made a lot of progress.
John Wilson is editor of Books & Culture and editor-at-large for Christianity Today.
Related Elsewhere
Visit Books & Culture online at BooksandCulture.com or subscribe here.
Also appearing on our site today:
To the End, a Baptist Preacher | If you want to know Martin Luther King Jr., consult his sermons.
Books & Culture Corner appears Mondays at ChristianityToday.com. Earlier Books & Culture Corners include:
Keeping the Dust on Your Boots | Remembering the Afghan refugees—and the church in Iran. (Jan. 14, 2002)
Coming Attractions | Books to watch for this year. (Jan. 7, 2002)
Books of the Year, Part 2 | After the top ten, here's the best of the rest. (Jan. 4, 2002)
Books of the Year | Part 1: The Top Ten (Dec. 17, 2001)
"Daddy, What Is the Soul?" | Does the church have an answer? (Dec. 10, 2001)
'We Now Know' | The boast of imperial science. (Dec. 3, 2001)
"24 Cow Clones, All Normal" … | Oh yes, and a few cloned human embryos that died. (Nov. 26, 2001)
"Discovering" Islam: The Intellectual Challenge | There's good reason to believe that there will be staying power to the West's belated "discovery" of Islam. (Nov. 19, 2001)
Disturbing the Peace | Is art always subversive when it's doing its job? (Nov. 12, 2001)
Play Ball | Baseball, leisure, and worship. (Nov. 2, 2001)
Is God a Body-Snatcher? | The restless intelligence of philosopher Peter van Inwagen. (Oct. 30, 2001)
Article continues below
"Science and the Spiritual Quest" | A place at the table for Christians, but at a price. (Oct. 22, 2001)
Beyond Belief? | Nobel Prize-winner V.S. Naipaul's accounts of Islam presuppose the superiority of modern skepticism. (Oct. 15, 2001)
Covering Islam | Getting beyond the feel-good bromides. (Oct. 8, 2001)
Christian Scholarship … For What? | Academic speakers affirm the value of beholding God's creation. (Oct. 1, 2001)
Myths of the Taliban | Misinformation and disinformation abounds. What do we know? (Sept. 24, 2001)
The Imagination of Disaster | "We thought we were invulnerable." Really? (Sept. 17, 2001)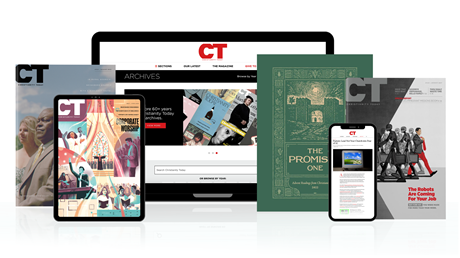 Annual & Monthly subscriptions available.
Print & Digital Issues of CT magazine
Complete access to every article on ChristianityToday.com
Unlimited access to 65+ years of CT's online archives
Member-only special issues
Subscribe
Letter to Martin Luther King, Jr.
Letter to Martin Luther King, Jr.