Scientists find "ultimate stem cell"—in adults, with no cloning necessary
"It might turn out to be the most important cell ever discovered," raves New Scientist magazine. And indeed, it just might be. Catherine Verfaillie of the University of Minnesota has discovered stem cells in adult bone marrow that can become any other bodily tissue. It may put an end to debates over embryonic stem cells and therapeutic cloning; not just because harvesting these cells are ethically problem-free, but also because these cells are reportedly better than those from embryos. "This comes as great news during this sanctity of life week—both for those who mourn the huge loss of unborn human life in recent decades as well as those who have challenging medical conditions," Center for Bioethics and Human Dignity President John Kilner says in a press release. "If confirmed, we no longer need to wait until human cloning becomes reliable—something that may never happen—to pursue therapies and treatments. The genetically appropriate, flexible stem cells patients need are right there in their own bodies." The Christian Medical Association is similarly ecstatic. "If the remarkable results of this study prove consistent with early published reports, then no reasonable person could justify violating ethical barriers to clone and harvest human embryos for their cells," the organization's executive director, David Stevens, says in another press release. "Given this breakthrough news and the consistent performance of adult stem cells, if you were investing in the stock of companies pursuing therapies from adult stem cells or from cloned human embryonic stem cells, where would you put your money?" Expect much more commentary on this in the days ahead.
Dove award nominations released
Steven Curtis Chapman, Toby McKeehan, Nicole C. Mullen, and Rebecca St. James each earned eight nominations for Dove Awards, the Gospel Music Association's annual contest. Michael W. Smith received seven nominations, while last year's big winner, Third Day, received six. That newcomers and oldtimers both received so many nominations is evidence that the Christian music industry is growing up, GMA president Frank Breeden tells The Tennesseean. "It's no longer dominated by a few artists and styles," he says. "Our senior class and our freshman class are both represented very well." Oddly enough, the annual Dove Awards sometimes have no relationship to what artists and bands have done over the last year. Nichole Nordeman, 2000's female vocalist of the year, is nominated again this year. "I'm really surprised because I haven't really done much recently," she tells the Associated Press. "I've been in the (recording) studio and traveling and out of the public eye. … There's definitely a sense of satisfaction that my peers nominated me anyway." Or maybe it's like Frasier winning the Emmys year after year—voters pick a name and stick with it.
Washington's Episcopalians won't get a bishop who believes homosexual practice is sinful
As Episcopal leaders gather at Washington's National Cathedral tonight to elect a bishop, conservatives in the church complain that they've been shut out of the process. The diocese has mandated that all candidates for the position must be "firmly committed to the full inclusion of women and gay and lesbian people in the life of the church." So although there are reportedly no candidates for the position who oppose the ordination of homosexuals, one of the candidates is openly gay. (Thanks to onReligion.com for alerting Weblog to these articles.)
Alpha course show okayed
Remember earlier stories about the British reality TV series based on the Alpha evangelistic course? The National Secular Society brought a complaint against it, saying it violated British law prohibiting mainstream networks from airing evangelistic shows. Fortunately, the Independent Television Commission dismissed the complaint, saying the Alpha show didn't put any pressure on viewers. (Premier Christian Radio hasn't fared so well against such ridiculous complaints.)
More articles
Life ethics:
Crime:
Church and state:
Working together:
Mormonism:
Catholicism:
Popular culture:
Other stories of interest:
Related Elsewhere
See our past Weblog updates:
January 23 | 22 | 21
January 18 | 17 | 16 | 15 | 14
January 11 | 10 | 9 | 8 | 7
January 4 | 3 | 2 | December 31
December 28 | 27 | 26
December 21| 20 | 19 | 18 | 17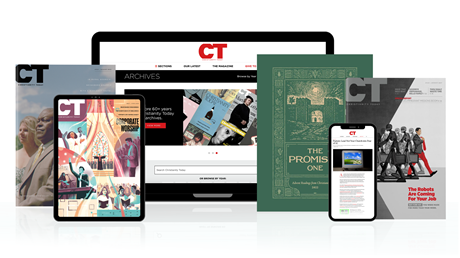 Subscribe to Christianity Today and get access to this article plus 65+ years of archives.
Home delivery of CT magazine
Complete access to articles on ChristianityToday.com
Over 120 years of magazine archives plus full access to all of CT's online archives
Subscribe Now
'The Ultimate Stem Cell' Is Ethical, Too
'The Ultimate Stem Cell' Is Ethical, Too