University of Minnesota stem-cell scientist: Too early to tell anything
Catherine Verfaillie says her discovery of "the ultimate stem cell" is important, but there's still a lot of work to be done. "Even though we're excited about the fact that there seem to be cells in adult tissue that seem to have greater potential than we thought, it's too soon to say they have the same potential and capabilities as embryo cells," the University of Minnesota biologist tells The Washington Post. As Christian bioethics organizations pointed out yesterday, the discovery probably makes controversial experimentation on embryonic stem cells unnecessary—but Verfaillie says that such experiments should continue. The discovery of the adult stem cell "does not mean we should eliminate a whole line of research," she says.
Work on "the most important cell ever discovered" is just beginning, but already it is the focus of debate on Capitol Hill. A Senate subcommittee was already scheduled to discuss a ban on human embryo clones yesterday. Verfaillie's finding (published in New Scientist on the basis of a patent the biologist filed, not on any peer-reviewed academic journal article) added a new dimension to that meeting. "Science continues to prove that destructive embryonic stem cell research is unnecessary," said Senator Sam Brownback (R-Kan.).
One important media note: The New York Times article on the stem cells says, "Embryonic cells, although more versatile, are obtained by destroying the blastocyst, or early stage embryo, and opponents of abortion are strongly against work with them." But The Washington Post correctly points out that it's not just prolife forces who oppose embryonic stem cell research:
The committee also heard strong words in opposition to the embryo studies, including some from voices not usually in harmony with the conservative or antiabortion voices that usually dominate on prenatal issues.
"The push to redesign human beings, animals and plants to meet the commercial goals of a limited number of individuals is fundamentally at odds with the principle of respect for nature," said Brent Blackwelder, president of Friends of the Earth, an environmental group that opposes embryo cloning and other areas of biotechnology.
Others on the left have raised similar concerns—notably Judy Norsigian, co-founder of the Boston Women's Health Book Collective, which produced the feminist health guide

Our Bodies Ourselves

. Norsigian, in rare alignment with President Bush, testified last year in favor of the winning House bill.
Burnhams enter ninth month as hostages
Speaking of prolife causes, Rep. Todd Tiahrt (R-Kan.) told activists at the March for Life rally Tuesday that lobbying for the freedom of missionaries Martin and Gracia Burnham is also a prolife issue. As of this weekend, the Burnhams will have been held captive for nine months. (If you missed the 48 Hours report on the Burnhams, the show's Web site has it.) A Boston Globe editorial, however, wonders if it's worth rescuing them. "Freeing three hostages can hardly justify a military mission that could, if it became too muscular or too prolonged, provoke anti-American resentment in a country that was once a U.S. colony and that forced the Pentagon to abandon two major military bases 11 years ago," the paper says today. "Not even the goal of disabling the fanatical Abu Sayyaf group can justify a US combat role in the Philippines—a role that would violate the Philippine Constitution." The South Florida Sun-Sentinel is more sympathetic: "There is value in helping the Philippine government prevent a beachhead for international terrorists on its shores and rescue two American hostages. But this mission needs to be kept simple and short." Now is the time legislators and newspapers need to hear your opinion on the matter. Decisions are being made about how much the U.S. should be involved in rescue efforts. If you haven't contacted your representative already, do it.
Pope religious violence isn't truly religious
There are many stories today about the meeting of world religious leaders in Assisi. No time to sum it all up now, but here are links:
More stories
Popular culture:
Church and state:
Missions and ministry:
Forcing Christian servicewomen to dress like Muslims:
Sexual ethics:
Life ethics:
If you think Harry Potter is bad, wait 'til you read The Dark Materials, nominated for a huge British literary award:
Nigeria:
Catholicism:
Other stories of interest:
Related Elsewhere
See our past Weblog updates:
January 24 | 23 | 22 | 21
January 18 | 17 | 16 | 15 | 14
January 11 | 10 | 9 | 8 | 7
January 4 | 3 | 2 | December 31
December 28 | 27 | 26
December 21| 20 | 19 | 18 | 17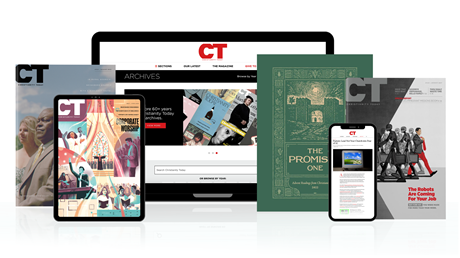 Subscribe to Christianity Today and get access to this article plus 65+ years of archives.
Home delivery of CT magazine
Complete access to articles on ChristianityToday.com
Over 120 years of magazine archives plus full access to all of CT's online archives
Subscribe Now
Tempering Expectations for 'Ultimate Stem Cell'
Tempering Expectations for 'Ultimate Stem Cell'