Leaders of a dozen great world religions came together last week in this city where St Francis was born eight centuries ago to pray for peace and to commit themselves to work for global reconciliation.
It was the third inter-religious summit hosted by Pope Jean Paul II in Assisi, 200 kilometers north of Rome. The first summit, which gathered Christian and non-Christian leaders from all around the world, was in 1986. In 1993, Pope Jean Paul called together European religious leaders in this city to pray for peace in the Balkans, torn by civil war.
Addressing the January 24 gathering, Pope Jean Paul II recalled the tragedy of the terrorist attacks of September 11 in the United States that took thousands of lives.
"Humanity is always in need of peace, but now more than ever, following the tragic events which undermined its confidence and in the face of persistent flashpoints of cruel conflict which create anxiety throughout the world," the Pope said.
"It is essential that religious people and communities should in the clearest and most radical way repudiate violence, all violence, starting with the violence that seeks to clothe itself in religion and appeals even to the most holy name of God in order to offend man."
After the Pope's short speech, the various religious groups prayed separately in different rooms, then shared a communal meal offered by the Franciscan friars of the Sacred Convent of Assisi.
The day began when the Pope and about 60 official representatives of different religions set off on the morning train from the Vatican City station for Assisi, where other participants awaited their arrival on a decorated esplanade in front of the Basilica of St Francis. In all, the gathering included 250 religious representatives.
Among the Christian leaders in Assisi were Bartholomeos I, the Orthodox ecumenical patriarch of Constantinople; Ignace IV Hazim, Greek Orthodox patriarch of Antioch and of all the Orient; several metropolitans and dignitaries of the patriarchates of Moscow, Serbia, Romania and Bulgaria, and of Orthodox churches in Cyprus, Poland and Albania.
The Italian press drew special attention to the presence of Metropolitan Pitirim of Volokolamsk, representing the Moscow Patriarchate of the Russian Orthodox Church. According to newspapers in Rome, his presence was a sign of a certain thawing of relations between the Moscow Patriarch Alexei II and the Holy See.
The Orthodox churches of Georgia and of Greece, however, did not send any representatives.
Other leaders present included representatives of Oriental Orthodox churches—Syrian, Armenian and Ethiopian.
Christian communions and organizations represented included the World Council of Churches, by its general secretary, Konrad Raiser; the Lutheran World Federation, by Ishmael Noko, its secretary general; the World Alliance of Reformed Churches, with by secretary general, Setri Nyomi; the Anglican communion—although Dr George Carey, the archbishop of Canterbury, was not present; the World Methodist Council, by its president, Sunday Mbang, and its general secretary, George Freeman; the Baptist World Alliance, by its general secretary, Denton Lotz; as well as the Disciples of Christ; the Mennonites; the Quakers; the Moravian Church; Pentecostals; and the Salvation Army.
A dozen rabbis from throughout the world, and approximately thirty dignitaries from the Middle East and elsewhere represented Islam, among them the grand muftis of Bosnia and Bulgaria.
Also present were representatives of Buddhism, Shintoism, Tenrikyo (from Japan), Confucianism, Jainism, Sikhism, Hinduism, Zoroastrism and of traditional African religions.
Later in the day, participants came together under a tent, where several prominent figures read out a series of pledges.
Patriarch Bartholomeos declared: "Although we belong to different religious traditions, we affirm that building peace requires loving one's neighbor in obedience to the golden rule: 'Do to others what you would have them do to you'."
Konrad Raiser affirmed: "We commit ourselves to proclaiming our firm conviction that violence and terrorism are incompatible with the authentic spirit of religion, and, as we condemn every recourse to violence and war in the name of God or religion, we commit ourselves to doing everything possible to eliminate the root causes of terrorism."
Other pledges were made by other Christian, Jewish, Muslim, Buddhist, and Confucian leaders.
Pope John Paul concluded the ceremony, saying: "Violence never again! War never again! Terrorism never again! In the name of God, may every religion bring upon the earth justice and peace, forgiveness and life, love!"
While religious representatives shared a meal together Friday at the Vatican, the Italian press made its assessment of the "day of Assisi."
"The Pope: 'no' to terror in the name of God," wrote La Stampa of Turin, adding that the Pope, "in spite of advice to the contrary," had wanted the meeting at Assisi "to demonstrate the risks facing humanity and the need to form a united front to promote dialogue and prayer."
La Repubblica of Rome hoped that the next inter-religious summit would take place in Jerusalem: "Sometimes it's necessary to force fate, break protocol, shuffle calendars. Since it's a question of saving innocent people who die every day on Palestinian, on Israeli land—people who would rather live together than die together."
Related Elsewhere
The official Vatican site includes a page on the Assisi Day of Peace that includes photos, video, and text of prayers and readings.
Media coverage of the Assisi prayer meeting includes:
Pope's gathering for peace ends — Associated Press (Jan. 25, 2002)
Pope denounces violence in religion's name — The New York Times(Jan. 25, 2002)
World religious leaders join Pope in a peace prayer — The Los Angeles Times (Jan. 25, 2002)
Faith groups gather in Assisi to seek peace — The Christian Science Monitor (Jan. 24, 2002)
Pope leads world prayer day — BBC (Jan. 24, 2002)
Pope invites world's religious leaders to Assisi for peace prayers — The Nando Times (Nov. 18, 2001)
Pope calls Assisi peace meeting — BBC (Nov. 18, 2001)
For more articles, see Yahoo's full coverage.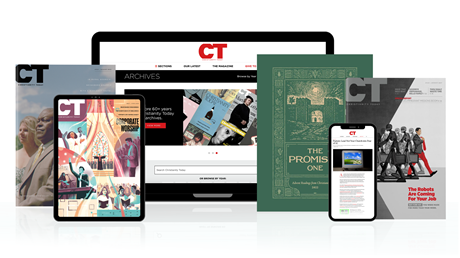 Annual & Monthly subscriptions available.
Print & Digital Issues of CT magazine
Complete access to every article on ChristianityToday.com
Unlimited access to 65+ years of CT's online archives
Member-only special issues
Subscribe
World's Religions Gather At Assisi to Reject Violence and Call for Peace
World's Religions Gather At Assisi to Reject ...