Southern Baptists will reconsider use of NIV because of TNIV
Without having actually read much of Today's New International Version, which was released yesterday (though it won't actually be in print until April), some conservative evangelicals are already very upset. "No one is authorized to treat the Bible like Silly Putty," William Merrell, vice president for convention relations of the Southern Baptist Convention executive committee, tells The Washington Times. "Whenever a translation occurs, a document's integrity can be skewed as a result. … It's threatened by intrusion of hypersensitivity and political correctness. You cannot apply the changing cultural mores to determine what the Word of God says." Despite these comments, Merrell apparently uses the New International Version of the Bible rather than the 1611 King James Version. But he tells the Times that the SBC "will reconsider using the NIV version of the Bible because of the publication of the TNIV." O brother. (Whoops. Now that the TNIV omits both the term "O" and uses some gender-inclusive language, that exasperated outburst should probably be "Sibling.") Merrill also talked to the Chicago Tribune, but his words were more guarded, and there was no threat of abandoning the NIV. "I believe the scholarly community among evangelicals and Southern Baptists will look with very close scrutiny at the translation. I would expect … that some of the Christian public will be upset," he said.
You can hardly blame some Christians for being upset: journalists are doing all right at reporting the basics of the story, but headline writers are misleading the public. The worst example is the Chicago Sun-Times, which posts above Associated Press writer Richard Ostling's article, "No mention of 'man' in new Bible." That's patently untrue. The International Bible Society would also take issue with several headlines that call the new version "gender neutral"—many passages, including those referring to the Godhead and to family relationships, are just as they are in the NIV. (More articles on the TNIV are available from the BBC, and Fox News).
Expect more reaction on this story—both before and after people have had a chance to read the TNIV. And in case you haven't seen it yet, we also have a poll this week on new Bible translations.
Sin City needs the Savior
"To tourists, Las Vegas is a glamorous getaway of pricey restaurants, expensive shows and fancy megaresorts and casinos," reports the Associated Press. "But the glittering city of dreams also attracts the desperate, people who couldn't make it anywhere else and come here as a last resort. Many are troubled, unrealistic with more dreams than skills." The city has fed on these troubled souls, and multiplied them. "Gambling addiction programs are few, and lines are long at the city's missions. The homeless population has nearly doubled to 12,000 since 1999." Major ministries seem to be few, too. The Associated Press notes that one successful outreach there is that of the Christian Motorcyclist Association.
Meanwhile, the Las Vegas Sun wonders why there are so few Christians ministering to the area's prostitutes:
In Las Vegas, a place where part of its reputation is built partly on an underground network of prostitution, there is no sizable, established program aimed at helping people leave the sex industry. … That's not the case in other prostitution-laden metropolises. In Los Angeles, for example, there are a host of 'exit programs'—most rooted in churches. They provide shelter and temporary assistance to women, children and men who have been dependent on prostitution money for their livelihood. They also help by referring prostitutes to drug and alcohol recovery programs, counseling, health care providers, and job training. Additionally, some programs work with courts and cops to provide alternative sentencing programs. But in Las Vegas such programs are few, according to local prostitutes, church leaders, and law enforcement officers.
The Sun praises the few ministries that are at work in the city, but notes that it's hard work. A lot of ministries have come and gone.
The Christian music boom—but not where you think
You may have heard of the supposedly huge Christian music boom (the one where the popularity of albums like Mannheim Steamroller's Christmas Extraordinaire and the Sibling, Where Art Thou soundtrack are taken to mean America is in the midst of a spiritual renewal). But here's a story you probably haven't seen: "Gospel Music Continues to Excel." It's in the Zimbabwe Standard. In that country of Southern Africa, the big acts aren't P.O.D. and Michael W. Smith, they're Ivy Kombo and Mechanic Manyeruke. "Wherever you go, gospel music, be it in buses or even in the municipal beer gardens, has now taken center stage," writes the Standard's Trevor Muhonde. "But the situation begs the question: Are people getting the message and repenting or they are just listening and dancing to the music for the mere sake of it? … There appears to be a general consensus that some artists are into gospel music only to make a fast buck." It's a fascinating report of a not-quite-parallel world. Some attribute the Christian music boom to the work of the Holy Spirit. Others see it as a response to the country's latest hardships. Still others worry that "our radio personalities no longer play old gospel music as they now favor these new artists, whose music lacks the ability to turn people to the Lord."
More articles
Sudan:
Politics:
Crime:
Church life:
Church battles:
Missions and ministry:
Online religion:
Popular culture:
Other articles of interest:
Related Elsewhere
See our past Weblog updates:
January 28
January 25 | 24 | 23 | 22 | 21
January 18 | 17 | 16 | 15 | 14
January 11 | 10 | 9 | 8 | 7
January 4 | 3 | 2 | December 31
December 28 | 27 | 26
Weblog
Launched in 1999, Christianity Today's Weblog was not just one of the first religion-oriented weblogs, but one of the first published by a media organization. (Hence its rather bland title.) Mostly compiled by then-online editor Ted Olsen, Weblog rounded up religion news and opinion pieces from publications around the world. As Christianity Today's website grew, it launched other blogs. Olsen took on management responsibilities, and the Weblog feature as such was mothballed. But CT's efforts to round up important news and opinion from around the web continues, especially on our Gleanings feature.
Ted Olsen is Christianity Today's executive editor. He wrote the magazine's Weblog—a collection of news and opinion articles from mainstream news sources around the world—from 1999 to 2006. In 2004, the magazine launched Weblog in Print, which looks for unexpected connections and trends in articles appearing in the mainstream press. The column was later renamed "Tidings" and ran until 2007.
Previous Weblog Columns: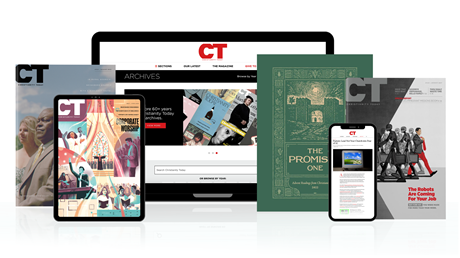 Annual & Monthly subscriptions available.
Print & Digital Issues of CT magazine
Complete access to every article on ChristianityToday.com
Unlimited access to 65+ years of CT's online archives
Member-only special issues
Subscribe
Southern Baptist Leaders So Upset About TNIV That Denomination May Abandon NIV
Southern Baptist Leaders So Upset About TNIV That ...