true

Phil Joel
Inpop Records
I could have very easily chosen The Newsboys' Thrive to sit in this spot (as Russ did), but I think Phil's work on his second solo effort deserves even more accolades. His disparate voice is the common thread that unites these ten pop friendly modern rock tracks. Though the tempos and the hooks come out of every direction, the voice brands each tune with familiarity. The same is true of Phil's lyrics, which are like musings from his private prayer journal. He's another solo artist that has shown significant growth between his freshman and sophomore years of solo projects.
Read the original review here.

Tree63
Inpop Records
The vertical rock of this talented South African power trio has always interested and inspired me. I really like the way this sophomore effort builds upon the unique retro-yet-modern rock sound of their Dove Award winning debut. Yet despite the new sounds and experimentation, all the tracks have a very distinct Tree63 signature on them: exciting modern rock that recalls The Police and U2, with worshipful lyrics. This one didn't waste any time growing on me – it grabbed me with the first listen.
Read the original review here.

Nichole Nordeman
Sparrow Records
I've always preferred the introspective singer-songwriters for my daily music listening, and Nichole's latest album is no exception. On her previous albums, Nichole asked all of the questions about faith that we were afraid to ask, and it endeared her to many. This time, the focus is on God's goodness woven into our everyday lives. Nichole's lyrics are as insightful as always, so much so that I've actually taken them home to read them as part of my daily devotional time to fully digest her perspective – I can't say I've done that with any other artist. There's a lot of Scripture and truth to be mined from Woven & Spun.
Read the original review here.

Justin McRoberts
Grassroots Music
This is the first of three "sleeper albums" included in my picks for best albums this year. If you're a fan of Bebo Norman and Caedmon's Call, there's just no excuse for not getting into the brilliant songwriting of Justin McRoberts. He is a songwriter that will surprise you musically and lyrically, especially with this fascinating collection of songs, an exercise in writing from the perspective of the non-believer. More edgy and gritty than Bebo, Justin offers a lot of food for thought. Make sure to chew thoroughly and fully digest the work of this wonderful songwriter.
Read the original review here.

Bebo Norman
Essential Records
I picked Bebo's Big Blue Sky as #1 last year, but don't let that make you think any less of his latest effort. He's only been bumped because of the quality of the competition. For a guy who was already great at being transparent on stage and off, we get this new musical outpouring of an even more real Bebo. The flavor of the music heralds back to his folksier Ten Thousand Days feel, rather than the big pop production of Big Blue Sky. The worshipful radio hit "Great Light of the World" is one of his best songs ever, and is reason in itself to pick up this album – but just for you, Mr. Norman has graciously sweetened the deal with eleven other folk-pop gems.
Read the original review here.

Gersh
Spring Hill Music
My next sleeper pick of the year. You've honestly earned my personal respect if you've already discovered Awakening, but I know that not nearly enough people are aware of its existence. Mark Gersmehl takes the listener on a personal spiritual journey from one song to the next, each destination offering a unique perspective and devotion. It's kind of like the way God leads us to familiar and unfamiliar places to teach us His will and accomplish His purposes. Don't touch the "random tracks" button on your CD player with this one, much less "stop" or "eject." Focus instead on "play" and "repeat."
Read the original review here.

Joy Williams
Reunion Records
My, my … Joy is growing up so quickly before our eyes! You can almost view her as a brand new artist with this sophomore effort, because of the new heights she reaches. The artistic growth demands attention, showcasing Joy's growth as a songwriter and the kind of music that she really prefers to sing — she's referred to this as a "blue jeans and t-shirt" album. If this is the real Joy Williams, then feel free to dress down and relax with her music, because she's certain to be around for a while.
Read the original review here.

Sara Groves
INO Records
This album secured itself in this list upon my first listen to the unmastered version of this gem — i.e. the songs weren't fully polished and they were completely out of order. Let that speak for the power of Sara's songwriting. It's so good she makes it seem easy, with songs that speak to God, of God, of God's creation, and of the people God has blessed her life with. It couldn't have been easy to follow-up her critically acclaimed Conversations disc, but somehow she has and the results are tremendous.
Read the original review here.

Lifehouse
Sparrow / Dreamworks Records
I'm still trying to decide which has the greater effect on me concerning Lifehouse's music: the lyrics or the music. Probably a little bit of both. Either way, this album was created with a level of excellence that is rare. The fact that it somehow builds on the solid foundation of their breakthrough debut, No Name Face, is no small task. You can bet that a lot of hit radio singles will make their way from this release. The beauty of it is that each song offers something of hope and value to the listener who has ears to hear what they're really trying to say.
Read the original review here.

Daily Planet
Reunion Records
Have these guys been peeking into my CD collection, or what? Take one part neo-classic rock a la Blues Traveler, a pinch of Third Day's southern roots rock blend, a full cup of Dave Matthews funk, a teaspoon of Jars of Clay alternative pop, and hit blend. The result is a smooth yet occasionally gritty album with a great variety of flavors to sip on all evening. I think this is a great album because it isn't trying to follow a trend or be the "next" anything. It's simply a great pop/rock record, a trendsetter, and one of the highest quality debuts I've ever heard.
Read the original review here.

Shane Barnard & Shane Everett
Inpop Records
This may well be my favorite album of the year, but this isn't just about personal preferences — so I'm slipping it to #2. I will, however, call it the "Sleeper CD of the Year," not that it'll put you to sleep. I was amazed that Shane Barnard could come out of the blue and blow me away with such catchy and insightful songwriting. His vocals intertwined with Shane Everett's harmonies are rich and engaging; the instrumental skills and inventive arrangements are equally impressive. I can't say enough good things about this one without repeating myself — it's simply one of the year's very best.
Read the original review here.

Sixpence None the Richer
Reprise / Warner Records
I didn't choose this alternative pop album as my top choice just because "it's Sixpence and they're back." Rest assured, their fourth studio project masterfully accomplishes the daunting task of discussing some of the most difficult things in life in surprisingly beautiful and effective ways. There's a lot of perspective to drink in with every song, and not a bad one in the bunch. All thirteen tracks work together to make the most satisfying and complete album of 2002. It's great to see this band back and at the top of their game.
Read the original review here.
Browse All Music Reviews By: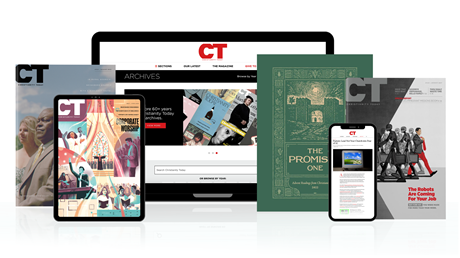 Annual & Monthly subscriptions available.
Print & Digital Issues of CT magazine
Complete access to every article on ChristianityToday.com
Unlimited access to 65+ years of CT's online archives
Member-only special issues
Subscribe
Top 12 Christian Albums of 2002
Top 12 Christian Albums of 2002