The more things change, does anything stay the same? This emerged as a theme question of the 170th meeting of the American Society of Church History, which I attended last weekend in San Francisco.
I first heard this question in a Friday morning session titled "Food and Its Functions in the History of Christianity." Ffor those of you who have never attended an academic conference, a session usually consists of two to four papers, which presenters read from prepared manuscripts. (I used to find this extremely boring, but after hearing a couple of presenters improvise on sketchier scripts, I now appreciate pre-written polish.) Each paper takes about 20 to 30 minutes, and ideally they all relate to each other in some useful way. After they have all been read, a scholar who has read the papers ahead of time gives brief comments, to which the presenters usually have a few minutes to respond. If time remains, audience members raise more questions.
Most sessions focus on one era, or even one person, but the food session followed debates about eating among the desert fathers, scholastic theologians, early Methodists, and modern mainline Protestants. In the question period after this dizzying 1,750-year sweep, Brooks Holifield, the society's incoming president, asked what continuities—if any—could be identified regarding Christian views on food. Can scholars ask or answer any of the same culinary questions when studying the ancient church, the twentieth century, and everything in between? Does the desert fathers' renunciation of meat have anything to do with World Vision's 30-Hour Famine program? Holifield didn't really get an answer.
Issues of continuity and discontinuity came up again in the Friday evening panel session called "Writing the History of Christianity in the New Millennium." The panelists are all working on different volumes of an overview project, and instead of presenting papers on their research so far, they shared thoughts on their approaches to their respective eras.
The two early church specialists spoke of increased reliance on non-textual and non-theological sources to recreate a picture of the past, use of methods and theories from other disciplines (art history, social sciences), and the importance of explaining that Christianity was never unified or uniform, even in its earliest years. The medievalist stressed the otherness of the past—a "foreign country" in which now-familiar terms meant very different things, people did not write in the modern English of our translations, and most Christians knew almost nothing of life or religion outside their local spheres. The Reformation scholar introduced the impact of French theorists Jacques Derrida and Michel Foucault on his discipline and argued that new contextualizations of the Reformation threaten to obscure the contributions of Martin Luther and John Calvin. The modernist addressed shifts in Christianity (and the way its history is written) related to socialism, feminism, Vatican II, and the fact that Christianity is rapidly becoming a religion of the two-thirds world.
From the audience, Holifield again raised the question of continuity. Several others picked up the theme as well. If the study of church history is really an investigation of multiple "Christianities," a term used by more than one of the panelists, how do we know if we're discussing the same subject? What makes a person or a church "Christian"? One audience member went so far as to ask if Christian history should, maybe, consistently reference Jesus Christ, a suggestion that went absolutely nowhere. In fact, the whole line of questioning merely elicited fuzziness and a bit of annoyance from the panel.
These debates are not new to the ASCH, which apparently considered taking "church" out of its name a few years ago, but they were fairly new to me. I began to understand their context after a professor in the Friday night audience posed this question to the panel: "For those of us who grew up with one authorized story of Christian history, the new directions in scholarship have been exhilarating. But our students grew up without any central narrative. How can we help them see history as more than just one damn thing after another?"
Because of their current emphasis on specialization, which naturally—though not inevitably—leads to fragmentation, many contemporary historians are not equipped to help students find threads that weave history together. Educated in an era when Christians and scholars still shared significant presuppositions, as well as significant blind spots, today's professors do not wish to (a) rehash what they consider stale material, or (b) return to a mindset that disregarded the contributions of women and minority groups, distrusted other academic disciplines, and dismissed all religious traditions other than the one's own. Thus academics shudder at the thought of "going backward," apparently without realizing that the alternative they have chosen leads simultaneously everywhere and nowhere.
Specialization has contributed to a distressing level of fragmentation in the study of church history, as well as in pretty much all of the humanities, but it can be fruitful when combined with a sincere commitment to conversation. For example, a session on "American Christianity and Commercial Culture at the Turn of the Twentieth Century" managed to combine papers on the architecture of D.L. Moody's church, salesmanship among black preachers, devotions for busy people, and the collapse of Boston's censorship board into a more meaningful discussion of the relationship of Christianity to commercialism than any of the presenters could have put forth alone. Some generalizations emerged from these particulars—generalizations with the tang of lived experience, unlike some theoretical or wishful generalizations of histories past. And I learned something.
I'm an ASCH outsider, and I can't completely grasp the current situation or propose a brilliant solution. But as an audience member who may sit through many more papers, I would love to see a concerted effort to craft sessions—even whole conferences—that are truly more than the sum of their components. Presenters could discuss ahead of time what points they can help each other make. Not everyone will or should be on exactly the same page, but even talking at each other is better than talking past each other. The new president's questions seemed to hint in this direction, and I hope more scholars pick up the trail.
Elesha Coffman is managing editor of Christian History magazine.
Related Elsewhere:
More Christian history, including a list of events that occurred this week in the church's past, is available at ChristianHistory.net. Subscriptions to the quarterly print magazine are also available.
The ASCH's Web site has information on the society, as well as abstracts from its journal, Church History.
The Conference on Faith and History is smaller and generally more evangelical. In 2000, Coffman reported that the organization was facing something of an identity crisis.
The American Historical Association has a fairly comprehensive site with some history of its own. Check out, for example, "Religion still the Key to History," a 1906 speech from the organization's president at the time.
Frustrated with "jargon-laden, esoteric theory," and the influence of identity politics on modern scholarship, some historians founded The Historical Society as an alternative to the American Historical Association.
Article continues below
Christian History Corner appears every Friday at ChristianityToday.com. Previous editions include:
Spurgeon's Epiphany | The event he recounted more than 280 times in his sermons first occurred on January 6, 1850. (Jan. 4, 2001)
Christmas Kettles | The history behind a Yuletide institution. (Dec. 21, 2001)
O Christmas Tree | A truly "traditional" tree would be unrecognizable—and flammable. (Dec. 14, 2001)
Christmas Countdown | When does the holiday season really start? (Dec. 7, 2001)
Serving God with Mammon | John Wesley's wisdom for hard economic times: earn all you can, save all you can, and give all you can. (Nov. 30, 2001)
Eat, Drink, and Relax | Think the Pilgrims would frown on today's football-tossing, turkey-gobbling Thanksgiving festivities? Maybe not. (Nov. 21, 2001)
Where Are the Women? | The Christian tradition includes few female history-writers but plenty of female history-makers. (Nov. 20, 2001)
God Bless, More or Less | Irving Berlin's anthem captures America. (Nov. 2, 2001)
Festival of Fears | What's scarier than Halloween? The anxieties that drive it. (Oct. 26, 2001)
Forget 'Normal' | C.S. Lewis's warning against panic during World War II resonates in our new crisis. (Oct. 19, 2001)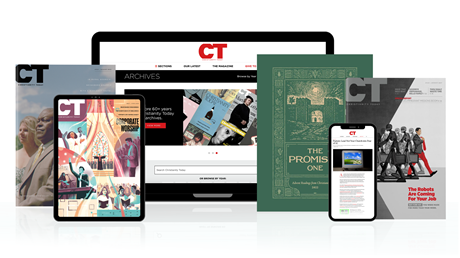 Subscribe to Christianity Today and get access to this article plus 65+ years of archives.
Home delivery of CT magazine
Complete access to articles on ChristianityToday.com
Over 120 years of magazine archives plus full access to all of CT's online archives
Subscribe Now
State of the Fragmentation
State of the Fragmentation