A Methodist bishop has made a passionate appeal to Zimbabwe's political parties and the government of President Robert Mugabe to take action to stop the continuing political violence in the country.
At a New Year's ceremony on January 7, attended by judges and senior government officials, Bishop Cephas Mukandi said: "We hear incidents of citizens of this country fighting or killing one another because of political differences. Battles have never settled a quarrel, neither will they now."
Political violence and intimidation have been mounting in Zimbabwe over the past few months in the run-up to the presidential election, scheduled for March 9 and 10. In this election, President Mugabe faces the strongest challenge ever to his 21-year-rule in opposition leader Morgan Tsvangirai of the Movement for Democratic Change (MDC).
At the end of December, during a congress of his ruling Zanu-PF party in the resort town of Victoria Falls, Mugabe vowed to crush the MDC. During the past two months, at least four people—all believed to be members of the MDC—have been killed.
The bloodshed has drawn the attention of the international community. Last autumn the European Union threatened to impose sanctions against Zimbabwe unless intimidation of political opposition stopped. A delegation of Zimbabwean government officials is expected to meet EU officials this week.
According to the latest reports, Zimbabwe's parliament approved new security and election laws which critics say are intended to stifle dissent before the elections. The parliament is also expected to pass a law introducing tight controls on the media.
The security bill gives the police new powers and would make it an offense to criticize the president. New election regulations restrict foreign and local independent election monitors.
In his comments at the New Year ceremony, Bishop Mukandi called for dialogue between the different factions of Zimbabwe society: "My fellow Zimbabweans, it is better we cease all hostility among ourselves. Let us solve our disputes over the table."
The bishop linked the political turmoil to the country's economic crisis, which has seen the unemployment rate reach 60 percent, and the rate of inflation stand at more than 100 percent. "In the absence of peace there is no development or prosperity to talk about," he said.
The bishop added: "Zimbabwe is our home and we have no other. As patriotic citizens, let us play a positive role in building a just and peace-loving society."
The British government earlier this week threatened to call for the suspension of Zimbabwe's membership in the Commonwealth at the meeting of Commonwealth heads of government scheduled for March in Australia.
Related Elsewhere:
Recent media coverage includes:
Mugabe pushes repressive laws through parliament - Irish Times (Jan 10, 2002)
Zimbabwe parliament passes controversial laws — allAfrica.com (Jan. 10, 2002)
Britain warns of "tragedy" over deepening Zimbabwe crisis - AFP/Yahoo! Singapore (Jan 10, 2002)
Mugabe Sets the Dates for His Showdown — Business Day, Johannesburg (Jan. 10, 2002)
Terror Plot Exposed — Financial Gazette, Harare (Jan. 10, 2002)
Media Vow to Fight Back — UN Integrated Regional Information Networks (Jan. 10, 2002)
Desperate Mugabe Resorts to Blackmail — Financial Gazette, Harare (Jan. 10, 2002)
Zvobgo Emerges As the King Maker — Financial Gazette, Harare (Jan. 10, 2002)
Zimbabwe parliament passes controversial laws — allAfrica.com (Jan. 10, 2002)
For more articles, see allAfrica.com and Yahoo full coverage.
Related Christianity Today coverage of Zimbabwe politics and violence includes:
Zimbabwean Archbishop Warns That Church Must Stand Against Injustice | Article in church newspaper is thinly veiled criticism of Mugabe government. (June 5, 2001)
Leading Anglican Priest Protests by Cutting Ties With Church in Zimbabwe | White clergyman upset with appointment of bishop and with President Mugabe (June 5, 2001)
Conscience, Not Violence, Must Rule Zimbabwe, Says Catholic Priest | Oskar Wermter warns that country is drifting into civil war. (Apr. 12, 2001)
Priest Horrified as Zimbabwe Politician Compared With 'Son of Man' | Incident is not the first such comparison in Zimbabwe politics. (Apr. 2, 2001)
Evangelicals Attempt to Defuse Crises | While decrying land redistribution program, president of Evangelical Fellowship of Zimbabwe stepping down after financial dispute. (Mar. 22, 2001)
Clergyman Forced to Leave Zimbabwe After Criticizing Mugabe Government | Authorities revoke work permit of Presbyterian missionary who accused the government being involved in killings. (Mar. 19, 2001)
Zimbabwe Church Officials Tell Mugabe to Respect Judiciary and Rule of Law | Catholics, Baptists, and others criticize presidential pressure on Supreme Court. (Mar. 19, 2001)
Churches Call for Inquiry Into Zimbabwe's Pre-Election Violence | "In the meantime, accept the election results" says Zimbabwe Council of Churches (July 14, 2000)
Zimbabwe President's Party Refuses to Join Church-Sponsored Talks to End Violence | At least 10 dead in country's escalating political violence (May 2, 2000)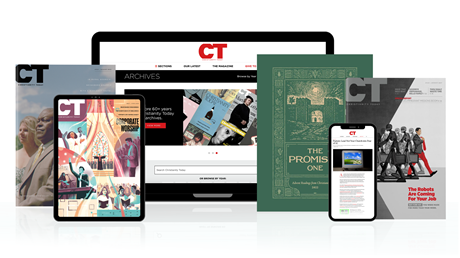 Subscribe to Christianity Today and get access to this article plus 65+ years of archives.
Home delivery of CT magazine
Complete access to articles on ChristianityToday.com
Over 120 years of magazine archives plus full access to all of CT's online archives
Subscribe Now
Bishop Appeals For End To Violence In Zimbabwe
Bishop Appeals For End To Violence In Zimbabwe