Early in May, my eleventh-grade daughter joined tens of thousands of other high schoolers from across the country in sitting for the American history advanced placement test. Helping her prepare, I was struck by the large number of sample questions in one popular workbook that offered misleading visions of America's history. Often the topic of confusion was the nation's religious history.
Consider the following example:
The Puritans who settled the Massachusetts Bay Colony wanted their settlement to be primarily:
A place where they could get away from persecution.


An example to the rest of the world.


A place where they would have the opportunity to prosper free from government regulation.


A society that practiced complete separation of church and state.


A pluralistic society in which all would be free to practice and teach their beliefs.


According to the authors of the workbook, the correct answer is B. And the choice is not a terrible one, for the Puritans did indeed hope to provide for the world (the Christian world, anyway) a shining example of how God's people should live. Yet many thoughtful historians would surely argue that a better answer is D. The authors of the workbook reject this choice because "The Puritans, had they thought of such things, would have rejected the idea of separation of church and state."
No, they wouldn't have, and they "thought of such things" all the time. As a matter of fact, they were great believers in separation of church and state, and their keen desire to split the two great powers from one another represented one of the ways in which they sought to "purify" the church. (Hence their name.) Indeed, it might fairly be said that their principal complaint against the established Church of England was precisely its failure to attain separation as properly understood.
There is, however, a tiny point of difficulty. Yes, the Puritans believed in, and tried hard to practice, separation of church and state. Unlike many who use the phrase today, however, the Puritans understood what it meant. Nowadays, the words are interpreted as though separating church and state means diminishing the role of the first and exalting the role of the second. But nobody who was around when the concept was being laid down used it that way.
Take a single example. In Puritan Massachusetts, it was illegal for a member of the clergy to officiate at a wedding. Why? Because marriage was a function of the state, not the church: that was how they understood the Bible. That didn't mean marriage was not in God's name or a God-given institution; it was plain to the Puritans, as it was even to Roger Williams, who dissented from their rule, that the state, no less than the church, was under God's rule. The two institutions served different functions, but they were subject to the same God.
To the Puritans, to the Baptist dissenter Roger Williams, to the prominent preacher Isaac Backus, to all the early American supporters of separating church and state, the purpose of the wall was to achieve greater piety. They were interested not in protecting the state from the church but in protecting the church from the state.
Information of this sort is vital to understanding American history, but high school students, and even college students, all too rarely receive it. Warren Nord's famous study of high school textbooks suggested that religion is hardly mentioned, even in history books, and, when it comes up at all, is treated as a relic of the nation's distant past. According to news reports, one popular text actually edited references to God out of the Mayflower Compact. In other high school courses, the situation is worse. As a recent report from the Institute for American Values documents, although four out of five weddings in the United States are performed in a house of worship, high school texts that talk about marriage barely mention religion at all.
Educators nowadays are understandably terrified of litigation, and often choose to leave out controversial subjects to avoid, well, controversy. But our schools disserve our children when they fail to teach about the role of religion, whether in history or in contemporary culture. When they cover the subject but get their facts wrong, the damage is even worse.
Related Elsewhere
Recent Christianity Today columns by Stephen L. Carter include:
Uncle Sam Is Not Your DadThe separation of church and state protects families too. (March 22, 2002)
A Quiet CompromiseWhy a moment of silence is better than school prayer. (Feb. 25, 2002)
Leaving 'Normal' BehindLife before September 11 seemed more secure, but do we really want it back? (Dec. 4, 2001)
Rudeness Has a First NameInstant informality actually sabotages true friendship. (Nov. 2, 2001)
Why Rules RuleDebates on the Ten Commandments expose our culture's ultimate rift. (Sept. 6, 2001)
We Interrupt This ChildhoodParents who raise their children to do right face a barrage of resistance. (July 11, 2001)
And the Word Turned SecularChristians should count the cost of the state's affirmation. (May 29, 2001)
Vouching for ParentsVouchers are not an attack on public schools but a vote of trust in families. (Apr. 2, 2001)
The Courage to LoseIn elections, and in life, there is something more important than winning. (Feb. 6, 2001)
Have something to add about this? See something we missed? Share your feedback here.
Civil Reactions
Stephen Carter is the William Nelson Cromwell Professor of Law at Yale University. He is the author of The Impeachment of Abraham Lincoln (2012), The Violence of Peace, The Emperor of Ocean Park, and many other books. His column, "Civil Reactions," ran from 2001 until 2007.
Previous Civil Reactions Columns:
Our digital archives are a work in progress. Let us know if corrections need to be made.
This article is from the July 8 2002 issue.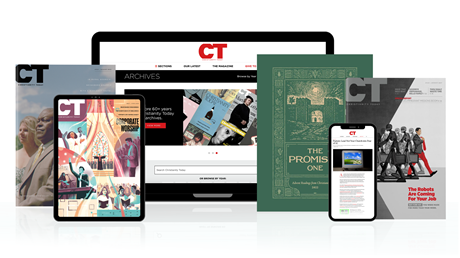 Subscribe to Christianity Today and get access to this article plus 65+ years of archives.
Home delivery of CT magazine
Complete access to articles on ChristianityToday.com
Over 120 years of magazine archives plus full access to all of CT's online archives
Subscribe Now
Remedial History
Remedial History