My wife and I stayed once in a bed-and-breakfast in rural Tasmania, the rugged island off the southern coast of Australia. A sheep rancher had built a guest cottage in the middle of his fields, and for an extra fee, lodgers could take a meal in the ranch house. Knowing we would probably never eat fresher lamb, we signed on.
Over dinner I asked innocently about the odd coloring—orange, red, blue, and green swatches—we had seen on the rumps of his sheep. "Ah, that's how we tell when the ewes mated," he explained with a laugh. "I hang a container of colored chalk in a rather strategic place on my rams. He leaves his mark when he does his duty, and that way I know that all the ewes with orange rumps were serviced on the 21st. When the due date rolls around—sheep deliver right on time and they're 100 percent fertile—I can herd the orange ewes into the barn and give them special care."
In the next few minutes I learned much more about the reproductive habits of sheep. Each ewe has only a six-hour window of receptivity to mating. This poses no problem to the ram, who has an infallible sense of which ewe might welcome him at any given moment. The rancher relied on 10 rams to service 4,000 female sheep, which meant that the rams worked themselves to exhaustion over several weeks, losing much of their body weight in the process. All work, no romance.
When I saw a scrawny, bedraggled ram—his chores done, his strength dissipated, good for nothing but the slaughterhouse, and even then unfit for human consumption—I breathed a prayer of thanks to God for adjusting the terms of sexuality in the human species. (Zoologists note that very few species—dolphins, some primates, and the large cats—engage in sex as a form of pleasure.)
The next morning I went jogging through the fields, taking care where I stepped. I tried to imagine life from the sheep's point of view. Ninety percent of waking hours they spend wandering around, heads down, looking for lush green grass. Occasionally a dog barks and nips at their heels, and to humor him and shut him up they move in the direction he wants them to. Lo, better grass often awaits them there. As weather changes, they learn to huddle together in rain and wind.
Once a year, a rambunctious cousin appears among them and dashes from sheep to sheep, leaving the ewes marked with strange colors on their rumps. Bellies swell, lambs emerge, and attention turns to weaning these small, frisky creatures and watching them gambol through the grass. Brothers and sisters may disappear, sometimes attacked by a Tasmanian devil (these nasty animals, carnivorous marsupials, really do exist!) and sometimes ushered away by the two-legged one. The same creature periodically drives them into a barn where he shaves off their coats, leaving them cold and embarrassed (sheepish) for a time.
As I jogged, it occurred to me that sheep, to the degree they think at all, may well presume they order their own destiny. They chew cud, roam the fields, make choices, and live out their lives with only a few rude interruptions from dogs, devils, rams, and humans. Little do they know that the entire scenario, from birth to death and every stage in between, is being orchestrated according to a rational plan by the humans who live in the ranch house.
C. S. Lewis conjectured, "There may be Natures piled upon Natures, each supernatural to the one beneath it." The sheep analogy is inexact, of course: Not even the dumbest sheep would deny the existence of another world out there—marsupials, humans, dogs—that impinges on its own. We humans, especially those who live in reductionistic modern times, have simply decided that nothing exists beyond the range of our sense organs. Some are convinced that what we cannot see must not exist.
Do we stand in relation to God as sheep stand in relation to us? In some ways, no: God grants the ability for knowledge "from below," and allows intimate exchange with himself. In some ways, yes: "Know that the Lord is God. It is he who made us, and we are his; we are his people, the sheep of his pasture," wrote the psalmist. Note the possessives: his people, his pasture. We live our days in a world that, in its essence, its origin, and its destiny, belongs to God, with ourselves as God's own possessions. We may insist on our own autonomy—"All we like sheep have gone astray"—but in the end it is no more impressive, or effective, than the autonomy of a Tasmanian ewe.
Related Elsewhere
A ready-to-download Bible Study on this article is available at ChristianBibleStudies.com. These unique Bible studies use articles from current issues of Christianity Today to prompt thought-provoking discussions in adult Sunday school classes or small groups.
Previous Yancey columns for Christianity Today include:
Servant in ChiefJimmy Carter's journey from the White House to building houses.(May 28, 2002)
Why Do They Hate Us?How to turn the Baywatch syndrome into the Jesus syndrome. (March 27, 2002)
Article continues below
Honest Church MarketingWe enhance our 'image' by offering the world a realistic picture of faith. (October 24, 2001)
Compassion ConfusionWe should serve the needy even when it has bad political consequences. (August 28, 2001)
Fixing Our Weakest LinkEvangelicals should be more "needful of the minds of others." (July 13, 2001)
Replenishing the Inner PastorChurches should take greater interest in their shepherds' spiritual health. (May 14, 2001)
Beyond Flesh and BloodI used to disdain biblical talk of "invisible spirits." No more. (Mar. 27, 2001)
God at LargeA look around the globe reveals a God as big as we want him to be. (Jan. 31, 2001)
Humility's Many FacesEveryone I've looked up to has shared one trait. (Dec. 4, 2000)
Getting a LifeThe most fully alive persons are those who give their lives away. (Oct. 16, 2000)
Yancey's Where is God When it Hurts, Special Edition and Soul Survivor: How My Faith Survived the Church are available on Christianbook.com.
Have something to add about this? See something we missed? Share your feedback here.
Philip Yancey
Philip Yancey is editor at large of Christianity Today and cochair of the editorial board for Books and Culture. Yancey's most recent book is What Good Is God?: In Search of a Faith That Matters. His other books include Prayer (2006), Rumors of Another World (2003), Reaching for the Invisible God (2000), The Bible Jesus Read (1999), What's So Amazing About Grace? (1998), The Jesus I Never Knew (1995), Where is God When It Hurts (1990), and many others. His Christianity Today column ran from 1985 to 2009.
Previous Philip Yancey Columns:
Our digital archives are a work in progress. Let us know if corrections need to be made.
This article is from the July 8 2002 issue.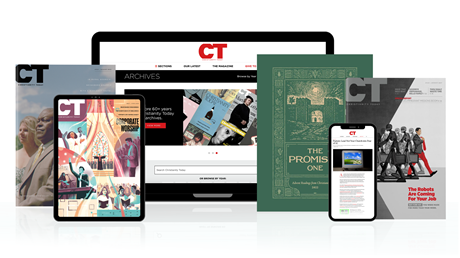 Subscribe to Christianity Today and get access to this article plus 65+ years of archives.
Home delivery of CT magazine
Complete access to articles on ChristianityToday.com
Over 120 years of magazine archives plus full access to all of CT's online archives
Subscribe Now
Sheepish
Sheepish