true
Sounds like … sophisticated pop/rock with a bit of fusion jazz pop and some modern pop edge. They bring to mind a lot of artists (Over the Rhine, Amy Grant, Alanis Morrisette, Roxette, Watermark, etc.) but their sound is fairly unique.
At a Glance … Out of the Grey is back and better than ever with an album that builds on their old sound while expanding their artistic palette a little. Worth checking out even if you think you know this band.
Like PFR, it's been four long years since we've heard from Out of the Grey, though their absence and return has been far quieter. Perhaps that's because the husband/wife duo never officially called it quits (their recording contract with Sparrow simply expired), or perhaps some felt Out of the Grey had reached its full potential and couldn't offer anything more artistically—indeed, many fans consider their 1991 debut album their best. This is not to say that Scott and Christine Denté haven't been missed. Scott is an undeniably skilled guitarist and many would consider Christine's breathy vocals among the most beautiful and recognizable of female vocalists in Christian music. But I'll admit that although I felt Out of the Grey was always capable of a little more, I too was beginning to think they'd reached an artistic plateau with their fusion jazz-pop sound. Thankfully, one record label believed Scott and Christine still had some creative life to them—Rocketown Records, the label for guitar-pop-playing married couples (Watermark and formerly Wilshire). Which brings us to Out of the Grey's sixth studio album, their first for Rocketown … hence the title 6.1.
Over the course of their previous five albums, Out of the Grey has always struck me as a little formulaic. Scott and Christine are capable of writing some incredible songs, evident from their 1998 best-of collection. Unfortunately, the majority of their songs began to sound too similar, in terms of songwriting and production/performance. Their sound was truly different from most Christian artists when they debuted ten years ago, but producer Charlie Peacock failed to cultivate their sound after four albums. Their songs were pleasant to listen to, but the Dentés were spinning their wheels artistically. Brown Bannister's production on the 1997 See Inside album was too little too late an improvement, though I do feel they took a step in the right direction by adding a little more rock edge to their sound. Still, I couldn't help but feel that these two Berklee College of Music graduates were capable of something more.
6.1 is that something more. It's more interesting, more experimental, and more consistent an album than any of Out of the Grey's previous efforts. In other words, it may well be their best. You can attribute this to a lot of things, but the most obvious is the album's production. The sound on 6.1 is much more varied than previous recordings, which isn't surprising since Scott and Christine teamed up with producer Monroe Jones for the new album. Monroe has become well known for skillfully blending artistic edge with pop/rock catchiness—he's experimental without blowing your mind. Christine describes the duo's relationship with Monroe as being on a "peer level, rather than a teacher-student level"—and it shows. There's a sense of teamwork and a willingness to try new things that's more present here than on other recordings.
This album is a natural progression forward for Out of the Grey, challenging their sound by adding a variety of guitar sounds, keyboards, samples, and percussion loops. In the past, when Out of the Grey performed a ballad, they would opt for Scott's gentle guitar accompaniment under Christine's vocals (naturally, that's what the duo does best). But where a piano-based ballad may seem routine for other artists, it's not common for Out of the Grey and it helps vary their sound on ballads such as "What's It Gonna Be" and "With All My Heart." A less subtle change in sound can be heard in the alternative pop/rock sound of "Waiting," in which Out of the Grey proves at long last they can truly rock. Incredibly enough, they tackle it with a modern-rock sound not unlike that of Plumb or Delirious. They display a similar willingness to let loose on "Shine Like Crazy" and "Brave," though these tracks won't give you the same double-take that "Waiting" will. Scott, Christine, and Monroe should all be commended for successfully expanding Out of the Grey's sound without completely abandoning the music fans have come to love.
Lest I give all the credit for 6.1's success to the production, it should also be noted there's a significant improvement to the Dentés' songwriting. As always, Out of the Grey has an interesting gift for intellectually challenging yet straightforward lyrics. What I find most striking about the lyrics on 6.1 is the general theme of uncertainty. Scott and Christine rightly point out that we can have hope as Christians and be certain of our ultimate future, but that the road to that goal is paved with doubts and insecurities. We may be able to see the two endpoints of a line, the present and the day we join our Lord in heaven, but there are an infinite number of points in between where we may feel doubtful.
Nevertheless, Scott and Christine use that uncertainty to demonstrate the peace and hope we're given through faith in God. And these two know all about uncertainty after a few years without a record label. You can hear this theme from start to finish—the desire to recapture the joy of being a new creation in Christ and the challenge of being a brave and courageous Christian in the midst of all trials. I would even go so far to say that "I Want Everything" is the best representation of the Prayer of Jabez phenomenon without actually being inspired by the book. It's about the refusal to settle for less than everything God promises us. The album closes with "Grace, Mercy, and Peace," a short and beautiful benediction that wraps up the album's feelings of insecurity by revealing the bounteous gifts available to all who come to know Jesus Christ.
As a music lover, I appreciate that Scott and Christine write songs that are both catchy and creative. Generally speaking, they write memorable choruses and match them to verses that do not go where you expect them to. And they write melodies that aren't like that of your typical Christian pop artist. "Grace, Mercy, and Peace" is a prime example of an unusual, almost dissonant melody that's nevertheless haunting, beautiful, and singable. What a pleasure to listen to a Christian artist that doesn't cater to formulaic production or amateur songwriting!
Is there anything wrong with the album? Well, it's a little bit on the short side, and there's not quite enough of Scott's impressive guitar work—except for an odd little interlude that reappears as a hidden track on the album (highlighted by an annoying sound sample of someone running through gravel—no idea what it's for). These "missteps" are insignificant next to the whole picture, however. Superb musical performances, skillfully written music, inspiring and thoughtful lyrics, excellent production … what else is there to critique? Out of the Grey is back and better than ever thanks to Monroe Jones and the good people at Rocketown. If Scott and Christine can continue to grow artistically as they've demonstrated here on 6.1, then I believe we can expect a lot more great music from Out of the Grey in the future.
(Note: Fans will want to rush out and pick up a copy of 6.1 since the first 25,000 copies also contain a limited-print bonus EP, featuring live tracks of Out of the Grey's past hits.)
Browse All Music Reviews By: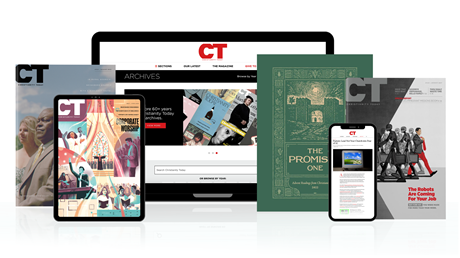 Annual & Monthly subscriptions available.
Print & Digital Issues of CT magazine
Complete access to every article on ChristianityToday.com
Unlimited access to 65+ years of CT's online archives
Member-only special issues
Subscribe
6.1
6.1