Remembering September 11 together—and apart
Tensions over Christian participation in interfaith services in the aftermath of the September 11 terrorist attacks continue to create rifts in communities and denominations.
In the Houston suburb of The Woodlands, residents will have to choose on September 11 between two commemorations, an interfaith service or one that evangelicals are holding themselves.
"9/11: One Voice, The Woodlands Remembers" is sponsored by 23 evangelical churches in the area. An organizer for the event told the Houston Chronicle that all churches were welcome as long as they accept the premise that it is centered on belief in Jesus Christ.
Others accuse the event of being intolerant and excluding.
"I don't refer to it as one voice, because that's a lie," Rabbi James Brandt told the Chronicle. "It's only one voice allowed. We have explained the importance of coming together for a national day of mourning. But … they clearly have refused to honor this day by coming together as a community."
The Woodlands' other commemoration is sponsored by an interfaith organization composed of several congregations. The events were planned separately but organizers of each attempted to rent the same facility. To resolve the situation, the Chronicle reports, the two groups met but "after about 30 minutes they were at an impasse." Each side claims the other decided they could not combine the events.
"Our desire was never to divide," the Rev. Greg Johnson, an organizer of "One Voice," told the paper. "Our intent was not to say there is not a place for them, but we do stand on certain values and principles that define us as churches.  I don't believe that's being exclusionary; that's just our principles and values."
Meanwhile, the debate over Christian involvement in interfaith civic events continues in the Lutheran Church-Missouri Synod. On June 25, Second Vice President Wallace Schulz suspended the Rev. David Benke for his participation in a Sept. 23 interfaith event organized by the mayor of New York.
Benke has appealed the decision and Synod President Gerald Kieschnick has called the ruling up for review.
In a recent interview with Newsweek he says, "Some of our people believe that by participating in such an event on the stage with non-Christian people, President Benke gave the impression that there is no difference between Christianity and Muslim or Hindu religions. We believe that President Benke simply but significantly prayed in the midst of people of other religions but certainly did not pray with members of other religions."
New Westminster clergy expected to report their status
In the wake of the Anglican Diocese of New Westminster's decision to bless same-sex unions last month, 12 protesting clergy are expected today to report their relationship with the diocese.
According to Anglican church of Canada online news reports, New Westminster Bishop Michael Ingham says he has for a second time written to the clergy asking them "whether they remain under my jurisdiction and authority."
They responded to Ingham's first query with a group letter saying that they consider themselves "part of this diocese, but that relationship has been seriously strained." Their individual responses are due today.
Four parishes have also withdrawn financial support from the diocese over the decision. Four others have not paid July's monthly assessment.
Condemned Christian has history of mental illness
As calls for the repeal of Pakistan's blasphemy laws continue, Christian Anwar Kenneth was sentenced to death yesterday for calling Islam a fake religion. He joins two other Christians on death row for blasphemy.
Kenneth pleaded guilty to charges after refusing legal assistance. He was arrested a year ago after writing letters to local imams claiming he was Jesus and discrediting Islam. The ruling must be ratified by a higher court before the sentence is carried out, but human-rights groups say Kenneth has a history of mental illness and should have been examined by a medical board before trial.
Earlier this week, a new alliance of Pakistan's non-Muslim minority communities, the All Pakistan Minorities Alliance (APMA), called for the government to end the law that it says is used against them to settle personal scores.
''We cannot even think of insulting any prophet, no matter of which religion, but people here are misusing the blasphemy law,'' chairman Shahbaz Bhatti told a news conference.
The APMA stance comes only weeks after a 300-person mob stoned a 48-year-old Muslim to death after he was acquitted on grounds of mental illness. While no one given a death sentence under the 1985 law has been officially executed, many of those sentenced or accused have been killed before trial or while in jail. Condemned Christian Ayub Masih, 35, has been languishing in jail for nearly five years.
More articles
Pornography:
Politics and law:
Marriage:
Sexuality and gender:
God's love includes gays, pro-ordinance cleric says | Coral Gables Congregational Church is actively supporting defeat of a September referendum to repeal Miami-Dade County's gay-rights law (

The Miami Herald

)


Was Jesus 'gay'? | In the immoral days in which we live, homosexual men and women are grasping for every possible straw to get acceptance for their destructive, aberrant lifestyle. (WorldNetDaily)


Controversial SA bishop resigns | Cape Town's auxiliary bishop and official spokesman for the SA Catholic Bishops' Conference, has resigned following longstanding divisions regarding his outspoken views on homosexuality. (

The Natal Witness

)
Church life:
Church vehicle crashes:
Books:
Missions and Ministry:
Clergy sex cases:
Other stories of interest:
Related Elsewhere
See our past Weblog updates:
Weblog
Launched in 1999, Christianity Today's Weblog was not just one of the first religion-oriented weblogs, but one of the first published by a media organization. (Hence its rather bland title.) Mostly compiled by then-online editor Ted Olsen, Weblog rounded up religion news and opinion pieces from publications around the world. As Christianity Today's website grew, it launched other blogs. Olsen took on management responsibilities, and the Weblog feature as such was mothballed. But CT's efforts to round up important news and opinion from around the web continues, especially on our Gleanings feature.
Ted Olsen is Christianity Today's executive editor. He wrote the magazine's Weblog—a collection of news and opinion articles from mainstream news sources around the world—from 1999 to 2006. In 2004, the magazine launched Weblog in Print, which looks for unexpected connections and trends in articles appearing in the mainstream press. The column was later renamed "Tidings" and ran until 2007.
Previous Weblog Columns: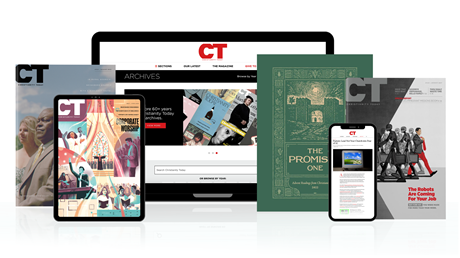 Subscribe to Christianity Today and get access to this article plus 65+ years of archives.
Home delivery of CT magazine
Complete access to articles on ChristianityToday.com
Over 120 years of magazine archives plus full access to all of CT's online archives
Subscribe Now
Rival 9/11 Remembrances in Houston Suburb
Rival 9/11 Remembrances in Houston Suburb