Candles and cheering are not often seen together, but as rescued New Tribes missionary Gracia Burnham returned home to Rose Hill, Kansas, Monday night, the visual mixture of solemnity and celebration seemed entirely appropriate.
"It's a bittersweet reunion," said Rose Hill resident Mimi Newman as she watched for a bus carrying Burnham and her family to drive down the street near her home. "You're sad and you're happy. You're joyful. But there's a lot of healing ahead [for the Burnhams]."
Newman was one of more than a thousand well-wishers who lined Rose Hill Road for miles last night to show support and to catch a glimpse of the missionary for whom they've been praying for more than a year. It seemed like every one of Rose Hill's 3,432 residents showed up to greet her.
In addition to the inevitable signs of "Welcome Home," most banners reflected the deep faith of Gracia Burnham and her husband, Martin, who was killed in a firefight Friday, June 7, as Philippine troops tried to rescue them from the Abu Sayyaf terrorist group. "God Is Faithful," said one sign. Others read, "Martin & Gracia, Christian Heroes," "Acts 1:8," "God's love shines through you," and "God has answered our prayers."
Speaking briefly after her arrival at the airport, Gracia Burnham thanked those who prayed for the two of them. "We needed every single prayer during our ordeal in the jungle," she said. "A very bad thing happened to Martin and I when we were taken hostage, but we want everyone to know that God was good to us every single day of our captivity. Martin was also a source of strength to all the hostages. He was a good man, and he died well."
The initial reunion between Burnham and her children and other family members took place in front of television cameras as she exited the plane. Nevertheless, Gracia called it "one of the happiest moments of my whole life." As of today, the Burnham family has declined requests for media interviews, saying they're trying to concentrate on helping Gracia adjust to her new life, back in the United States, but without her husband.
On Friday at 10 a.m., there will be a public memorial service at Wichita's Central Christian church. In the afternoon, Martin will be buried in a private service in the Rose Hill Friends Cemetery.
Ted Olsen is online managing editor of Christianity Today
Related Elsewhere
Video of Gracia's arrival is available at MSNBC.
The Wichita Eagle, The Orlando Sentinel, The Kansas City Star, and Associated Press also have reports on Gracia's arrival.
The full text of Gracia's message upon her arrival was posted on our site yesterday afternoon.
More updates on the Burnhams are available at Yahoo's full coverage, The Philippine Inquirer, The Daily Tribune, ABS-CBN, New Tribes Mission, The Wichita Eagle and The Orlando Sentinel.
Previous Christianity Today articles on the Burnhams includes:
Martin Burnham Went Out Serving With Gladness | Families, church eager for reunion with Gracia today. (June 10, 2002)
Free the Burnhams | A year after the missionaries' abduction, it's time to bring them home. (May 24, 2002)
Families of Hostage Couple Wait | Men's prayer group for Burnhams perseveres six days a week. (Feb. 26, 2002)
Agency Disputes Rumors about Burnhams | All indications say the hostages are still being held captive in the jungles of Basilan Island. (Feb. 26, 2002)
Missionary Couple Remains in Limbo | The apparently poor condition of the Burnhams has given the case a new urgency. (Jan. 17, 2002)
Kidnapped Missionaries Reported Safe | But danger increasing for Burnhams—and for workers around the world. (June 26, 2001)
New Tribes Missionaries Kidnapped | Muslim rebels in Philippines threaten to kill Martin and Gracia Burnham and 18 others if military intervenes. (May 29, 2001)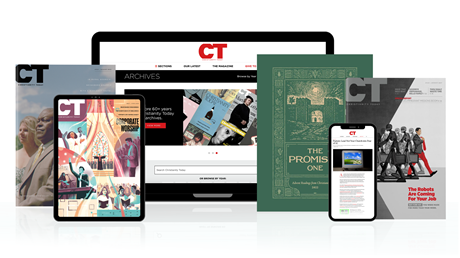 Subscribe to Christianity Today and get access to this article plus 65+ years of archives.
Home delivery of CT magazine
Complete access to articles on ChristianityToday.com
Over 120 years of magazine archives plus full access to all of CT's online archives
Subscribe Now
Hostage Homecoming
Hostage Homecoming