On the afternoon of Friday, June 7, New Tribes missionaries Martin and Gracia Burnham huddled together for the last time in a hammock beneath a makeshift tent in the steep mountains of southwestern Mindanao Island.
Members of the Abu Sayyaf terrorist group that had held the Burnhams hostage for 376 days were hastily erecting tents in the driving rain and eating rice—uncooked, since the guerrillas had abandoned their pots and pans in a recent skirmish. Abu Sayyaf knew the Philippine military was in pursuit, but the rebels didn't know they were under surveillance.
Only a few days before, the guerrillas had been forced to abandon their hideouts on the nearby island of Basilan, where they knew the territory and had the support of many residents. On Mindanao, they were constantly on the run, lost, hungry, and running out of resources.
They had recently ended a nine-day streak of living on rainwater and salt, and the group's main staples were now peanut butter sandwiches and coconuts. Leader Abu Sabaya was alternately promising to release the hostages and threatening to kill them.
"If we see our situation becoming difficult, maybe we will just bid goodbye to these two," the sunglass-wearing rebel leader said May 1. Almost a year earlier, Abu Sayyaf beheaded American Guillermo Sobero, who was taken hostage with the Burnhams last May. Abu Sayyaf also abducted Filipina nurse Ediborah Yap, who reportedly rejected an offer of freedom in order to take care of the Burnhams.
Talk between the Burnhams during the past year had often turned to the possibility of their deaths. In a videotaped interview last November, Gracia told a reporter, "We always look at each other, and I'd tell Martin, 'I love you. I want you to know before I die.' "
In recent days, it was Martin Burnham who had premonitions of his passing. He began writing letters to his three children, ages 15, 12, and 11. Each night for the past year, Martin Burnham comforted his wife by singing her to sleep. Before a nap on June 7, however, he suggested their time together was almost over.
"The Bible says to serve the Lord with gladness," said Martin, 42. "Let's go out all the way. Let's serve him all the way with gladness." The couple prayed together, recited several Scripture verses they could remember, and sang. Then, taking advantage of one of the rare times Martin wasn't chained to an Abu Sayyaf soldier or to a tree, they rested in each other's arms.
A dropped pen and slippers
Near the Burnhams was another hostage, Edwin Reseroni, a 30-year-old local abducted by Abu Sayyaf rebels after their arrival on Mindanao. The rebels had ordered Reseroni to guide them through the terrain. Instead, say Philippine media reports, Reseroni helped the military discover their location.
Early that morning, two Filipino men—including Reseroni's 55-year-old father—found some Scout Rangers, part of a Philippine military division being trained by U.S. forces at nearby bases. Reseroni's father was carrying his son's pen and slippers, which he said had been discovered only a few miles away. It was clear that Edwin's abductors were nearby, and with the recent heavy rains, they had left a trail of footprints.
Political considerations, including the Philippine constitution, kept U.S. troops from swooping in to attempt to rescue the hostages and annihilate Abu Sayyaf, which has historical ties to Osama bin Laden's Al Qaeda terrorism network.
The Scout Rangers are not to be confused with the élite Light Reaction Company, which was seeking the rebels elsewhere on the island and had extensive counterterrorism training by the U.S. Special Forces and new, high-technology equipment. The Scout Rangers, in comparison, drive World War II-era jeeps, use 30-year-old radios, and receive meager salaries between $140 and $350 monthly.
Critics have accused the Scout Rangers of human-rights abuses and taking bribes. Unproven reports that Rangers colluded with Abu Sayyaf and allowed the rebels to escape with the hostages have circulated widely. With criticism building against the military's inability to find the rebels, let alone rout them, military leaders gave the Scout Rangers approval for Operation Daybreak, a plan to rescue the hostages.
Though the rebels reportedly had massive funds and a confounding ability to avoid capture ("They're either magicians or the Philippine military is lying," lamented one member of the Burnham family), they did not make it hard for the 37 Rangers to locate them in the jungle. Soldiers easily followed the trail of footprints, pieces of coconut meat, a cloth stained with blood, and other discarded items. The soldiers suddenly spotted Abu Sayyaf's camp through the heavy rainfall and dense foliage. "Bull's-eye, sir," one scout radioed his commanders. "We've located the group."
Free at last
Exactly what happened next is disputed. Some soldiers say they were unaware of hostages. Others say they planned the operation carefully to keep the hostages safe. All agree that the Rangers fired first, apparently because the rebels had spotted them.
Martin and Gracia rolled out of their hammock at the first sound of gunfire, just as their missionary security training had taught them to do. They slid down a steep hill together, until Gracia grabbed a tree branch. She had been shot in the leg. Martin, still lying next to her, had been hit in the chest.
The fighting continued, by Gracia's estimation, for about 20 minutes. Others say it went on for as long as three hours. "Of course, she wasn't looking at a watch," says Doug Burnham, Martin's brother. She wasn't looking at much else, either, continuing to keep her head down as taught. As the guns fell silent, she looked up. Martin was dead. Yap, she soon discovered, had also been killed in the firefight.
When Scout Ranger Rodelio Tuazon reached the Burnhams, Martin's body partially covered his wife's. Some of the Scout Rangers were taking off to pursue the rebels. "Please don't leave me behind," a quietly weeping Gracia said to Tuazon. She then asked if the leader Sabaya was among the four rebels killed in the firefight. He was not, though soldiers did find his trademark sunglasses.
A bittersweet reunion
Four days and many hours of air travel later, Gracia was reunited with her family and children, as more than 1,000 people crowded the main street of Rose Hill, Kansas, welcoming her home.
"I think this must be one of the happiest moments of my whole life," Gracia said after hugging her children and other family members. "We want everyone to know that God was good to us every single day of our captivity. Martin was also a source of strength to all the hostages. He was a good man, and he died well."
"It's not the kind of reunion we were hoping for," said Doug Burnham. "We're one short." But the family is grateful to have Gracia back, he said, showing reluctance to second-guess the military action.
A few days earlier on the first anniversary of the Burnhams' captivity, family members, New Tribes Mission leaders, and others working to free the captives had expressed strong frustration. "They've been down there how long? And they still don't know where they're at?" lamented Martin's father.
That frustration was amplified by conflicting reports about the captives' whereabouts and health. "One week someone gave a report that they saw Martin in a stretcher, and another someone said they saw Martin playing basketball," Doug Burnham recounts. "Dad said, 'I heard of people playing basketball in a wheelchair, but never in a stretcher.' "
Burnham supporters said they are drawing comfort from hearing that Martin had patiently explained the gospel to his captors and challenged their Muslim beliefs. None of the rebels wanted to chain Martin up, and it was rare that the same person did it two nights in a row. Martin always thanked his captors, which reportedly made them feel guilty.
The mission and family had been examining their efforts to free the Burnhams since the May 27 anniversary date. "We realized that the options were running out," says Dan Germann, vice chairman of the New Tribes Mission executive committee. "We had no idea, of course, that we were very close to a closure."
It is unknown who fired the bullets that killed Martin Burnham and Ediborah Yap. Doug Burnham says the family is not looking to point fingers. "As far as we're concerned, the crime was committed when Abu Sayyaf took them hostage," he said. "For that crime, I think justice needs to be served."
Gracia continues to recover, but no one thinks it will be easy. "We're trying to just look at what the immediate issues are and assuring her that, in time, [the other issues] will be easier to face," says Germann. "I have no doubt that this is a woman who's going to be sensitive to the Spirit of God, and step by step, he's going to direct her."
Meanwhile, residents of Rose Hill and others are already comparing Martin to missionary martyrs Jim Elliot and Nate Saint. "These are people that loved God and didn't reluctantly move toward a mission field," Germann says. "They did it gladly, because their eyes were fixed on him. In that sense, these are our modern-day heroes."
Ted Olsen is online managing editor of Christianity Today
Related Elsewhere
Extensive articles and coverage on the Burnhams are available at Yahoo's full coverage, The Philippine Inquirer, The Daily Tribune, ABS-CBN, The Wichita Eagle and The Orlando Sentinel.
New Tribes Mission has maintained a special Burnham report on its website with frequent updates on the situation and a chronology of their captivity.
Previous Christianity Today articles on the Burnhams includes:
Hostage Homecoming | "This must be one of the happiest moments of my whole life," says widowed missionary Gracia Burnham. (June 11, 2002)
'God Was Good to Us Every Single Day of Our Captivity' | Gracia Burnham speaks after being reunited with her family in Kansas. (June 10, 2002)
Martin Burnham Went Out Serving With Gladness | Families, church eager for reunion with Gracia today. (June 10, 2002)
Article continues below
Free the Burnhams | A year after the missionaries' abduction, it's time to bring them home. (May 24, 2002)
Families of Hostage Couple Wait | Men's prayer group for Burnhams perseveres six days a week. (Feb. 26, 2002)
Agency Disputes Rumors about Burnhams | All indications say the hostages are still being held captive in the jungles of Basilan Island. (Feb. 26, 2002)
Missionary Couple Remains in Limbo | The apparently poor condition of the Burnhams has given the case a new urgency. (Jan. 17, 2002)
Kidnapped Missionaries Reported Safe | But danger increasing for Burnhams—and for workers around the world. (June 26, 2001)
New Tribes Missionaries Kidnapped | Muslim rebels in Philippines threaten to kill Martin and Gracia Burnham and 18 others if military intervenes. (May 29, 2001)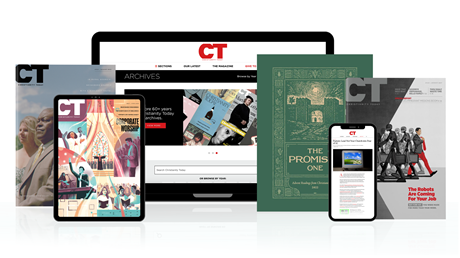 Annual & Monthly subscriptions available.
Print & Digital Issues of CT magazine
Complete access to every article on ChristianityToday.com
Unlimited access to 65+ years of CT's online archives
Member-only special issues
Subscribe
Two Hostages Die In Attempted Missionary Rescue In Mindanao
Two Hostages Die In Attempted Missionary Rescue In Mindanao