Bishop Efraim Tendero is National Director of the Philippine Council of Evengelical Churches. Christianity Today editorial resident LaTonya Taylor spoke with him this week about how the Abu Sayyaf kidnapping of U.S. missionaries Martin and Gracia Burnham and Philippine nurse Ediborah Yap has affected Filipino Christians.
What should U.S. Christians know about Ediborah Yap and what will become of her family?
Ediborah was a single parent taking care of four children through her profession as a nurse. One of her sons would like to be a soldier someday. All her children's futures are well secured owing to the outpouring of all sorts of help including scholarships until they finish college. Financial support has also been pouring in.
The government, through the Social Work department, has footed the bill for her funeral expenses. The hospital in Lamitan, Basilan, will be named after her as an honor to her heroism.
How have Christians in the Philippines responded to this situation since its earliest stages?
From day one of the captivity, Christians in the Philippines have constantly prayed for the hostages [the Burnhams and Yap] both in local church gatherings and national events. In fact two of these national events held at the Rizal Park in Manila were attended by thousands of people.
National church leaders also connected with people who might be able to help, including Muslim leaders in Mindanao. I have personally talked with President Gloria Macapagal-Arroyo on several occasions appealing for help for the Burnhams.
How have local churches and pastors been involved?
It was basically through prayers and looking for ways to help, but the situation was very difficult. E-mails requesting prayers were also sent around the country and the world.
What are local churches, pastors and evangelical leaders doing now?
They are thankful that the hostage drama has finally ended, but are saddened by the deaths of Martin and Ediborah. Incidentally, more churches and pastors are sharing the burden of reaching out to Muslims.
What does this incident reveal about evangelism to Muslims in the Southern Philippines?
It is a constant reminder for the Philippine church to increase its active involvement in ministering to Muslims. It may be dangerous to reach Muslims, but this only strengthens the great need to bring them to Christ.
The Abu Sayyaf is only a handful of terrorists that does not necessarily represent the total Muslim population—which is largely peace-loving. Many Muslim-dominated towns and provinces wallow in poverty, and lack the basic needs such as jobs, food, and education. This is both a challenge and opportunity for the body of Christ in the Philippines to impact these communities with the liberating power of the gospel.
The hostage-taking situation has not diminished the desire of those who are already in Muslim work; rather it made them even more zealous to serve the Lord among Muslims. It may have made it doubly difficult for white foreign missionaries, but there are still Muslim communities that are not risk areas for foreign missionaries. The Filipinos, however, have been more challenged to get more actively involved in working among Muslims.
What is next for Filipino churches?
There has been an ongoing mobilization of the Filipino churches to do Muslim evangelism spearheaded by the Philippine Missions Association, the missions arm of the Philippine Council of Evangelical Churches. As PMA continues to mobilize and equip people and churches, the number of churches and individuals getting engaged in Muslim work is ever increasing.
LaTonya Taylor is editorial resident for Christianity Today.
Related Elsewhere
Also appearing on our site today:
Ediborah Yap: The Almost-Forgotten Hero | The Filipino nurse could have escaped from Abu Sayyaf but stayed to care for the Burhams.
Extensive articles and coverage on the Burnhams are available at Yahoo's full coverage, The Philippine Inquirer, The Daily Tribune, ABS-CBN, The Wichita Eagle and The Orlando Sentinel.
New Tribes Mission has maintained a special Burnham report on its website with frequent updates on the situation and a chronology of their captivity.
Previous Christianity Today articles on the captivity of the Burnhams includes:
Martin Burnham: Willing to Go | Family and friends remember the talented pilot, mechanic, and missionary to missionaries. (June 17, 2002)
Two Hostages Die In Attempted Missionary Rescue In Mindanao | Wounded survivor Gracia Burnham returns to Kansas after 376 days in jungle captivity. (June 14, 2002)
Hostage Homecoming | "This must be one of the happiest moments of my whole life," says widowed missionary Gracia Burnham. (June 11, 2002)
'God Was Good to Us Every Single Day of Our Captivity' | Gracia Burnham speaks after being reunited with her family in Kansas. (June 10, 2002)
Martin Burnham Went Out Serving With Gladness | Families, church eager for reunion with Gracia today. (June 10, 2002)
Free the Burnhams | A year after the missionaries' abduction, it's time to bring them home. (May 24, 2002)
Article continues below
Families of Hostage Couple Wait | Men's prayer group for Burnhams perseveres six days a week. (Feb. 26, 2002)
Agency Disputes Rumors about Burnhams | All indications say the hostages are still being held captive in the jungles of Basilan Island. (Feb. 26, 2002)
Missionary Couple Remains in Limbo | The apparently poor condition of the Burnhams has given the case a new urgency. (Jan. 17, 2002)
Kidnapped Missionaries Reported Safe | But danger increasing for Burnhams—and for workers around the world. (June 26, 2001)
New Tribes Missionaries Kidnapped | Muslim rebels in Philippines threaten to kill Martin and Gracia Burnham and 18 others if military intervenes. (May 29, 2001)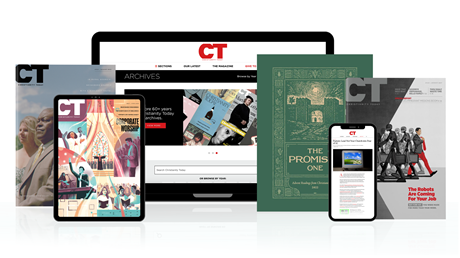 Annual & Monthly subscriptions available.
Print & Digital Issues of CT magazine
Complete access to every article on ChristianityToday.com
Unlimited access to 65+ years of CT's online archives
Member-only special issues
Subscribe
Filipino Churches Lent 'Constant Prayer' to the Hostage Crisis
Filipino Churches Lent 'Constant Prayer' to the Hostage Crisis