Church of England picks Rowan Williams, Archbishop of Wales, to lead Anglicans worldwide
The Times of London reports today that Archbishop of Wales Rowan Williams will almost certainly replace George Carey as Archbishop of Canterbury and leader of the Anglican Communion worldwide. The Church of England listed him first of two names submitted to Prime Minister Tony Blair for approval.
"He is very impressed by Rowan and thinks he is a terrific theologian," an unnamed Labor Party source tells the Times. "There is huge enthusiasm both in the Parliamentary Labor Party and in Downing Street. Virtually every Labor MP with a Christian interest wants Rowan." After Blair signs off, it goes to the Queen for approval.
(That the Queen and Prime Minister get to choose the leader of Anglicans worldwide is a matter of some debate. That the Church of England gets to choose the leader of 80 million Anglicans worldwide, though it has only 2 million active members, is not.)
The Times reports, "Williams will … provide a liberal balance to the 11-year incumbency of an evangelical at Lambeth." Likewise, the Guardian says, the appointment will "dismay the rump of Anglican conservatives, rightwing evangelicals and some fundamentalist African bishops who lobbied openly against him because of his stance on homosexuality." But that's painted with a bit of a broad brush. Williams is liberal on sexual ethics issues (he has admitted ordaining at least one practicing homosexual), but much more conservative on other theological issues than many other British bishops. Unlike, say, former Church of Scotland head Richard Holloway, Williams affirms the bodily resurrection of Jesus and the Virgin Birth.
By the way, this report isn't being confirmed or denied by Church of England officials. "It must be treated as speculation at this stage and any announcement will come from Downing Street," says a spokesman.
A word about a Word
Originally, Weblog was as surprised as anyone that ABC's talk show The Viewbleeped the word Jesus from its May 23 episode. But now the occurrence has become a kind of rallying point among conservative Christians who see it as an effort to censor Christianity from the airwaves. Note, for example, Jerry Falwell's new petition to the network heads making a "stand for the right of Americans to hear the name of Jesus." (Thanks to RelapsedCatholic.com for noting the petition.)
"Many people in our nation have subsequently become convinced that we must exist in a completely secularist society where the name of Jesus cannot be mentioned," Falwell wrote in a recent letter to constituents. "And officials at ABC are falling right in line with this religious interdiction by determining that the name of Jesus must be banished."
All well and good, and Weblog believes that it is clearly important to stand for faith in the public square. But look at the exchange again:
Meredith Vieira: "So yesterday, yesterday if you saw this show, you know it was the last day of the weigh-in, the scale is gone."
Joy Behar: "Yes, and thank you, thank you, Jesus, is all I have to say! Goodbye to that damn scale and this whole diet. I'm sick of it!"
Not exactly the Nicene Creed there. In fact, it's a tossup whether Behar was taking Jesus' name in vain. Maybe she was actually thanking Jesus, but maybe she was just using a phrase Christians would rather not be thrown around so cavalierly.
ABC spokeswoman Julie Hoover told the AP earlier this month that network has no problem with Jesus' name if it is used in a "prayerful and respectful manner," but bans its use as an exclamation. Do Christians really want that policy reconsidered?
This is the setting of the Age of Aquarius
Back in the late 1980s, no threat seemed bigger to American evangelicals than the New Age movement. As it turned out, openness to Westernized versions of Eastern mysticism was just a symptom of a larger cultural embrace of personal pluralism and pick-and-choose spirituality. (The nuances were drained from the term postmodernism, and it replaced New Age as Christians' bogeyman.)
Now even the New Agers aren't New Agers anymore. Case in point: New Age Journal is now Body & Soul. "Even though the title New Age Journal was a good one and represented ideas of health and wellness and spirituality, towards the end of the 20th century and into the 21st century it gained more negative connotations," editor Jenny Cook tells Media Life magazine. "New Age took on things further out on the spectrum, like crystal gazing, that the magazine was never about."
And about that change in cultural trends, check out Cook's comments about the magazine's need to address spirituality: "Some of our readers are people who spend their adult lives sampling different religions and then going back to their original religion after experimenting."
More articles
Christianity and Islam:
Education:
Clergy:
Missions and ministry:
Sex abuse crisis:
Catholicism:
Related Elsewhere
See our past Weblog updates:
June 19 | 18 | 17
June 14 | 13 | 12 | 11 | 10
June 7 | 6 | 5 | 4 | 3
May 31 | 30 | 29 | 28
May 24 | 23 | 22 | 21 | 20
May 17 | 16 | 15 | 14 | 13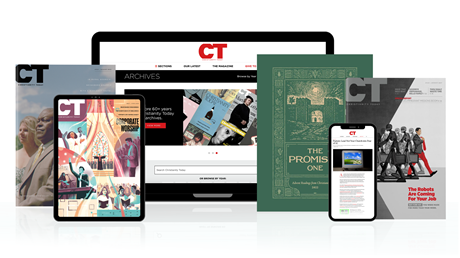 Subscribe to Christianity Today and get access to this article plus 65+ years of archives.
Home delivery of CT magazine
Complete access to articles on ChristianityToday.com
Over 120 years of magazine archives plus full access to all of CT's online archives
Subscribe Now
"Weblog: Meet Rowan Williams, the Next Archbishop of Canterbury"
"Weblog: Meet Rowan Williams, the Next Archbishop of Canterbury"