Graham apologizes for 1972 remarks on Jews
Evangelist Billy Graham's apology for a 1972 Oval Office conversation with President Richard Nixon is receiving more press attention than the remarks did. Late Friday, Billy Graham issued a statement:
Although I have no memory of the occasion, I deeply regret comments I apparently made in an Oval Office conversation with President Nixon and Mr. Haldeman some 30 years ago. They do not reflect my views, and I sincerely apologize for any offense caused by the remarks. Throughout my ministry I have sought to build bridges between Jews and Christians. I will continue to strongly support all future efforts to advance understanding and mutual respect between our communities.
The Chicago Tribune was the first newspaper to report the remarks Friday (though a few electronic media commented Thursday), and Graham's publicist, A. Larry Ross, issued Graham's statement late that day. It apparently stanched the damage. Almost all the papers reporting the comments emphasize the apology instead of the comments themselves, and most are content simply to run the Associated Press report. Other reports, like that in Graham's hometown paper, The Charlotte Observer, are sympathetic to the evangelist. The only published commentary on the remarks Weblog has been able to turn up (thanks to Yahoo's religion news page) is a rambling, odd column on a liberal commentary Web site. CommonDreams.org's Bill Davis does, however, find a relevant Bible verse in Luke 12:3: "What you have said in the dark will be heard in the daylight, and what you have whispered in the ear in the inner rooms will be proclaimed from the roofs."
Other Graham gets praised
San Francisco Chronicle columnist Stephanie Salter, who hasn't exactly made herself beloved by evangelicals (who were particularly miffed by her recent letter from Jesus to President Bush) is praising Franklin Graham for his recent efforts to rally Christians on AIDS issues. It's an unusual piece. Salter explains that one of her relatives (whom she dubs "Cousin Pittypat") is an evangelical whose "beliefs include raging homophobia." Then the rest of the column basically consists of quotes from Graham telling Christians to love their HIV-infected neighbors. "Are you listening, Cousin Pittypat?" Salter concludes. "All the rest of you Cousin Pittypats out there? That's one of your guys, doing what he says Jesus commands him to do. I believe you call it 'preaching The Good News.'"
It's hard to free the Burnhams
"Filipinos and G.I.'s Falter in Effort to Free Hostages," said a headline in Saturday's New York Times. The article begins, "Plans to use military force to free an American missionary couple kidnapped by Muslim extremists in the southern Philippines have been complicated by the captors' tight control of the hostages and the inexperience of the Philippine military in conducting night raids, senior military officials of both countries say." There's not a lot of new information in the article (though its report that military units competing for glory may jeopardize the rescue is making waves in the Philippines), but it's good that New Tribes Missionaries Martin and Gracia Burnham are still news.
One development that may turn out to be important is Saturday's capture of Abu Sayyaf commander Sonny Ping. We'll have to wait and see if interrogation leads to any good rescue information, but Abu Sayyaf leaders have been captured before. Meanwhile, The Wichita Eagle reports on Alberto Sobero, the little brother of Guillermo Sobero, who was killed by the Burnhams' Abu Sayyaf captors. "I can't believe this has gone on so long and no one has been able to help them," he says.
Other stories on the Burnhams:
Related Elsewhere
See our past Weblog updates:
March 1 | February 28 | 27 | 26 | 25
February 22 | 21 | 20 | 19 | 18
February 15 | 14 | 13 | 12 | 11
February 8 | 7 | 6 | 5 | 4
February 1 | January 31 | 30 | 29 | 28
January 25 | 24 | 23 | 22 | 21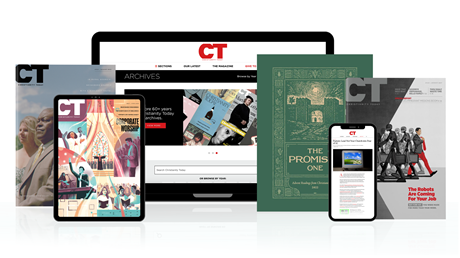 Annual & Monthly subscriptions available.
Print & Digital Issues of CT magazine
Complete access to every article on ChristianityToday.com
Unlimited access to 65+ years of CT's online archives
Member-only special issues
Subscribe
Graham Says 1972 Oval Office Comments 'Do Not Reflect my Views, and I Sincerely Apologize'
Graham Says 1972 Oval Office Comments 'Do Not ...