Dobson, Moody Broadcasting leader attack each other over NRB battle
Wayne Pederson was forced to resign his position as president of the National Religious Broadcasters, but the battle over his ousting continues—and is getting hotter. Conservative online news site WorldNetDaily reported yesterday that Moody Broadcasting Network vice president Robert Neff is demanding Pederson's reinstatement. "I do not take any pleasure in having to write a letter like this," Neff wrote to the NRB executive board. "However, I cannot be silent for fear that silence could be perceived as an endorsement of what took place. I do not, and have serious reservations over the process and feel disgust over how certain individuals conducted themselves." WorldNetDaily reports that the in the letter, dated February 21, "Neff targets for criticism certain 'power boys' and '600-pound gorillas' in the organization, who, he says, are quick to pick up their marbles and leave when things don't go their way." Neff (no relation to Christianity Today Editor David Neff) didn't explicitly name any names, but in the evangelical media world, "600-pound gorilla" (or alternatively "800-pound gorilla") has in the past been code for Focus on the Family head James Dobson. And he reportedly hates the nickname.
He also hates Neff's letter, and has fired back, calling it "vicious and entirely uncalled for." Neff's letter, said the radio psychologist, is "a tragic escalation of what began as a policy issue and has deteriorated into a full-scale split in evangelicalism."
Dobson's March 1 letter's version of events (as reported by WorldNetDaily) varies somewhat from Christianity Today reports and others, but here it is, with a few annotations:
Obviously, he was talking about me and others. Let me set the record straight. I have made no public comments about Wayne Pederson, either in writing or on the air, [Indeed, though reportedly Focus on the Family's Web site briefly announced that Dobson would be addressing the issue on his daily program, but then changed plans] and have written no letters about the matter at all—and nothing I've said on the telephone has approached the tone in Bob's diatribe. Just this morning I turned down an invitation on National Public Radio to talk about the issue so as not to fan the flames further. I made only one comment during the NRB board meeting, in which I commended Wayne as a godly man who had served the Lord faithfully for more than 30 years. I took the microphone in that instance to say that our disagreement with Wayne is not personal, and that I had been neither offended nor hurt by his remarks. … Mine was an entirely conciliatory statement, except for the fact that I disagreed with where he wanted to take NRB.
World magazine, however, reports that
Dobson was so exercised by issues raised in the Pederson controversy that he appended a warning in his keynote speech … In the face of worsening social ills, from homosexual propaganda in the public schools to partial-birth abortions, confrontation is a must, he asserted. He chided those who believe that 'if you just preach the gospel, everything else will fall into place.' Broadcasters and preachers who remain silent on important social issues, he declared, bear a moral responsibility for the consequences. He challenged them to speak out loudly and clearly. He received a standing ovation.
(World's Ed Plowman notes another interesting development at the NRB meeting: "Bishop T.D. Jakes was elected to the board; nominee Don Wildmon was not." Wildmon was much more vocal than Dobson in pressing for Pederson's ousting.)
Back to Dobson's letter:
As for my culpability in this sordid affair, which Bob calls 'ungodly,' I set up an initial phone call with 19 conservative members to see if they were equally concerned about the effort to move the organization away from what he called the 'political right.' Wayne has never identified to whom he was referring, but we can guess. At the end of that conversation, I was asked to pass along the unanimous conclusion—except for the three executive committee members who did not vote—that Wayne had lost his consensus to lead, and that he could help avoid conflict in Nashville by stepping down. It was a very cordial conversation, during which I expressed love and respect for Wayne repeatedly. That is the whole story.
Christianity Today earlier reported that "some NRB members were upset by Dobson's actions [in the conference call], which they say forced their executive committee's hand." And while this may not yet be quite the level of "a full-scale split in evangelicalism," this story isn't close to being over. A lot of feelings are hurt, and a lot of folks at NRB aren't used to this level of internal criticism.
Zing!
From yesterday's "QuickTakes" in the Chicago Sun-Times (third item):
News Item: Threat of suit by American Civil Liberties Union forces school in Waynesburg, Pa., to cancel visit by "creation science evangelist" at school assembly there. Hey, kids. Go find your grandpa, and he'll tell you about the days when the ACLU's agenda included free speech.
Related Elsewhere
See our past Weblog updates:
March 4
March 1 | February 28 | 27 | 26 | 25
February 22 | 21 | 20 | 19 | 18
February 15 | 14 | 13 | 12 | 11
February 8 | 7 | 6 | 5 | 4
February 1 | January 31 | 30 | 29 | 28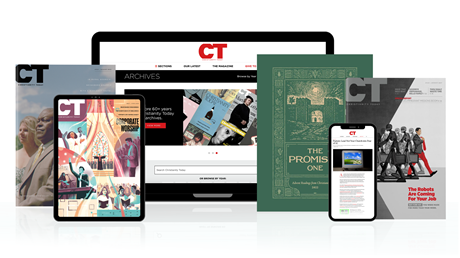 Annual & Monthly subscriptions available.
Print & Digital Issues of CT magazine
Complete access to every article on ChristianityToday.com
Unlimited access to 65+ years of CT's online archives
Member-only special issues
Subscribe
Battle for NRB Heats Up as Dobson, Moody Square Off
Battle for NRB Heats Up as Dobson, Moody Square Off