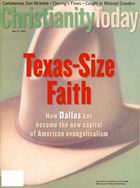 This article is from the May 21 2002 issue. Subscribers can read all of CT's digital archives.
After fresh sectarian mayhem, Christians met in Bangalore for dialogue with Hindu nationalists. Christian participants described the March 22 meeting as a way to build bridges to the nationalist Rashtriya Swayamsevak Sangh (RSS). But Christian critics would rather see such bridges burned.
"What happened in Bangalore was a monologue by RSS, not a dialogue," says Joseph D'Souza, president of the All India Christian Council (AICC), which boycotted the talks. "There is no point talking to the RSS."
Some Christian leaders disagree, including B. K. Pramanik of the Bible Society of India and theologian Ken Gnanakan. They were among the 14 Christian leaders who expressed their concerns about treatment of religious minorities. The government's National Commission for Minorities (NCM) sponsored the meeting, the sixth in a series.
More than 800 people—mostly Muslims—have been killed in Gujarat state since February 27. This is India's worst round of sectarian violence in a decade. Scores of Christians have died at the hands of Hindu radicals in recent years.
The RSS is the ideological parent of Prime Minister Atal Vajpayee's Bharatiya Janata Party. K. S. Sudarshan, who heads the RSS, advised more than 100 theologians, pastors, and lay leaders who attended the meeting to "sever links with foreign churches [and] the Vatican, and stop mass conversions."
Gnanakan told Christianity Today, "We need not agree with all that the RSS stands for, but we have made a good beginning in at least talking to them. We have persuaded the RSS leadership to … send a message to grassroots-level workers not to disturb Christians and churches."
Pramanik said he gave Bibles to the Hindu participants. "I realize the position of minorities in India, but talks like ...
1
India: Critics Assail Dialogue with Hindu Radicals
India: Critics Assail Dialogue with Hindu Radicals