It's not quite a ten-gallon hat; the soft, tall cap of black cloth could hardly cover a one-gallon milk jug. Fronted by a gold metal cross, the hat tops a Dallas clergy leader who looks more like a mountain man than a televangelist. Archbishop Dmitri Royster, 78, has a deeply lined face, and a full white beard spills over his black cassock. He has done the work of the Lord all over the country, and now he's back where he started, in the great state of Texas.
When the archbishop was just a teenager in the small town of Teague, near Dallas, he was known as Robert Royster. He and his older sister were "strong Bible-believing Baptists, and very involved in our church," he says. That church fostered in them a deep love of Jesus Christ and a hunger to study the Scriptures. In fact, Archbishop Dmitri says they wanted even more Bible than they were getting. Although Dallas is surely one of the most Bible-centered communities in the nation, the Royster kids still "felt they were leaving half of it out." These were not typical teens.
The siblings began researching the original scriptural community and the roots of the early church. Eventually they showed up at the door of Holy Trinity Greek Orthodox Church, the only Orthodox church in Dallas at the time. Within those icon-covered walls, the worship was chanted, swathed with incense, lit with candles, and entirely in Greek. If the Royster kids were confused, so was the immigrant congregation, which didn't often have American-born teenagers drop in to ask questions. The kids felt they'd come home, however, and soon both became members of the church.
The Global Texan
Robert, then 18, adopted the name Dmitri, after a young soldier (martyred by the Emperor Maximian), whose courage and faith he hoped to emulate. Today, Dmitri is to Dallas as "world music" is to country line dancing. Though he's a true Texan at heart (with an affinity for Tex-Mex cuisine), his faith transcends the borders of American religion.
"There was an awful process whereby the Christian church was condensed into a 'Western religion,' " he says. The mere fact of being an Orthodox bishop works against such an illusion, since a single week's travels may bring him into contact with American Christians whose worship roots are in places as diverse as Lebanon, Siberia, Romania, Ethiopia, or Cyprus. (A facility with languages helps the archbishop here; he has been a professor of both Greek and Spanish, and during World War II served as a Japanese interpreter on the staff of General Douglas MacArthur.) At St. Seraphim Cathedral in Dallas, the archbishop's base, services are offered in Russian, Spanish, and Serbian.
Yet Dmitri would be the last to encourage Orthodox believers in this nation to cling to divisive "hyphenated American" status. It was an accident of immigration history, he says, that caused the establishment here of a dozen separate ecclesiastical organizations—a Russian Orthodox church on one corner and a Greek Orthodox church on the next. Dmitri is among those American church leaders who advocate that these divisions be overcome and a united church emerge—a position that is still controversial. His own authority derives from the Orthodox Church in America, an autonomous body that was previously administered from Moscow.
The Orthodox do not yet have the knack of keeping great membership records, but it's estimated that there are 10,000 Orthodox Christians in the Dallas-Fort Worth area and about a million in the Southwest overall. Though the archbishop has his offices in Dallas, his responsibilities extend so much farther than the city that his work is not really comparable to other local leaders. His "beat" covers 14 southern states and Mexico, so he is constantly on the road, and doesn't get to have home-style Dallas cooking as often as he would like. Though he oversees the diocese's mission work in Dallas, he must tend other flocks all over the South, and routinely makes the round of airports, slowed by the extra baggage necessary to carry the loads of vestments he must don for liturgical events.
The archbishop has observed that many visitors who come to his church say they were propelled by problems within their own mainline denominations. He has seen some of these controversies himself: "There is a weakness there, a denial of the divinity of Christ and of the integrity of the Scriptures." He recalls an incident when he was teaching Greek to seminarians at Perkins School of Theology. "I asked the class how many believed in the divinity of Christ. After I defined it—not just that Jesus was a divinely inspired teacher, but that he was truly the Son of God—not one student in the class would agree."
In terms of evangelizing in the Dallas melting pot, "We have our hands full with those who come to us."
He cites some figures: When he founded St. Seraphim as a brand-new priest, back in 1954, he had five or six people attend each Sunday; currently there are 300—and 32 more are preparing to join the church. "Things are booming, and I quake to think what God will do next," he says.
In the land of Texas-size megachurches, those figures seem laughable. How can 32 new members be "booming," when a big church in North Dallas might add hundreds to the roll every week? Dmitri cites the rigor of Orthodox catechizing and practice, and contrasts it with the way he sees things done in the big, busy churches: "Becoming a Christian involves a whole change of life. You have to follow Christ. If there's no follow-up, no accountability, that's not likely to happen.
"When we worship at St. Seraphim, it has the scent of eternity, and that gives it gravity beyond what we could generate on our own," he says.
"We are actually participating in the fullness of the faith, experiencing the kingdom of God here and now."
Frederica Mathewes-Green is a regular contributor to CT and the author of The Illumined Heart (Paraclete).
Related Elsewhere
Also appearing on our site today:
The Hispanic ChallengeIt's not easy growing leaders for Dallas's fastest-growing population.
See the Website for St. Seraphim Orthodox Church.
Other stories in our May issue's Dallas cover package include:
The New Capital of EvangelicalismMove over, Wheaton and Colorado Springs—Dallas, Texas, has more megachurches, megaseminaries and mega-Christian activity than any other American city. (May 10, 2002)
Big City, Big MinistryHow did a top-25 list of ministries become a cover story on Dallas? (May 10, 2002)
Southwestern's PredicamentCan the biggest protestant seminary in the world be both Southern Baptist and broadly evangelical? (May 14, 2002)
Parachurch PassionA Dallas food pantry was transformed when it turned the tables on who should do ministry. (May 15, 2002)
Sunday ColorsDallas churches continue to challenge the racial divide. (May 15, 2002)
Have something to add about this? See something we missed? Share your feedback here.
Our digital archives are a work in progress. Let us know if corrections need to be made.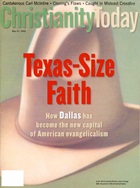 This article is from the May 21 2002 issue.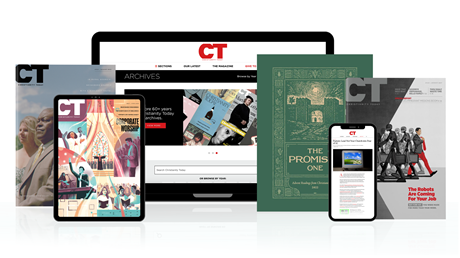 Annual & Monthly subscriptions available.
Print & Digital Issues of CT magazine
Complete access to every article on ChristianityToday.com
Unlimited access to 65+ years of CT's online archives
Member-only special issues
Subscribe
Tex-Mex Orthodoxy
Tex-Mex Orthodoxy