It's 97 percent probable Jesus rose from the dead, says Oxford philosopher Richard Swinburne
"For someone dead for 36 hours to come to life again is, according to the laws of nature, extremely improbable," Oxford University philosopher Richard Swinburne said last month at a Yale conference on ethics and belief. "But if there is a God of the traditional kind, natural laws only operate because he makes them operate." Then, reports The New York Times, Swinburne
proceeded to weigh evidence for and against the Resurrection, assigning values to factors like the probability that there is a God, the nature of Jesus' behavior during his lifetime and the quality of witness testimony after his death. Then, while his audience followed along on printed lecture notes, he plugged his numbers into a dense thicket of letters and symbols—using a probability formula known as Bayes's theorem—and did the math. "Given e and k, h is true if and only if c is true," he said. "The probability of h given e and k is .97"
In plain English, this means that, by Mr. Swinburne's calculations, the probability of the Resurrection comes out to be a whopping 97 percent.
The New York Times isn't biting. The rest of the article isn't on Swinburne's postulation, but on the rise of respectable Christian philosophers, including Swinburne, Notre Dame's Alvin Plantinga, and Yale's Nicholas Wolterstorff. (Swinburne is Greek Orthodox, Plantinga and Wolterstorff are Calvinist evangelicals.) "Deploying a range of sophisticated logical arguments developed over the last 25 years, Christian philosophers have revived faith as a subject of rigorous academic debate, steadily chipping away at the assumption—all but axiomatic in philosophy since the Enlightenment—that belief in God is logically indefensible," reports Emily Eakin.
Beyond the megachurch
Duke University theologian Stanley Hauerwas is always talking about "the church as polis," that is, Christians truly uniting into a people separate from the dominant culture. It turns out some churches are really becoming polis-es, reports The New York Times. In many megachurches, "it is possible to eat, shop, go to school, bank, work out, scale a rock-climbing wall and pray … all without leaving the grounds."
But this isn't just another story about big churches and their amenities. "These churches are becoming civic in a way unimaginable since the 13th century and its cathedral towns. No longer simply places to worship, they have become part resort, part mall, part extended family and part town square." The article lightly examines some of the ramifications of that (Randal Ballmer worries that it's just an isolation tactic), but there are some very interesting ideas to explore here, especially in light of some of Hauerwas's ideas. Hmmm. Weblog's brain is churning. Perhaps more on this later.
Amy Grant's back—with spam!
Amy Grant "hopes to reconnect with some of her estranged fans with her latest album," reports The New York Times. Reporter Steve Rabey tries to summarize why those fans are estranged, but grossly misrepresents the issue. "From the beginning, Ms. Grant's career has reflected the tensions separating outward-looking evangelicals, who seek to reach and save the lost, from their more cautious brethren, who seek to preserve believers' holiness and moral purity. … Her energetic performance on the 1985 Grammy Awards telecast offended some evangelicals, who considered her leopard-print jacket and bare feet improper."
Here's the problem with Rabey's article in a nutshell. He writes: "A writer in the evangelical magazine Christianity Today criticized Ms. Grant's 1997 release, 'Behind the Eyes,' for its 'complete absence of explicitly Christian lyrical content." Uh, no. Calvin College professor William D. Romanowski didn't criticize Grant in that article. "Amy Grant's solution of letting the music find its own audience will work individually for her," he wrote. "And, I would argue, in the end her common-sense answer will win at the industry level as well. For while confessional music will and should always be a vital part of community worship, its role as parent to today's CCM music should not limit the music made by Christians to the old setting and purpose."
As someone who has written for Christianity Today before, Rabey should know better. What was he trying to do, impress editors at the Times by misrepresenting his fellow evangelicals? They won't be impressed by his getting the facts wrong. (If Rabey wanted criticism of Grant, why not just quote from our post-divorce article?)
Meanwhile, reports Wired News, "fans and anti-spam activists are … full of righteous fury" over Grant's (or rather, her label's) bulk e-mail advertising campaign. Visitors to Grant's Website are told they can win a chance to meet the singer by forwarding a press release. Whoever forwards it to the most people wins. "I get upwards of 50 spams (unsolicited e-mail, usually selling something) a day and don't need well-meaning friends sending me more as well as getting me on to a mailing list I don't want to be on," one fan wrote on the newsgroup rec.music.artists.amy-grant.
More articles
Church of the Nativity:
Other Holy Land troubles:
Crime & justice:
Clergy abuse scandal:
Missions & ministry:
Related Elsewhere
See our past Weblog updates:
May 13
May 9 | 8 | 7 | 6
May 3 | 2 | 1 | April 30 | 29
April 26 | 25 | 24 | 23 | 22
April 19 | 18 | 17 | 16 | 15
April 12b | 12a | 11 | 10 | 9 | 8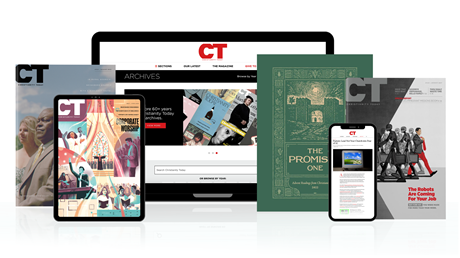 Subscribe to Christianity Today and get access to this article plus 65+ years of archives.
Home delivery of CT magazine
Complete access to articles on ChristianityToday.com
Over 120 years of magazine archives plus full access to all of CT's online archives
Subscribe Now
Easter Recast: 97 Percent Chance Jesus Rose from the Dead
Easter Recast: 97 Percent Chance Jesus Rose from the Dead