During a silent walk through the former Nazi death camp of Auschwitz in my native Poland, I saw a cross.
It was unlike the crosses that have attracted great media attention. Although there isn't any other symbol I cherish more than the cross, these other crosses deserved to go.
A group of Nationalist Catholics (and possibly anti-Semites) erected 303 crosses at the Auschwitz-Birkenau execution site three years ago. But their intent was less a memorial than a response to radical Jewish groups who unsuccessfully called for the removal of one large cross that had been erected for the pope's 1979 Auschwitz visit. Following an international-scale controversy, the smaller crosses were removed. And rightly so.
Their appearance exploited the Christian symbol. The papal cross still stands, goading some Jews in ways I cannot fully understand. I do know this: While 70,000 Poles murdered in Auschwitz were probably Catholic, 90 percent of the 1.5 million who died there were Jewish. This means that most of the victims' relatives do not think "redemption" when they visit the site of their nation's suffering. And in case any modern crusader still wonders, no Jew has repented at the sight of the many crosses.
The confiscation of the crosses took place thanks to a mutual decision of the Polish government and the Catholic episcopate, I was told by the Rev. Stanisław Obirek, professor at the University School of Philosophy and Pedagogy "Ignatianum" in Kraków. Now, the 303 crosses reside in a less-political environment, at a Franciscan monastery several kilometers outside of Auschwitz-Birkenau.
"Using the cross as religious polemic is a great misunderstanding on both sides," Obirek told me at his office in Kraków. (This irenic priest is director of the Center for Culture and Dialogue that creates "a physical and spiritual area in which we may undertake a variety of activities in order to bring different cultures closer to each other." He meets frequently with Jewish religious leaders to do away with anti-Semitism in Poland. The world needs more good listeners like him—especially in Poland, where a few anti-Semites are giving the entire country a bad name.)
The Auschwitz Foundation (a mixed group of Christians and Jews) is still working to end the conflict. Probably a monument, a symbol of the victims, will be erected in the place of the papal cross. "It will be something that won't provoke any of the parties," Obirek says.
The Apolitical Cross
But even when the papal cross is removed, at least one cross will remain in Auschwitz. No one will use this cross as a prop. No one will impound it.
I noticed this cross in cell 21, in the basement of the Death Block. A brave Polish resistance army officer etched it on the wall with fingernails during his imprisonment. What led Stefan Jasienski to carve out Christ outstretched on the cross in his death cell?
Surely it was not provocation or politics or anti-Semitism. Who can indulge these trivialities hours or days before a sure, murderous death?
The vague image on the wall, already eaten by time, was not a political statement, but a frantic plea. It was not a judgment, but a soul's cry for salvation. Desperation is the only fitting way to erect or come to a cross.
Two cells down from Jasienski's cell, fresh flowers give the air a sweet smell. Here, in chamber 18, the Nazis attempted to starve the Rev. Maximilian Maria Kolbe.
The Polish priest used to live in block 14. One summer day in 1941, a fellow prisoner escaped from the cell. All the men from that block were called outside into the scorching sun, where they stood all day without food or drink. At the end of the day, when the escapee had not been found, the commandant in charge of the block told them that ten would die in place of the one that had escaped. One of the selected, Polish sergeant Franciszek Gajowniczek, let out a cry: "Oh, my poor wife and children who will never see me again!" Father Kolbe stepped forward and attempted to kiss the commandant's hand.
"What does this Polish pig want?" the commandant asked.
Father Kolbe said he wanted to take Gajowniczek's place.
The commandant agreed to this request, and sent Kolbe to the starvation chamber of the Death Block. Gajowniczek lived through the camp and died in 1997; Kolbe was killed in his place. When after two weeks of no drink and food Kolbe still had not died of starvation, the Nazis killed him with an injection of cabolic acid.
But before Kolbe's execution, the Death Block janitor later wrote, the underground cells were "like a church." Two cells down from where Jasienski would carve out a cross in 1944, Kolbe led the other nine men in fervent hymns and prayers. The prisoners came to the cross in desperation. It's the only way.
Agnieszka Tennant is an associate editor of Christianity Today.
Related Elsewhere
See the cross Stefan Jasienski scratched into his cell wall.
The official site of the Auschwitz-Birkenau Memorial has photographs of the camp and information on the establishment of the camp, those imprisoned there, and more.
Article continues below
Related Christianity Today articles include:
Suspended Sentence for Pole at Center of Auschwitz Controversy | Roman Catholic found guilty of racial hatred for placing crosses at Nazi camp. (Jan. 24, 2000)
In remembrance of the Holocaust, Books & Culture Corner looked each week in April at books that provide an opportunity for meaningful reflection on the Shoah:
"A Peculiar People" | The uniqueness of the Jews. (April 29, 2002)
A Grave in the Air, a Soul Dancing | Two remarkable collections of Holocaust testimony. (April 22, 2002)
'Nebuchadnezzar My Slave' | Was the Holocaust God's will? (April 15, 2002)
'In the Beginning Was the Holocaust'? | Blasphemy, rage, memory, and meaning of the Shoah. (April 8, 2002)
Previous Christianity Today articles by Agnieszka Tennant include:
Nuptial Agreements | Two models of marriage claim biblical warrant and vie for evangelicals' allegiance. Advocates of both claim good results. But do we have to choose? (March 15, 2002)
Adam and Eve in the 21st Century | When it comes to gender roles, CT readers oscillate between complementarian and egalitarian ideas. ? (March 15, 2002)
Possessed or Obsessed? | Many Christians say they are in need of deliverance but some may be giving demons more than their due. (August 24, 2001)
Seahorses, Egalitarians, and Traditional Sex-Role Reversal | A dispatch from the Christians for Biblical Equality conference (July 11, 2001)
The Ten Commandments Become Flesh | A Polish director prods European and American audiences to consider God's timeless standards. (Feb. 14, 2001)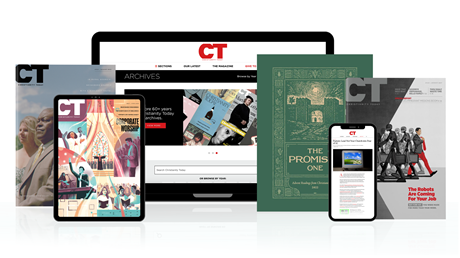 Subscribe to Christianity Today and get access to this article plus 65+ years of archives.
Home delivery of CT magazine
Complete access to articles on ChristianityToday.com
Over 120 years of magazine archives plus full access to all of CT's online archives
Subscribe Now
The Auschwitz Cross
The Auschwitz Cross